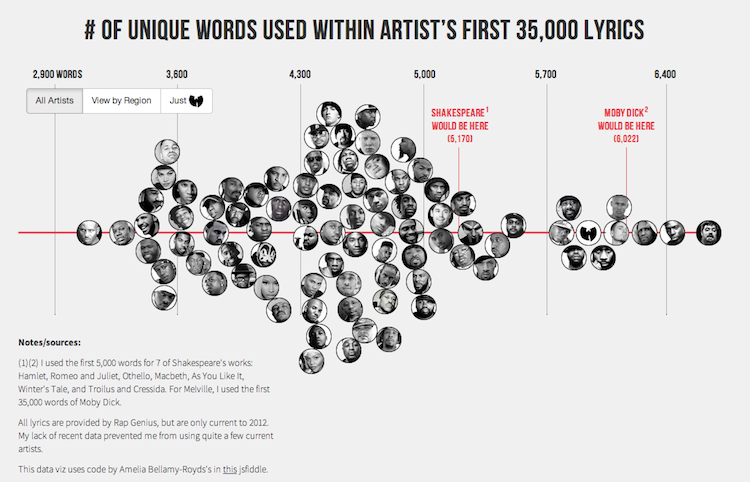 So, who has the largest hip hop vocabulary? Inspired by the fact that Shakespeare used 28,829 different words in his works, data scientist Matt Daniels decided to analyze the vocabulary of various hip-hop artists.
Matt used token analysis to analyze various artists' first 35,000 lyrics to figure out which rappers or groups sported the biggest hip hop vocabulary. Various forms of a word are counted as multiple words, such as "pimps, pimp, pimping, and pimpin". He used lyrics from Rap Genius as his official source.
So who topped the list? Wu-Tang Clan dominated the list, both as a group and in their respective solo careers.  Others, including DMX, lagged on the lower end with a far slimmer word choice. A vast number of other rappers, including Eminem, Diddy, Jay-Z, Fat Joe, Xzibit, Ice Cube, and Public Enemy fell into the middle, with a relatively average word selection of about 4,500.
Also on the lower end: Drake, Missy Elliot, and 50 Cent, who roughly landed in the 3,500 word count total. Amazingly, that's more than half the vocabulary of rappers on the high end of the spectrum. For example, Aesop Rock topped the 7,000-word mark, while Wu-Tang Clan member GZA approached 6,500.
Here's the list of the wordiest rappers and the number of words in their vocabulary:
1. Aesop Rock: 7,392 words
2. GZA: 6,426
3. Kool Keith: 6,238
4. Canibus: 5,991
5. Cunninlynguists: 5,971
6. RZA: 5,905
7. Wu-Tang Clan: 5,895
8. The Roots: 5,803
9. Ghostface Killah: 5,774
10. Killah Priest: 5,737