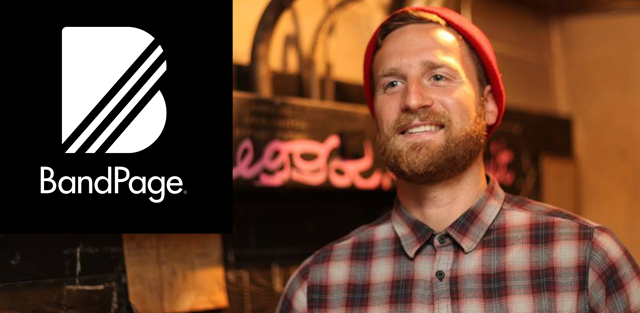 J Sider gets it. The 29 year old CEO of BandPage has seen the industry top to bottom. From booking bands in his hometown of Harrisonburg, Virgina to managing the 4,000 cap Saltair theater in Salt Lake City, he's seen the business of music first hand. He saw how it began to fold and is now helping to revive it.
Anyone who says the music industry is dying is defeatist and lacks creativity. We're in the most exciting time the music industry has ever known.
No longer is the industry about who can sell the most music. Or ticket sales.
Yes, download sales are down. Music purchasing is at an all time low. Ticket prices are at an all time high. The old guard is freaking out, while the new players figure out a better way.

Patreon just solved YouTube… And Music
Forget having to rely on a broken system.
J Sider saw how people were jumping ship from Myspace to Facebook.  Naturally, musicians needed to find them.  He created the best music app on Facebook.  BandPage was wildly adapted and became the industry standard for music on Facebook back in 2010.
When Facebook completely changed the layout of the Musician Page and moved to the Timeline format in 2012, BandPage's entire business model was rocked.  No longer was the BandPage app featured on the main screen of Musician Pages.  Sider had to pivot.
And luckily he did.
Sider, along with his team of 40 at BandPage, are creating the best monetization and connectivity platform the industry has ever known.
Experiences
BandPage has taken the merch store and shot it up with steroids.  It's no longer just about selling t-shirts and tote bags, it's about selling experiences fans crave.  Kickstarter and PledgeMusic proved that fans will pay lots of money to get unique, exclusive opportunities.  BandPage takes this idea and gives artists a way to incorporate it on an ongoing basis.
George Clinton is selling a meet and greet for $150 a pop at each stop on his tour. Ozzy Osbourne sold a 4 pack of premium tickets and meet and greets for $4,000.  You could watch Third Eye Blind's soundcheck, get a ticket to the show, have a meet and greet, a t-shirt and signed set list for $200 on their last tour.
You can buy an autographed guitar from Stars for $450 or challenge Jana Kramer in a game of ping pong, hang out at the venue and get a bunch of other swag for $60.
John Legend's touring guitarist, Ryan Lerman, is offering one-on-one backstage guitar lessons before the show for $75.
Worth noting, Lerman is offering these on his upcoming solo tour – not John Legend's.  At least not yet.
Sider mentioned that the band Wild Child, who drew about 100-500 people a night on their last tour, doubled their net touring revenue by offering Experiences.  Their manager also told Sider that another band he manages sold experiences on tour and it was the only way they could afford to stay on the road.
*Update 6/6/14 – It's proven that the demand for these experiences is there. A study done by Nielsen in March of 2013 found that music fans could spend up to $2.6 BILLION more if they " had the opportunity to snag behind-the-scenes access to the artists along with exclusive content." This study also found that 40% of music consumers who are fans account for 75% of all music spending. 
"40 percent of U.S. consumers…are responsible for 75 percent of music spending. These fans, who spend between $20 billion and $26 billion on music each year, could spend an additional $450 million to $2.6 billion annually if they had the opportunity to snag behind-the-scenes access to the artists along with exclusive content." –

Nielsen study

, March 2013
The BandPage Store on bandpage.com is technically in beta. It's a bit difficult to navigate and there is currently no search to see if your favorite band is offering anything on their latest tour.  There's no browse alphabetically.  Or by city.  But I presume all of this will be worked out in the near future.
Primarily, BandPage is being used by bands to embed widgets (such as tour dates, bio, songs, photos and the store) on their website, and to be the centralized hub to update this information.
BandPage currently takes a commission of 15% for any item sold in the BandPage store and processing fees are included (so 85% goes directly to the artist). This is about the same rate as Bandcamp's merch store which takes 10% + processing fees of about 4-6%.  Topspin and Big Cartel don't charge a commission for their merch stores (only processing fees), but rather charge a monthly subscription fee of $10 – $100 depending on the size of the store and included features.
Connectivity
"Every place where your fans are we want to help you reach them" – J Sider, CEO, BandPage
It has been incredibly difficult for artists to get their information included on many platforms and it's been difficult for platforms to obtain complete and accurate information about the artists.
Over the last two years, BandPage has been striking deals with every possible outlet that could benefit artists and get them connected. BandPage looks to be the hub from which artists can import information (once) and get it sent out (everywhere).
Want your bio, profile photo and tour dates (and ticket links) listed on iHeartRadio, Rdio, SoundCloud or Xbox Music when your song is playing?  Want your VIP meet and greet, T-shirt or tour dates listed on the sidebar of lyric sites such as SongMeanings.com when a fan is reading your lyrics?  Get your info updated on BandPage.  Currently BandPage is connected to 10 outlets that artists can choose to send their info out with the click of a button.  Many more outlets are being announced very soon.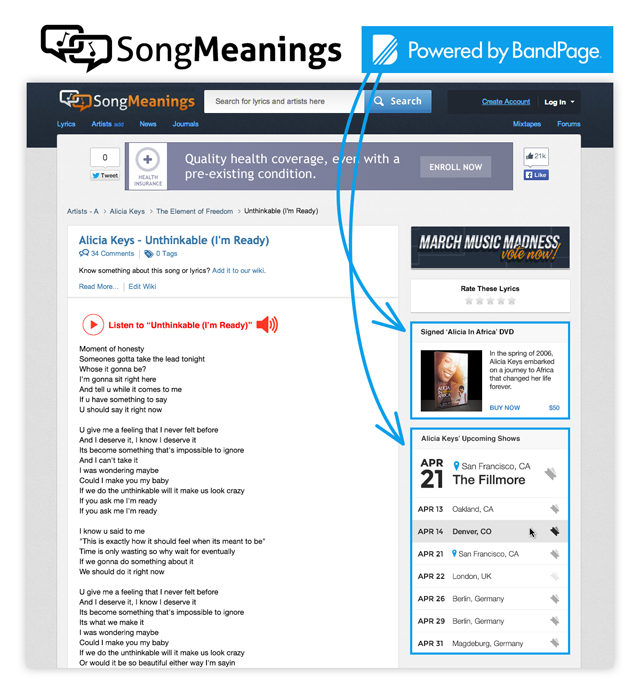 The most important thing artists can do right now is update their BandPage profile.
Everything is updated immediately across all platforms from the artist BandPage hub.  No need to send your new promo photo or bio to 10 different outlets.  Just upload it once to BandPage.
BandPage has also teamed up with Google to get your tour dates listed on the side bar of the search results.  You must integrate the BandPage concert widget to your website (and get your information up to date on MusicBrainz.com – the wikipedia of music).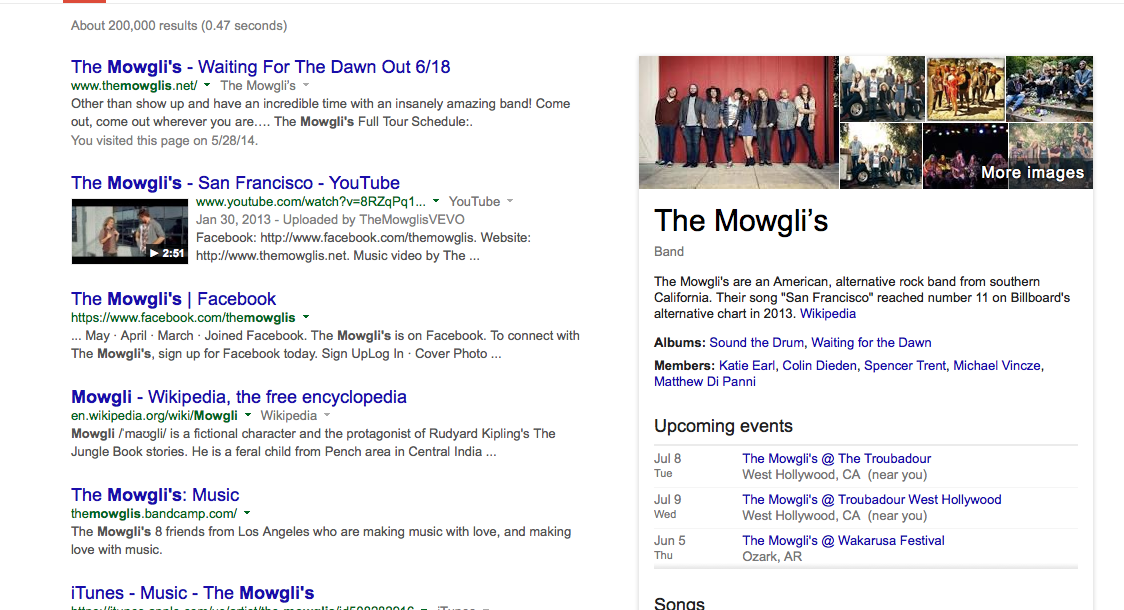 "Our value proposition is: To help musicians generate more revenue and grow their fan base by providing the ability to reach hundreds of millions of fans with a musicians content, merch and tour dates on major platforms they could not reach before." – J Sider, CEO, BandPage
BandPage Connect
Similar to how sites and apps use Facebook Connect for login and to grab whatever information necessary for the app, any festival, contest or other platform can use BandPage Connect to grab artist information.
This past year Sunset Strip Music Festival and Midem used BandPage Connect to get all the artist information they needed.
Any festival, contest or other platform can ask their bands to use BandPage Connect to collect photos, songs, videos and bio with the click of a button.
Platforms interested in BandPage Connect can grab the button code here.
Moving Forward
We are entering into the golden era of the music industry.  There is more money to be made than ever.  Instead of only selling your fans an album once every 3 years or a concert ticket once a year, artists can sell unique experiences along with creative merchandise year round.  Instead of jacking up ticket prices and boxing out a huge portion of your fans, artists can cut ticket prices and offer higher priced experiences for their die hard fans.
There is lots of (smart) money to be made on the road.  And it will be easier than ever for fans to be converted into customers while they are engaged with artists' content online.
Sider seemed very open to how BandPage can evolve.  Personally, I'd love to see BandPage help independent artists get lyrics submitted to LyricFind to get them syndicated across lyric websites and displayed on platforms like Pandora.  I'd also like to see BandPage work with Pandora to get merch, tour dates and bio info listed on the artist's profile and during playback.  The elephant in the room is YouTube.  BandPage has a deal with Vevo and we only can hope that YouTube will team up with BandPage as well and integrate merch, concert tickets and experiences similarly.
The beauty of BandPage is that the content is curated by the artist. And it's incredibly user friendly, effortless and free.
Welcome to the music industry's renaissance.
Check out more at BandPage.com