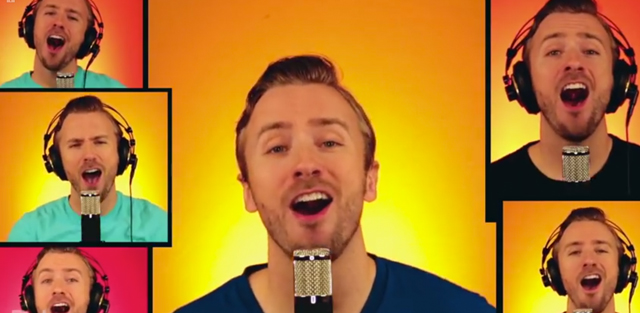 "My fan base knows I'm a geeky guy," YouTube star Peter Hollens joked to me over Skype.  With his quirky A cappella videos covering everything from Shenandoah to the musical Wicked, Hollens has amassed over 750,000 YouTube subscribers and just signed a deal with Sony Music Masterworks.
Hollens perfectly embodies what the new music industry is shaping up to look like. He did not get a lucky break. He was not "discovered" by a record company exec in night club or from a viral music video. He built a self-sustaining career on his own – making a fantastic living and supporting his family solely on his music.
+How 10 Musicians Make Good Livings In Today's Music Industry
Like Marcus Grant, a manager at The Collective, said:
"You're not going to get a record deal by asking for a record deal."
And Hollens never asked for one. He was offered it only when he didn't need it. And still doesn't.
Why did he take a record deal? He is following in the footsteps of another Sony Masterworks artist, The Piano Guys. "It worked really well for them," Hollens proclaimed. Their "5 Guys, 1 Piano" viral video of their One Direction cover has over 34 million views to date. Most of their videos feature the two founders, Jon Schmidt on the piano and Steven Sharp Nelson on the cello, and have views in the millions. The Piano Guys YouTube channel currently has over 3 million subscribers. Signing with Sony Masterworks enabled all three of their Sony releases to peak at #1 on the Billboard Classical charts and break the top 50 on the Billboard 200. They have also charted in Germany and Austria.
Hollens hopes for similar, chart topping success.
Not all record deals are created equally
It's common knowledge that signing to a record deal with very little clout can leave the artist open to lots of dirty label tactics, screwing the artist out of lots of money. Unfortunately, this is not news. But what most people don't realize, if you actually have clout and don't need the deal, they'll bend the f over backwards for you.
+How To Steal An Artist's Streaming Money, In 3 Easy Steps
He can't share many details of his deal, but he told me "this is a partnership. Sony Masterworks thinks it's a partnership. The execs at Sony Masterworks are very intelligent and very progressive." His deal is far from normal.
"I would straight up tell people not to try to be signed to a label. Build it yourself and have them come to you. Because then you have more power in the negotiations and you can walk at any point. If you no longer need them, then what they bring to you has significant value." – Peter Hollens
Peter Hollens started off singing in an A cappella group he founded at the University of Oregon. He later went on to sing with them on the TV show, The Sing Off. Hollens admitted though, "The Sing Off did very little for me in terms of online influence."
For years, Hollens built up a mobile studio business where he traveled around the country recording, producing and mixing other A cappella groups. He never thought to track his own music until his father asked him to.
"I started recording my own music because my father was on his death bed and was dying of brain cancer and he asked me to record music for him. He never heard me do my own stuff," Hollens remembers. So he started a YouTube channel and began recording his own A cappella videos, by himself in his home studio. His father passed away 9 months after he started his channel.
To pay tribute to his father, Hollens and his wife Evynne (who was a singer in another A cappella group at the University of Oregon – where they met), recorded the classic, "The Prayer," his father's favorite song.
Peter Hollens was slowing building his channel and was at about 15,000 subscribers when the violin sensation, Lindsey Stirling, got in touch with Hollens to collaborate. "I owe everything to Lindsey," Hollens explained. "She helped me go from part time to full time." Hollens mentioned that their recording of "Skyrim" released in April 2012, which currently has over 38.7 million views, still helps pay for a large portion of his mortgage. He said he went from about 15,000 subscribers to nearly 80,000 almost overnight. "I can't say enough good things about her. She handled her rise to fame so gracefully. I am where I am because of her. I would like to get to a point where I can evoke that kind of change."
Hollens was one of the earliest adopters of the on-going crowd funding service, Patreon and the stand-alone store (and digital distribution company) Loudr. Through Patreon, with 938 "patrons," Hollens makes a maximum $4,820 per video he releases. He usually releases about 2 videos a month. With Patreon, along with his iTunes and Loudr download sales, Hollens has been making a very comfortable living for the past couple years.
+Patreon Just Solved YouTube… And Music
Hollens is currently working on his debut album for Sony Masterworks. Most of the songs will be re-releases of his most popular songs.
Hollens attends the various YouTube fan conferences around the country, including the gargantuan VidCon each year, where he is greeted by hoards of screaming fans – something quite unfamiliar to someone who hasn't performed live, outside of these conferences, in nearly 4 years.
+Top YouTubers Reveal Their Secrets At VidCon
Hollens has proven that a self-sustaining, middle-class music career is possible in the new industry. He is still without a manager and continues to record all of his music and shoot all of his videos from his home studio.
While Hollens' baby was crying during our Skype call, he excused himself to help his wife out the door, while calming their child.
The life of a rock star is quite different today than it was in the era of sex, drugs and free love. If Hollens has proven one thing, it's that the old rules of the industry don't apply anymore. He found a way to make a comfortable living creating the kind of music he does best without the help of any gatekeepers.
Hollens is not an anomaly. There is thriving musical universe outside of the Biebers, Swifts and Beyonces of the mainstream. If you dig deep enough, you'll find that the working musician class of Millennials is paving the way for the true future of the music industry. And it isn't found on the radio.