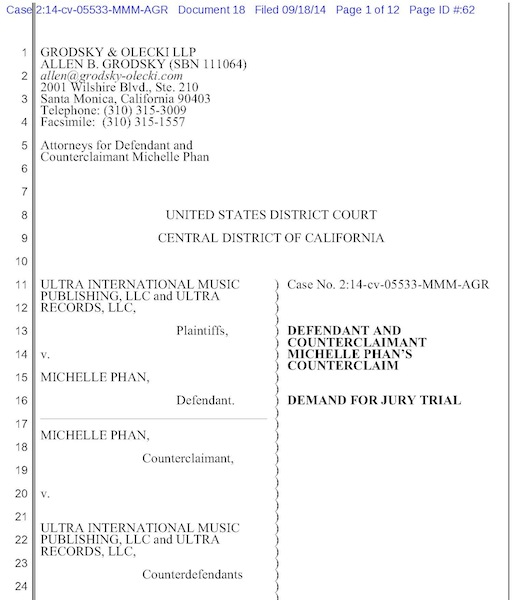 Michelle Phan has countersued Ultra Records. The label originally sued her for copyright infringement.

This case has become a symbol of competing ideologies in the music industry. Highlighting the fact that those who still have faith in traditional label and sales structures are at odds with those who are embracing technology and interconnectivity.

Ultra says Michelle Phan knowingly infringed on their copyright, but Phan accuses Ultra of sinister activity.

Phan is one of the most popular YouTube personalities. Her makeup tutorial videos get millions of views and her channel has 6.98 million subscribers. She regularly secures endorsement deals, and reportedly made $5 million in 2013.

Ultra Records said Phan illegally used 45 different songs in her videos. 43 of these songs are either the sole work of Kaskade or a collaboration between Kaskade and other artists. The remaining two songs are by Haley, who often collaborates with Kaskade.

Kaskade voiced his support for Phan, tweeting:
"File under "For Real?": @MichellePhan being sued by @ultrarecords for my favorite…copyright infringement…. And the kicker..they're citing her using my songs for the suit. Come. On… Copyright law is a dinosaur, ill-suited for the landscape of today's media."
+Kaskade: "Sharing Helps the Artist, the Fan, and the Music Industry"
Phan's countersuit, filed September 18th, says Ultra gave her permission to use their music in her videos.
She says that in 2009 she contacted Ultra's Senior New Media Manager Jason Kilgore. She asked Kilgore if she could use Kaskade's music in her YouTube videos if she credited the artist and included an iTunes link. Kilgore said Ultra was "more than happy" to let her do this. According to the countersuit, "Phan and Kilgore then began to discuss in writing how this agreement would work in connection with YouTube's 'Content ID System'."
Kilgore told Phan that "whenever YouTube made a claim on one of Phan's videos using a Kaskade song controlled by Ultra, he would release that claim".
Going forward, Phan, Kilgore, and other Ultra employees communicated about her use of music by Kaskade and other Ultra artists. Ultra employees removed claims on Phan's videos that used music by a number of Ultra artists. Kilgore told Phan on multiple occasions that he could remove any claim for her, and he did it for four years.
"During this four year period, Ultra representatives offered suggestions to Phan as to particular tracks by Ultra artists that she should use as background music in her videos. A number of Ultra representatives, including Ultra's Senior Director of Marketing and PR and Senior Manager of Interactive Marketing wrote to Phan that they loved what she was doing with the music by Ultra's artists. Other Ultra representatives sent Phan music tracks by Ultra artists that they suggested that she use in her YouTube videos, asking only that she post a link to purchase for her subscribers. Ultra representatives posted comments to Phan's YouTube videos thanking Phan for helping to support Ultra artists."
Every time Phan used Ultra's music, she would credit the artist and include an iTunes link, per her agreement with Kilgore.
"On March 18, 2014, Ultra's General Counsel wrote to Phan and insisted for the first time that any use by Phan of music by Ultra's artists (including all the songs that Ultra had allowed Phan to use and which Phan had used for several years with Ultra's knowledge and approval) was "unauthorized" and demanded that she cease and desist from using any music from Ultra's artists."
Phan says that in June and July of 2014, Ultra sent takedown notices to YouTube for 12 of her videos. Ultra previously said she could use the music in these videos, and Kilgore had previously removed a claim on one of these videos.
YouTube removed all 12 of these videos, cutting off their ad revenue. She filed counter-notifications and some videos were reinstated.
Phan's countersuit says that Ultra gave "express or implied consent" to use their music, and that Ultra reiterated this by supporting her use for years. She says she held up her end of the deal by crediting artists, exposing them to her fan base, and posting iTunes links, and that Ultra cannot back out of their end of the deal.
She also says Ultra's takedown notices were sent in bad faith and that they knowingly misrepresented her use. She is seeking damages for this.
Furthermore, she accuses Ultra of attempting to disrupt her contract with YouTube's Partners program with "fraud, oppression, and malice". She is also seeking damages for this.
Nina Ulloa covers breaking news, tech, and more. Follow her on Twitter: @nine_u