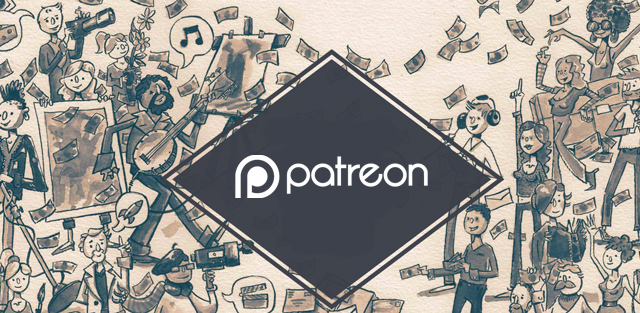 The movement has begun. It's official. Patreon's model works. Crowdfunding 2.0 is here to stay.
The idea that fans would like to support their favorite creators just for creating, is counterintuitive. People believe that fans will only pay for something if they're forced to. But no creator on Patreon is forcing anyone to pay them anything. They aren't even saying that they can't create unless they reach a set monetary goal (like on Kickstarter). These creators all have one thing in common: they will create with or without the monetary support. And will continue to do it without charging their fans for these creations. These creators were creating long before Patreon existed. But now, they can actually make a bit of money from their fans for doing what they love to do.
+Fans Aren't Going To Pay For Music Anymore. And That's OK.
Patreon flies in the face of all conventional thinking. The argument that musicians will only make music if they're paid for it has been debunked over and over again. And the idea that fans will only pay for something if they are forced to is being debunked on a daily basis by the patrons on Patreon.
Tom Merritt releases 20 podcasts a month. For free. However, over 4,000 of his fans decided they'd like to support him. He makes over $12,000 a month for releasing free podcasts. In his Patreon video he states "I really love the idea… 'Value for value.' The idea being, that if you get value from the show, you give that value back in some form. One way could be backing this Patreon."
"I really love the idea… value for value. The idea being, that if you get value… you give that value back in some form. One way could be backing this Patreon." Tom Merritt, Podcaster making $12,000 a month on Patreon
The a cappella group, Pentatonix, famous for winning the third season of The Sing Off (and their 6.8 million YouTube subscribers) now make over $15,000 per video they put on YouTube.
In comic book artist Zach Weinersmith's Patreon video, he exclaims, "But wait you say, 'why would I give you a dollar a month when I can have the comics for free?' Well you can consider yourself a patron of the arts!" And over 3,000 people thought that was a cool idea. Weinersmith is making nearly $9,000 a month for creating free comics.
Started by YouTuber, Jack Conte (one half of Pomplamoose), to help his own bottom line, most of the musicians on Patreon are YouTubers. What's a YouTuber? Well, if you haven't noticed, there's a subculture of icons that are famous on YouTube. So famous, they are actually more popular than mainstream celebs among US teens.
+Patreon Just Solve YouTube… And Music
But the problem is, most of them haven't been making much money from YouTube. Even though YouTube's Content ID has paid out over $1 billion, most of that seems to end up in the DRM companies' hands and divvieded up so much that the actual artists creating the most popular monetized content aren't seeing much of that revenue.
From his millions and millions of views, Conte confessed in his recent interview with USA today "I'd have all these views, but at the end of the month I'd check my (YouTube) ad revenue and I'd get a check for like $6 or $10."
"I'd have all these views, but at the end of the month I'd check my (YouTube) ad revenue and I'd get a check for like $6 or $10" – Jack Conte, Musician, CEO, Patreon
Patreon has done a great job at bringing in constant creators like YouTubers, podcasters and artists. However, most of these creators have built up their audience through YouTube in one way or another.
Patreon's biggest challenge has been convincing 'traditional' artists that Patreon could be beneficial to them.
Most 'traditional', touring musicians who release albums every 2-3 years with sporadic music videos every few months, may not see a use for Patreon. What regular piece of content could they ask their fans to support? Well, why not use Patreon as a fan club? Musicians could invite their existing fans to become an official patron for $1 or $5 a month. They would then get access to exclusive content like unreleased b-sides, acoustic versions, live recordings and patron-only vlogs from the band. They could also interact through the Patreon activity stream where the artist could check in and join in on the conversation.
Once Patreon's Activity stream is filtered into community forums that encourage engaged conversation (like patron created topics), I see many more patrons viewing Patreon as a community space. Currently, most creators and patrons use Patreon.com solely for the transaction, whereas there is potential for so much more.
Other industries have realized Patreon's value. Choc Children's hospital of LA used Patreon to raise money for every Angel's Baseball win. With 98 wins so far, at about $1300 a win, that's one nice chunk of change for the children of Choc.
Patreon is just getting started. They launched less than 18 months ago and raised over $15 million in their Series A round earlier this year (following their initial investments of $2.1 million in late 2013). UTA and CAA are among the latest investors in Patreon. Whether they are conspiring to use Patreon in some innovative manner down the line, or are just excited about making lots of money when Patreon inevitably goes public, time will tell. (They're agents, my money (or should I say their money) is on the latter).
With over 45,000 creators and (now) $1 million a month being earned by these creators, crowdfunding 2.0 has officially arrived.