It's been a long time coming. This past May at the SF MusicTech Summit I was told by Pandora's VP of Business Affairs, Chris Harrison, that this was coming. An exact date had yet to be announced. Well, AMP was officially unveiled yesterday. And it's awesome.
AMP gives artists an in-depth glimpse into their listener data. I signed up my artist account yesterday and within an hour was approved to start navigating.
Overview
On first glimpse it's very impressive. Lots of data. The Overview page lists the top 5 tracks, total track spins, total stations added and total listeners of the past 7, 30 or 90 days. Unfortunately there's no filter for "All Time." Hopefully that's coming.
Stations
The Stations Page lists total stations created (by listeners) and displays a graph (from the previous 7, 30 or 90 days) when stations were created. Nice to see.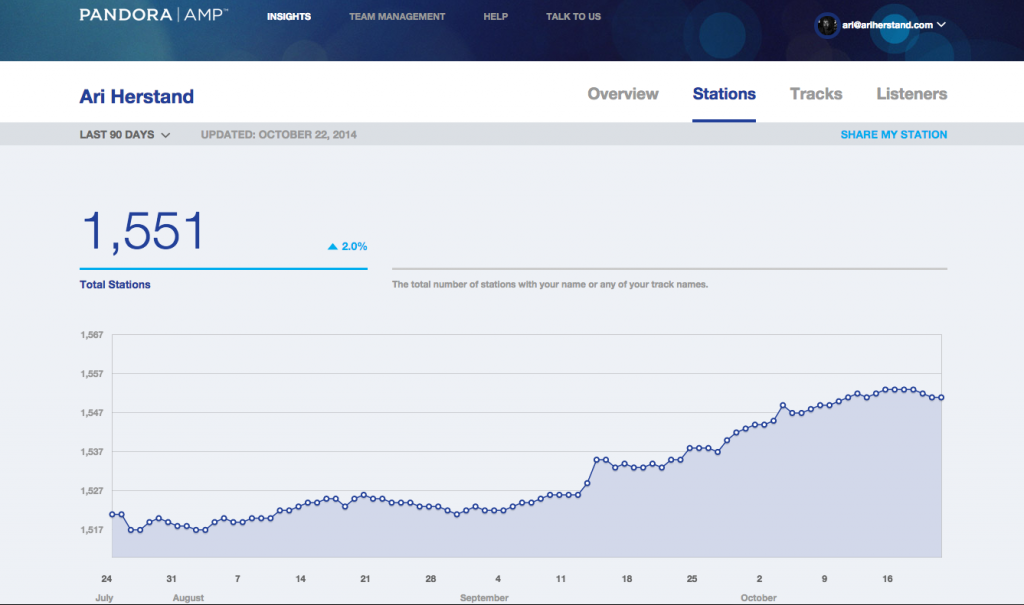 The final two pages are the most helpful.
Tracks
The Tracks page lists all tracks by the artist available on Pandora. It lists total spins (within the date range selected). On first glance it doesn't look like we're able to view "all time" stats (since the song was added to Pandora), BUT by clicking on the track itself, it opens up a fantastic box that compares Last 90 Days to "Since Added To Pandora." It also reveals the Genome Attributes (which are hilarious – "a subtle use of vocal harmony")
What's very revealing, is that the most played song from the album I released this year is one I never would have expected. It's the third most played song of mine on Pandora (for the past 90 days) and it's one I never would have selected as a single or music video – until now.
The only thing is, I don't know how Pandora decides to add a song to a station's rotation. Is it just getting played more because Pandora felt like it? Or is it because more people Thumbed Up that song? You'd think it's the latter, but (because we're able to see up thumb percentages) that song only has a 9% up thumb ratio (uh – meaning 91% people down thumbed it…Yikes!) whereas the actual lead single off of my new album (10th most played song in the past 90 days) has a 37% up thumb ratio. And the 21st most played song (which I was anticipating to by my 2nd single) has a 100% up thumb ratio – but only 35 plays in the past 90 days. Other songs with fewer plays have 100% up thumb ratio as well. Makes no sense!
Will I be selecting my next single based on this information? I think I'm actually more confused now.
So a bit more transparency into HOW their play system works would definitely help.
There's also a column that has up or down arrows with a percentage next to it. But there's no title to that column. Or any explanation in the FAQ. I'm assuming it's Tim Westergren's approval rating of me this week. Yeah, I'm going with that.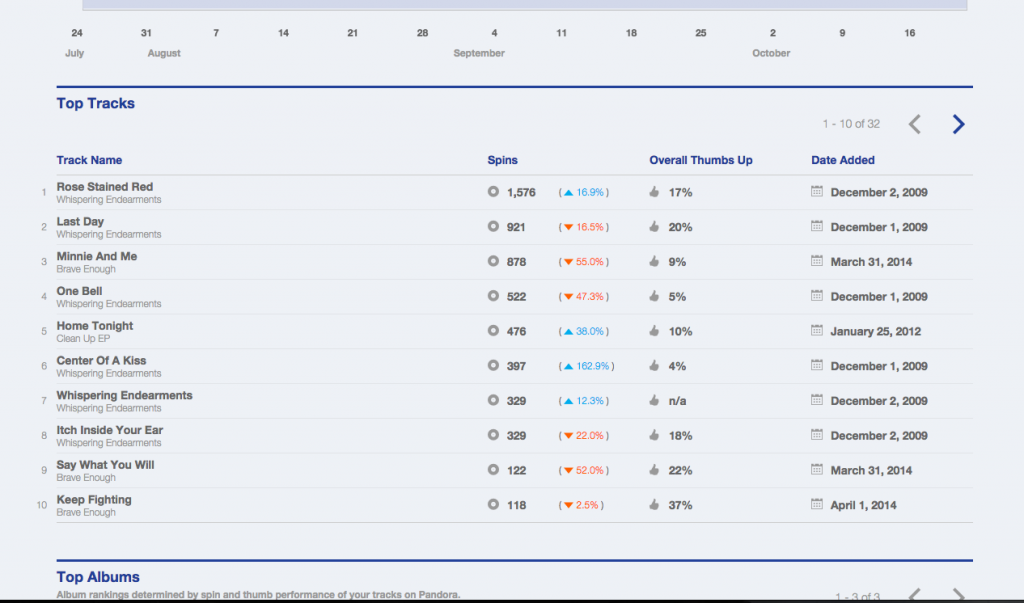 Being able to see the songs which are getting active 'airplay' on Pandora will enable artists to cross reference this data with SoundExchange to make sure those statements are correct and fully inclusive of every song. Depending on how deep you want to get with data analysis, you could compare your total SoundExchange royalties with total Pandora spins and reveal EXACTLY how much you make per spin from SoundExchange. Send me that info will ya? Or maybe I'll spend a day and do this.Included in the Pandora press release is a statement from Andy Grammer's manager Ben Singer:
"This is a total game changer for us. Our research shows us that the majority of Andy's fans consume music on Pandora. To have access to these analytics will only help us better serve his fans as the music industry continues to evolve."
And Troy Carter (CEO and founder of management company Atom Factory – John Mayer, John Legend, Lindsey Stirling, Meghan Trainor, among others) said:
"Actually seeing where people are listening to an artist's music and being able to track listening spikes will be hugely beneficial. It is exciting to think about not only what I will learn about my artists, but how I will be able to use this information in the future. I love that Pandora has chosen to openly share this data with artists."
The Listeners
Which, yes, brings us to the final (and most helpful) page on AMP. The Listeners. Unfortunately there is no Total Listeners number (since added to Pandora) anywhere to be found (even though in the FAQ it says it can be – probably a minor glitch to be worked out shortly). BUT we're able to see the US location breakdown of "Listeners across Pandora" as well as "Listeners on your Station." Who would have guessed that the 4th most popular city for my music on Pandora is Salt Lake City. Not me! Only been there once. Very beautiful. Will have to go back soon. But, it's important to realize that the stats from Listeners across Pandora are not necessarily fans. Just people who are listening to a station that my music happens to pop up on. Probably when they're at work. Getting yelled at by their boss. Probably why my down thumb ratio is so high. Thanks a lot boss! Or maybe my music sucks. Strong possibility as well.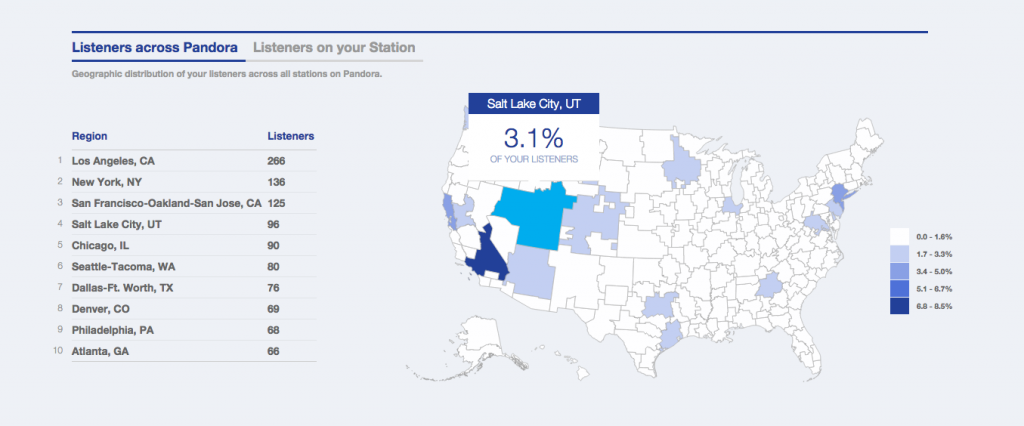 Speaking of which, it would be nice to see how my songs compare to 'similar artists.' Are their up thumb ratios similar to mine? Or should I go wallow in a pit of despair for the next 3 months?
But I digress.
The "Listeners on your Station" filter is probably the most useful tool as to finding the best cities to tour.
My favorite part of this entire AMP platform is the ability to click on a city on the map and it reveals the listener percentage for that location. Why no love Lubbock. TX?! Dallas and Houston, thanks for having my back!
I started my music career in Minneapolis and played Milwaukee's Summerfest 5 years in a row. It makes sense that those are my top two cities for "Listeners on your Station." And there's a tiny little listening room in Green Bay, WI that has been so kind to me over the years that I have made sure to always make a stop up there whenever I can (even if it means I have to bump a bigger city off the tour). Shout out to House of Valdar! So, makes sense as to why Green Bay is my 5th highest city in this category. Baltimore, MD though? No idea why they're ranked 9th. But shit, I guess I have to get there soon!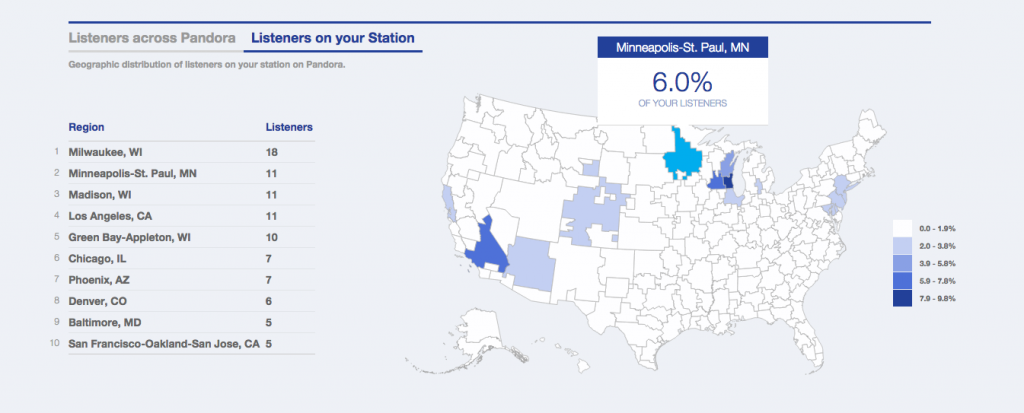 I would like to see more data filtering – specifically with date ranges. It would be nice to compare my spins from a year ago to today. Along with listener locations from last Spring's tour. If I could see how visiting a city directly affected (or didn't affect) my Pandora spins (and stations) that would be tremendously helpful. Also, when a new tour is announced, I'll be curious to see if those cities spike in plays and stations created.
I'd also like the ability to add show dates, tickets and merch (or sync this up with BandPage or BandsInTown) to my profile and station.
It would be nice that if anyone up thumbed one of my songs they would get pinged whenever I announced a show date near their location. THAT would definitely help my ticket sales.
Overall, I'm thrilled that Pandora has FINALLY made this data open and available to artists in a very beautiful, streamlined and intuitive interface. No Next Big Sound BS (yes I'm looking at you Spotify!)
For as much shit as Pandora has received over the years from artists (and this publication), I would like to publicly thank them for this and state that this is a MAJOR win for artists, managers and booking agents nationwide. Pissed about your low royalties? Think of it as an admin cost for this incredibly powerful and illuminating tool to help your career.
"With AMP, we hope to make the day in and day out easier for artists by eliminating the guesswork. From finding out what songs are performing well to inform singles or set lists, to mapping where an artist's fan base is to inform tour schedules, our ultimate goal is to help artists across the spectrum build and maintain their careers." – Tim Westergren, Founder, Pandora
Sign up to see your artist account here: http://amp.pandora.com