I like the idea of Bandsintown. Anything that helps get the word out about concerts (without artists having to pay for it) is fantastic. Bandsintown (depending on the user's settings) sends out email reminders and push notifications (however I can't seem to get that feature to work) when an artist you "track" announces a show in your town or when your Facebook friend RSVPs to a show. Bandsintown also sends out automatic notifications to Facebook and Twitter when shows are announced along with reminders close to the date. Over 250,000 artists are currently using Bandsintown. And now, 15 million fans.
This is working right? Not exactly.
Digging in deeper there are major holes that, to Bandsintown's credit, I have pointed out to them privately and they have been good about exploring (but not fixing on a platform wide scale). But with this major announcement today it's time to point these out publicly.
The biggest issue deals with the Bandsintown widget installed on bands' official websites. Take for instance, "Keep Your Head Up" singer/songwriter, Andy Grammer. He has a tour calendar full of upcoming dates around the country. Let's say I live in Orlando and want to plan my day around his March 8th concert. I get off of work at 8, will I be able to make the concert? I'd like to know this before buying tickets. On the Bandsintown widget on Andy's website there is a plus next to the show date. Intuitively this would expand to see more details like show time, openers, venue address, cost, etc. When clicked (on the desktop version), yup it drops down to display… wait, Facebook comment?! That doesn't seem to make much sense at all. It doesn't list the time of the show or the openers (if there are any). Is Andy headlining or is he opening? No clue. Ok, fine, let's click the tickets link on the desktop. It brings me to the tickets page, Ticketfly, where it clearly lists the show time of 5PM with 2 openers. Good thing I didn't plan my day around it first and got tickets in advance!
But now let's go the route of MOST users of Bandsintown. The mobile route. On Andy's website on my iPhone (which isn't responsive – for another topic), I click the plus sign (to see more details) and here it throws me to the Bandsintown app (not the Facebook Comment like the desktop version). If you don't have the app installed it throws you to the app store. Ok, well, I do have the app installed so at least I can see more info here right? Well, not exactly. No show time listed. Weird. On the mobile app it lists him as the only act, however, on the official Ticketfly page it listed two openers. Odd.
I click tickets for his March 8th show at The Beacham in Orlando Florida from the app. It takes me to ticketsnow.com – a RESALE (scalper) marketplace (not Ticketfly like on the desktop version). Wait hold up! Is Andy going the Justin Bieber route of using a scalper marketplace to sell official tickets? This seems super shady and I know Andy and he isn't like this. I must have done something wrong. I go back to his official website and click the Tickets link (from my iPhone). BAM same ticketsnow.com scalper link. Eek. And to make matters worse (for Andy) it says there are no tickets available. Sold out? Not exactly.
If I was Andy's fan in Orlando my process would end there. Show sold out before I could get tickets. Bummer.
But because I know the real issue here I hop on over to my laptop and start over. I go to Andy's website and click the Tickets link for his March 8th show in Orlando. This time? It takes me to the official tickets website, Ticketfly where it lists both openers, the time and the official ticket link (for face value tickets). Not sold out.
As mentioned before, Bandsintown posts show announcements on artists' Facebook and Twitter accounts. Sounds great right? More promo that the artist doesn't have to think about? Well, if you view this tweet on your phone (which most do) clicking the Bandsintown link takes you to the App store. Even if you have Bandsintown app installed! I click Open on the app store (because the app is already installed) and it takes me to the home page of the app – not the artist's concert page. Now I'm lost.
Bandsintown have made some decent updates this past year like adding Bandsintown for Promoters which enables anyone to promote their show to the Bandsintown community (via targeted email blasts). They added Bandsintown Manager for mobile, giving artists the ability to upload, edit and promote tour dates, message fans who have RSVP'd to the show, add fan photos to the event and change the artist profile pic, all from the phone while on the road. They have also enabled a Tour Trailer, allowing artists to upload a video to the shows tab on the musician's Facebook Page.
+"Facebook Is Dead To Us" What Teens Think About 11 Of The Biggest Social Networks 
Google has also struck a deal with Bandsintown (along with BandPage, SongKick, BandZoogle, ReverbNation, Ohana and GigPress) to pull concerts from the artist's official website and display on the artist's Google profile (but only if the artist has embedded one of these shows widgets to their official site – or added Google's developer show code). So, you definitely want to use one of these show calendars on your official website to make sure you get your shows listed in Google.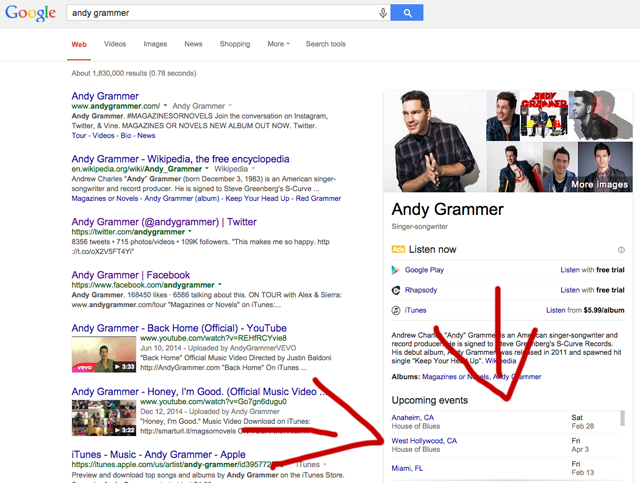 The only way to manage the artist's Bandsintown account on a desktop is through Facebook. And the only way to manage it on mobile is through the Bandsintown Manager app. A bit disjointed with opposite user experiences.
Another big oversight, on the Bandsintown Tour tab on Facebook the comments section below the dates never refresh or disappear. Meaning, questions to artists about specific shows possibly from two years ago, are still prominently displayed.As mobile focused Bandsintown is for artists it's confusing that they haven't seamlessly transitioned to mobile for their 15 million concert-goers. Why is getting show info/ticket links impossible from Twitter? Why are they defaulting to scalper sites for tickets (on mobile)? Why don't the complete lineups show on mobile? Why are there no show details (time, price, other acts, venue address or website) displayed on the widget for bands' official websites?
Bandsintown need to fix these massive oversights immediately. The ticketing issue could potentially be costing artists thousands in lost revenue, or worse, scalper sales.
Bandsintown's biggest competition is SongKick which has very similar features but hasn't been adopted by nearly as many artists who actively engage with the platform. Both Bandsintown and SongKick aggregate show info from around the web (if the artist doesn't import the show info directly to the service). SongKick's latest numbers (from May 2014) boasted 10 million users. Curious to see if SongKick users have jumped ship to Bandsintown.