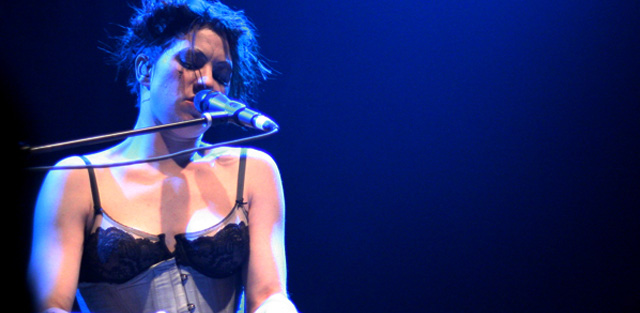 Last Tuesday, Amanda Palmer launched her Patreon. You can read what I wrote about her and the launch here. For those of you new to the Patreon model, it's now time to pay attention and understand how this is CHANGING the music industry as we know it. There are currently over 12,000 active creators (those actually making money) with 225,000 patrons giving over $2 million every month directly to these creators. Patreon keeps only 5%.
+Patreon Just Solved YouTube… And Music
This model is incredibly difficult for traditionalists to comprehend. It flies in the face of everything we, as a capitalistic, society understand to be true. It breaks all the 'music business' rules we have come to know (and love?).
But the thing is, this new, crazy model, is working.
Ok, let's step back. What is Patreon? Because I know many of you reading this right now still have no idea. It was started by Jack Conte, 1/2 of the band Pomplamoose. Pomplamoose gained their fame (and pretty darn big fanbase) from YouTube. Not just one viral video (however their Single Ladies hit definitely helped). For years, they have released high quality, consistent music videos every couple weeks or so. Most of the videos are unique takes on hit songs. Covers, if you will. Because of YouTube's notoriously low payouts (45% of ad revenue), the revenue from their videos (surpassing 100 million views) wasn't generating sustainable income. They knew they had fans who wanted to support them more than just buying a song on iTunes. But there was no model in place to enable these fans to give them more money for creating content they were getting value from.
So Conte created Patreon. Patreon is an ongoing, crowdfunding platform. Instead of raising a bulk amount of money via pre-orders like the Kickstarter or PledgeMusic model, patrons on Patreon give a certain amount per piece of content or per month. Ongoing. Creators from podcasters, to videographers, to bloggers to musicians are successfully earning from Patreon. Currently, $2 million a month.
To be clear this is not a paywall or a pre-order. "Patrons" are literally paying creators for stuff that is free and available. Yes, some of the higher levels can unlock exclusives, but the foundation of this platform is not a transactional hub. You're scratching your head right now and mumbling, "why would people pay for something that is free?!" Exactly. It doesn't make sense conceptually. But you're forgetting the main reason this model works: the connection.
The artists who build connections, relationships and trust with their fans are the ones who succeed with this model. The artists who consistently put out quality content and welcome their fans into the process succeed with this model. The artists who offer mutual respect with their fans succeed with Patreon. The artists who distance themselves from their fans via handlers, publicists, labels, tour managers and others to maintain mystique and elusiveness will not succeed with this model.
To get a song on iTunes it takes going through a digital distributor (or aggregator) like CD Baby, DistroKid, TuneCore, Loudr, The Orchard or InGrooves. These services either charge a setup fee or take a commission (or both). iTunes then takes their 30% commission. And at the end of the day, very little data is ever given to the artist – other than the number of downloads. BandCamp is a little better taking only 10-15% commission (depending on the volume your store sells) and gives the artists the buyer's email along with location data.
+Want To Know Who The Best Digital Distribution Company Is?
Streaming revenue from Spotify, Rdio, Beats, Google Play is growing, but hasn't made up for the loss in sales revenue for mid level artists. It will. But it's not there yet. So in the meantime, independent artists need to get creative in the ways they earn a living from their music. The traditional methods of touring and selling t-shirts is fine for some and is still going as strong as ever.
But what about the artists that aren't living on the road? Where is their income going to come from? Well, Patreon is an option.
Patreon is still in its infancy. There's still much to be desired. Like a place where fans can go to connect with other patrons. Like forums or chat rooms. Creators should be able to interact with their patrons in a more organized way. Right now the current "Activity stream" is pretty disjointed, confusing and outright messy. But they're working on this.
Patreon could be the new fan club for artists. Pledge $1 or $5 a month to an artist and you get all music, videos, blogs and other digital artwork, but also get exclusives like B sides, acoustic versions and unreleased demos. Fans crave this kind of content. And artists should use a fan club style platform to give it to them.
A Nielsen study from 2013 revealed that fans would spend up to $2.6 BILLION more a year for exclusive content and behind the scenes access. BandPage is cashing in on this and is building up the live, VIP experiences. Patreon could as well if they structure the site to be the artist-fan connection hub it's meant to be.
It's only just begun.
Photo is by Amanda Hatfield from Flickr and used with the Creative Commons License