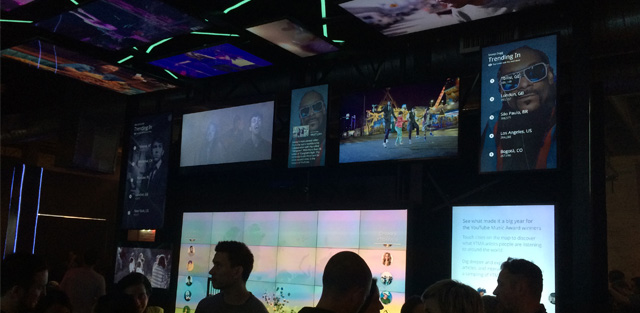 I stopped by the YouTube House at SXSW this morning before my panel. I got there early enough before the live music started, so I effortlessly made my way through the metal barricades and into the space. They had a nifty interactive, video tunnel walkway as soon as you walk in to the left and then more interactive demos on tablets previewing their new analytics platform soon to be released to the public. I got in and out quick with a little video wall tutorial from the YouTube Music for Artists product manager Michael Cumberbatch. It was a nice installation, but I had to dip.
Hours later, after my panel, I made my way back to the YouTube House for a deeper understanding of what they're doing. Because I'm intrigued.
I'm now sitting in the "Artist Lounge" which is literally 20 feet from the crowd and the stage. As I type, the subs are rumbling the blood thumping through my veins. The multi-talented DJ/performance artist Robert Delong is enthralling the face-painted house. With free beer, cocktails, coconut water, catered pork sandwiches and watermelon bites, it's not hard to have a good time here. A couple is currently on the couch next to me making out. Score.
Before the show started, I got another more in depth tutorial from a Youtube Creator Marketing rep, Eric Leiberman. The demo allowed me to choose from 50 artists who are all nominated for the YouTube music awards, such as Ed Sheeran, Snoop Dogg, Tyler Ward and Megan Nicole, and view simple stats from the past 6 months (when YouTube started tracking this data), like top 100 cities and total song plays (across all of YouTube – not just the official artist videos) – along with full date maps displaying views by week. We could also select an artist and pull up a wall-sized map of the world with the artist's face in a circle proportionate to the popularity of the geographic location.
It was a nice installation and these tools, soon to be open to the public, will help artists getting millions of views route tours to their top cities.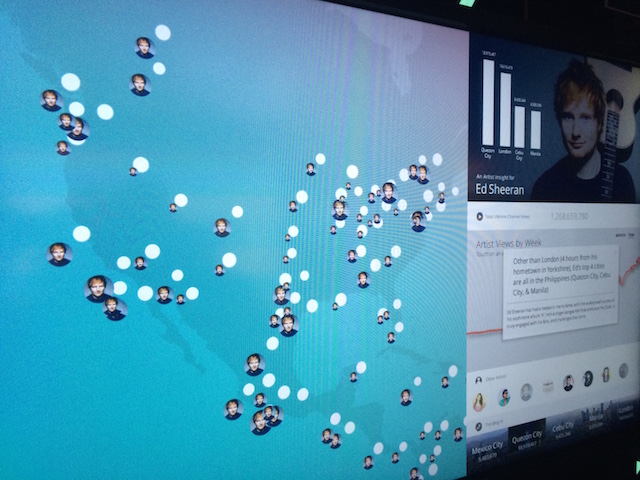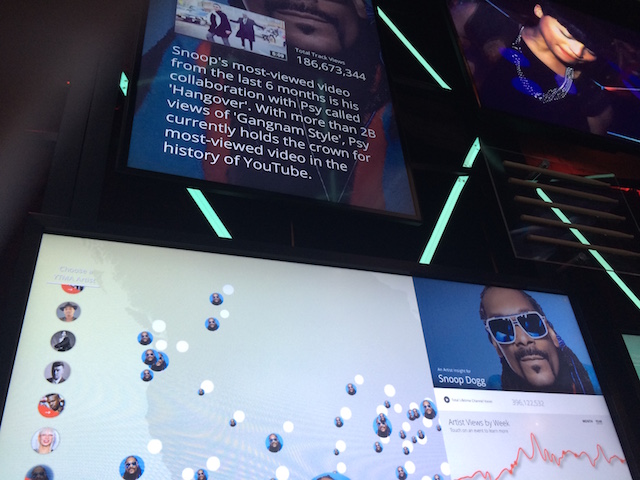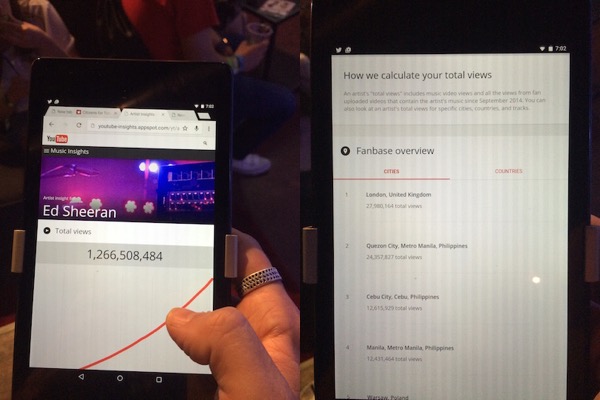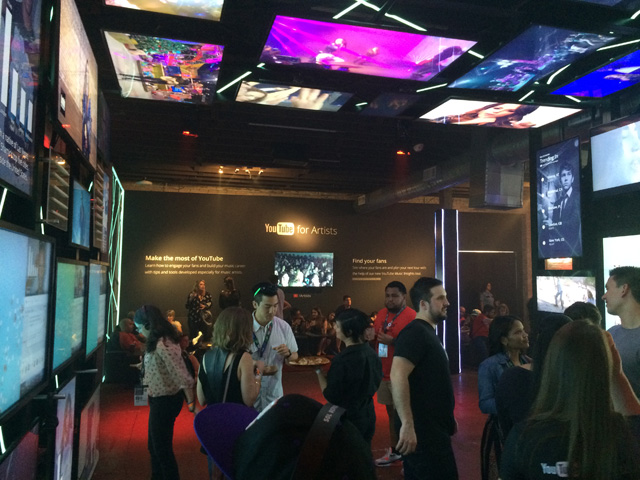 Where this program currently falls short, are for the small-midlevel artists with hundreds of thousands of views – not quite millions. Say an artist has received 8,000 views in Mexico City. Let's say that's from 700 people. Mexico City has 9 million people. How is that artists supposed to find JUST those 700 people to let them know they are coming to town? A mid-level artist like this would not be able to afford a blanketed ad campaign to attempt to reach those fans. The only platform that currently allows artists to target such a specific demographic is Facebook – and that requires paid ads. But what if those 700 people are not on Facebook (since many teens have fled)? Then what?
This is the first step in developing a healthy, musician middle class. Artists who build a solid YouTube following of, say, thousands, not necessarily millions, could leverage those fans through customized, targeting marketing and relationship building. Pandora released similar analytics late last year (only open to artists), but also does not allow artists to target their fans or notify them when they are coming to town.
However, Cumberbatch did allude to a fantastic feature yet to come which will provide customized, targeted in-video, content cards which will inform those hypothetical 700 fans in Mexico City you're coming to town. For instance, if a user watched 7 videos by Tyler Ward, up-thumbed a few and commented on one and lives in Mexico City, when Tyler Ward tours through Mexico City, that fan will get an in-video annotation notifying her that Tyler is coming to town with a link to buy tickets. This is the kind of targeted marketing that artists need. Again, Facebook allows this – but only if the artist pays. Artists are already generating ad revenue for YouTube on every monetized video to the tune of 55%, so it's nice to see YouTube giving back to their artists – more than just the negligible ad revenue.
"Unlike years ago you can be a completely self-made artist" Lindsey Stirling
https://www.youtube.com/watch?v=yxx-c0uwxT0&t=65
YouTube Cards
Along with YouTube For Artists, comes Cards. Cards are in-video, graphic annotations that link to concert tickets, merchandise, official artist websites, crowd-funding campaigns, videos, and playlists. Cards will soon completely replace the messy text-only annotations which have been a YouTube staple for years.
Cards link to approved vendors like BandCamp, BandPage, iTunes, Google Play, BandsInTown, SongKick, CafePress, Band Merch, Etsy, Topspin, and a hoard of others. And their approved crowd-funding sites include Patreon, PledgeMusic, Kickstarter, IndieGoGo, FundAnything, Rockethub, among others. You can also setup links to the artist's official website (as long as Google Analytics is added to the site's code).
+Why The Patreon Acquisition of Subbable Is Important
Any artist can now login to their YouTube account and setup these cards. YouTube steps you through how to do this here.
As we move away from recorded music sales, allowing artists to harness their loyal fans acquired in the digital sphere and generate income from them via alternative revenue streams like crowd-funding, merchandising, smarter ticketing, VIP experiences, exclusive content, and yes, streaming, the future of the music industry ain't looking so bad after all.
This is only the beginning.