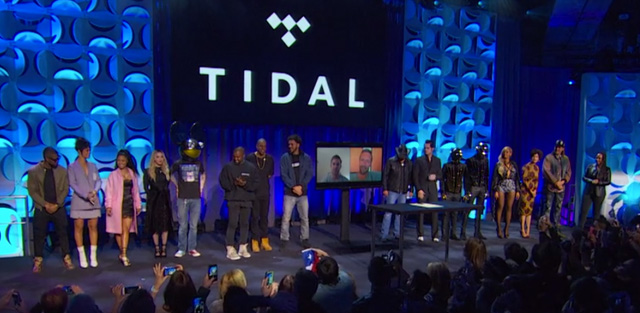 Yesterday, 16 of the biggest names in music gathered together on a stage in New York City to announce their new, artist-owned, streaming service Tidal: Jay Z, Beyonce, Rihanna, Kanye West, Jack White, Arcade Fire, Daft Punk, Usher, Nicki Minaj, Chris Martin of Coldplay (who videoed in), Calvin Harris (who also videoed in), Alicia Keys, deadmau5, Jason Aldean, J. Cole and Madonna.
Jay Z acquired the Swedish streaming service (and parent company Aspiro) earlier this month for $56 million.
Of the 16, Alicia Keys was the only one who spoke to the small audience at Skylight at Moynihan Station. She gave an impressively memorized speech which touched on many of the same themes as the "declaration" which the artists ceremonially signed one by one.
I want Tidal to succeed.
And they're definitely onto something.  They understand fans want exclusive content.  And will pay for it.  Nielsen revealed in a 2013 study that music's biggest fans would spend up to $2.6 BILLION more a year if they had opportunities to buy exclusive content, behind the scenes access and VIP experiences.  BandPage, PledgeMusic and other music-based tech companies are popping up to try and capitalize on this startling revelation.
If done right, Tidal could be the answer.
Monday's announcement was accompanied by an exclusive Billboard interview with Jay-Z and a 20 minute video which was part live presentation and part sound bite proclamations from a gathering of these superstars back in February.
But here's the thing, for a company claiming to "take back" the industry and declaring more transparency and data for artists, the rollout provided little of either.
Have they learned nothing from the Spotify catastrophic US rollout back in 2011? Don't hide your stats, data and payment plans behind closed doors! If you have nothing to hide, put it all on the table.
How is it going to work? Jack White exclaimed in the video, "Now we're going to see what the artists wanted. People need to go to this site and see 'Oh the artists run this.' The artists are in control." Ok, how many artists are in control?  We're going to see what how many artists want? 16? There are a few MILLION more on this earth.  Do they not matter?  Show the rest of the artists that you want on your service that you're for them too.  Not just millionaire artists who have already conquered the world.
Jay Z told Billboard, "We're super-transparent, and I think that's part of it.  We want to be transparent, we want to give people their data; they can see it.  If somebody streams your record in Iowa, you see it.  No more shell games.  Just transparency."
If they want to be so transparent, come out proudly and say "each first tier artist gets 3% of the company."  Don't have an anonymous source reveal it to Billboard.  If you want to be so transparent, on launch day proudly exclaim that every artist will be paid the same rate per stream.  Or maybe they won't be.  Jay Z has already revealed that the "first tier artists" (the select 16) are going to own the highest stake and the 2nd tier artists will own a bit less.  How far down will he go?  Will independent artists get some equity?  Probably not, that seems impossible.  Where is he going to draw the line?
So Spotify gave equity to major labels in order to license their catalog.  Jay Z gave equity to superstar artists in order to obtain exclusives.  And who knows what he offered to the major labels in order to obtain the rights to license their catalogs on Tidal.  Their own catalogs!  Yes, these musicians standing on stage had to go to their labels and ask to get their own music on their new "game changing" service.
If you want to be so transparent, be transparent!
I do like that artists will theoretically be able to see their data.  However, it's not clear how or when.  That's a HUGE component that is missing from Spotify, Rdio, Deezer and the bunch.  No major streaming service invites artists into their backend and shows them exactly where every single play occurs.  Pandora's Amp is the only one that comes close.  YouTube is about to launch similar analytics open to the public.  But no streaming service is currently allowing artists to connect with those fans.  If 100 fans regularly stream my music in Baltimore why can't I get in touch with them and ask them to help me promote my Baltimore show?  There are 600,000 people who live in Baltimore, how am I even supposed to find these 100 fans when I tour through? S potify, Pandora, Rdio, Shazam? Tidal?  What say you?
Will Tidal solve this? I guess time will tell.
Jay Z did make a great point in his interview with Billboard.  "For someone like me, I can go on tour.  But what about the people working on the record, the content creators and not just the artists?  If they're not being compensated properly, then I think we'll lose some writers and producers and people like that who depend on fair trade."  Yes, producers and songwriters who have traditionally made royalties on sales have seen their incomes dwindle.  Sure, artists have seen their recorded music income diminish as well, but artists can make money on the road, with merch, and sponsorships.  How will Tidal fix this?  He didn't say.  Just that he wants to fix it.
I want Tidal to succeed.
I like the fact that it is run by musicians.  The problem is, I worry these musicians are too out of touch to understand the demands of the public.  Sure, in an ideal world everyone would pay $20 a month to listen to lossless audio.  But that's $240 a year.  Even at the peak of the music industry in 1999, music's BIGGEST fans only spent an average of $64 a year on music.  And lest we forget YouTube is the world's largest streaming service – and everything is on it (even Taylor Swift) and it's free!
+Why Other Musicians Shouldn't Copy Taylor Swift
But, clearly, there is a market (albeit small) for pricey, lossless audio as Neil Young proved with Pono.
But what about everyone under 30 who grew up understanding recorded music to be free?  How is this reeducation going to work?  Bundling together audio, video and exclusives could do the trick.  Columbia University revealed that 55% of 18-29 year olds pirate LESS when offered a free, legal alternative.  And, over 50% of paying Spotify subscribers are under the age of 29.  So there is hope.
I want Tidal to succeed.
But the rollout completely ignored any non-superstar artist.  Is that how this is going to work?  You're not worthy unless you're ALREADY a millionaire?  If that's not the case, then tell us.  Speak to the artists with thousands of fans (not millions).  Speak to the artists making a decent living playing 500 cap rooms around the country, getting hundreds of thousands or (or even a couple million) plays online, but FAR off your radar.  Speak to them.  Why should they join Tidal?
If it truly is #TidalforAll then speak to ALL musicians – not just the superstars.
Seeing that much star power on stage was impressive.  Having all these powerful musicians come together to accomplish anything, let alone a "game-changing" company, is definitely commendable.  But it's a hard sell to convince average people to pay millionaires more money.
If Tidal doesn't start the campaign NOW to woo independent artists and music's biggest fans, Tidal will fail.  Why should the thousands of independent artists (who actually NEED the money) tell their fans to sign up?  Why should fans leave a service they love (Spotify or Deezer) and join Tidal?  What's the per-stream rate Tidal will pay artists?  What kinds of data will artists see?  Where is the TidalforArtists.com?  Spotify eventually released their SpotifyforArtists.com to attempt to curb all the criticism from the artist community.  LEARN FROM THIS, TIDAL.
If Tidal can offer artists (not just major labels) the highest streaming rate in the industry, provide complete fan analytics, a way for artists to connect with their fans ALONG WITH lossless audio, HD video, exclusive content, lyrics, full album artwork, photos, bio, tour dates (tickets and VIP experiences), merch offerings and crowd-funding campaign links, then I'm on board. But something tells me they're not thinking like this.  Something tells me they're only looking at what superstars want and what superstars' fans want.  Prove me wrong, Tidal.  Please.