The dramatic launch of Tidal on Monday, the "game changing" new streaming/content platform, was met with whoops and applause.  The cheers came from industry insiders and select press who were invited to the exclusive, 100-ish person event at the Skylight at Moynihan Station in NYC.
Hours before the event took place, the 16 superstar, musician owners — Jay Z, Beyonce, Rihanna, Kanye West, Jack White, Arcade Fire, Daft Punk, Usher, Nicki Minaj, Coldplay, Calvin Harris, Alicia Keys, deadmau5, Jason Aldean, J. Cole and Madonna — all changed their social media accounts turquoise to signify their #TidalforAll movement.  No one really understood the meaning behind the turquoise (especially because most artists told their fans to turn their profiles "blue").  But once the details of Tidal were officially announced and the videos were posted to the stars' Facebook Pages, the fans understood what was happening. And they didn't like it.
Along with a few people turning their profiles GREEN with the accompanying hashtag #SpotifyforAll, the fans let their voices be heard.  You done f'd up when your fans pledge allegiance to a tech company over you.
And even the artists who OWN the damn company don't seem to be completely on board.  The owners/artists' true belief in their new company can be quite aptly summed up by what Arcade Fire changed their Facebook cover photo to just hours after the announcement.  (The link goes to iTunes).  Slow. Clap.
+What Jay Z And Tidal Need To Do To Truly Change The Music Industry
"Sorry Jay, but your publicity stunt lacked credibility since every person on stage was a millionaire – if you had said you were giving a chance to new talent to get paid for the hard work they do I would have been totally persuaded. Pop stars used to get together to end famine and other noble causes – not to make the rich even richer."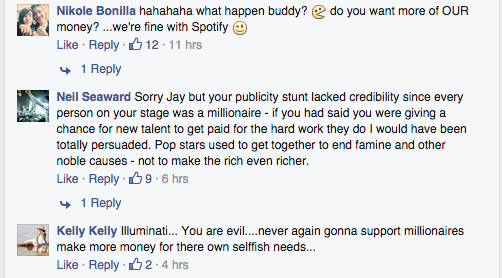 "I hope the payment for musicians is better. I will pay more when I know the musician gets paid in the right way"
"I thought it was for helping people, you know…humanity, but no, just a way to protect their music and get more money"
"I think I would rather see them banding together against hunger or racism or violence or child abuse… but silly me… they just want to band together to make more money."