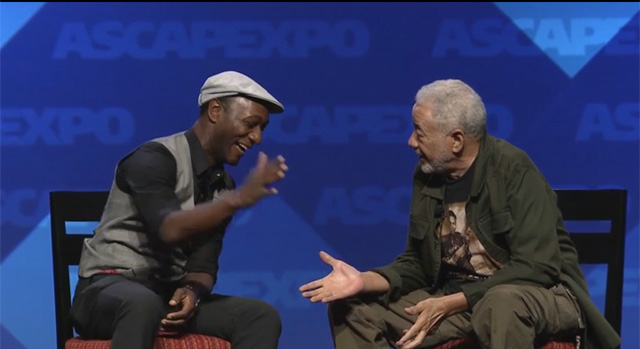 This past Friday at the ASCAP Expo at the Loews Hollywood Hotel was another exceptional interview with the legendary singer/songwriter, Bill Withers.  The packed Dolby Ballroom of a couple thousand songwriters, producers and industry minds got quite the show from Bill Withers being interviewed by "I Need A Dollar" and "Wake Me Up" singer and songwriter, Aloe Blacc.
+My Song Was Played 168 Million Times On Pandora. I Received $4,000
After Blacc introduced Mr. Withers with some kind statements, Withers responded "thank you for those words and for sucking up, but I still ain't gonna give you a dollar."  The audience erupted with laughter.  This set the tone for the rest of the 82 minute, 2,000 person hang.
+Ingrid Michaelson On Songwriting, Her Manager, And Getting Stiffed By Sony, From The ASCAP EXPO
Everyone knows Bill Withers from his iconic hits like "Ain't No Sunshine" and "Lean On Me," but few know about his hilarious sense of humor and dry wit.  Mr. Withers spent the time reflecting on his career as a singer and songwriter, imparting some invaluable knowledge, discussing the writing process of a few of his most popular songs, but mostly spent the time cracking jokes.  Blacc, a huge fan of Withers, kept his composure (for the most part) and steered the interview masterfully to give the audience of fellow songwriters a chance to learn important lessons from someone whose seen quite a bit in his 50 year career.
Here are a few big takeaways from the session (and just some hilarious moments):
"You're walking around scratching yourself and something crosses your mind.  And if you think it's clever enough or memorable enough you try to finish it up."
"One of the things they warned against is being an early settler.  Thinking you're done before you are.  Settling too soon.  Most songs are ideas and then we try to fill in the rest of it. "
Aloe Blacc: When you started writing [Ain't No Sunshine], did you finish it in the instance or did you let it grow over a few weeks?
Bill Withers: Oh, I don't know
"I never try to take the magic out of it in figuring out how to do it.  Quincy Jones once said that he never wanted to own a recording studio because he looked at the studio as a magic place and if he owned one it wouldn't be magic anymore.  I think we all have our magic that we try to hold onto.  What if I look behind the curtain and there was some old scary guy back there who was feeding me this stuff and he smelled bad or something"
Bill Withers: "Harlem" was the first song I ever had copyrighted.
Aloe Blacc: That was the first song you ever had copyrighted?! Who owns the copyright to all your other songs?
Bill Withers:  None of your business.
"Everything is not public knowledge. Unless you're a Kardashian. Unless you can get that kind of Kardashian money, don't tell all your business."
On record labels bullying him into releasing music and not paying him for it:
"I was in the military for 9 years being trained for battle and I only got paid $127 a month.  You think you're going to scare me and bully me when I was willing to die for $127 a month?  What do you think I would do for $600,000?"
He actually ended up destroying some master tapes to prevent his record label from releasing his music against his will.
He cautioned against signing with the wrong people too early in your career. And jumping at the first offer that gets presented before you have much negotiating clout:
"Very seldom do people make great deals for themselves because you're over-matched and you're probably desperate because you want to get in there.  You're trying to get in this game.  You have to make a deal for yourself against somebody whose been doing this for 30 or 40 years.  That's a terrible mismatch"
"I actually saw some deal where every time they sold a record they owed the record company a penny.  Talk about thieves and thugs!"
"The bottom line is it behooves you to learn as much as you can about the processes that go on.  Things have changed so much now.  It used to be cut and dry.  You got your artists over here and your crooks over here.  Now it's much more convoluted.  It takes a lot more energy to learn but at least the information is available.  It's worth finding out what's going on."
On the Marvin Gaye/ "Blurred Lines" decision:
"I have difficulty finding that and Marvin was a dear friend of mine. If they start letting you copyright grooves then the whole [of] rock and roll is gonna owe Chuck Berry."
"If you feel like you have the gift make yourself available and the world will let you know."
"There are some very happy people who top out at playing the lobby of the Holiday Inn.  But they're playing music and they're happy.  It's supposed to make you happy."
"Don't value your gift according to where you fall on the scale of commercial professionalism.  Enjoy it."
In response to a question from an audience member about how she's not enjoying her music career and thinks she'll start enjoying it when she's 'inducted into the rock and roll hall of fame."  Withers responded: "you probably fake orgasms."
"What I meant to say about this. Why are you doing it if you don't enjoy it?"
"You can't just decide 'I'm going to be a star.'  You don't get to decide that.  People put you there.  It's like counting your money before you even get a job.  There's no entitlement to this.  There's no birthright to it.  You don't get to decide if people are going to use [your song] 40 years from now.  First you do something that people want to use now."
"I didn't set out to say I'm going to write something that is going to be on the radio in [50 years], I just tried to rhyme something with something else."
"The best piece of advice I got was learn what not to play."
Aloe Blacc: Simon Fuller said 'ownership is good. Control is better,' Find 10 of your favorite artists.  They should be legends.  Study everything they've ever done.  Use that to create your style and your sound.  Understand what they've done.
"Don't cheat yourself out of music. Music is one thing. The music business is another thing.  Save enough of yourself to keep living anyway.  Save enough joy in your heart to enjoy it.  Let your reward be in the doing of it."  – Bill Withers