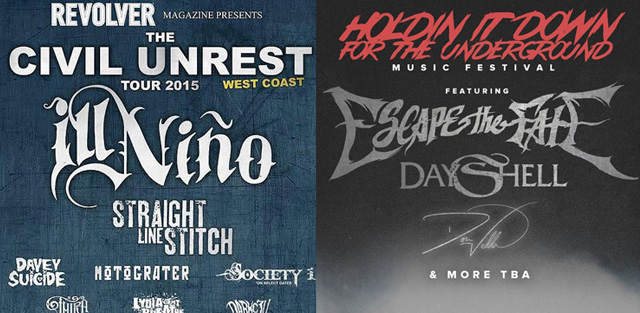 If you thought pay to play was dying off, well, you'll be quite surprised to see these shady practices by Revolutionary Entertainment Group for an upcoming June 27th/28th "festival" in Long Beach.
Revolutionary's cohorts convince naive bands (mostly over Facebook) into buying 60 advance tickets for $1,200 that they have to resell at $20 a piece. If you do the math, that's a profit of… $0. And that's only if they sell ALL 60 tickets. But, the more tickets they sell, the better their slot at the festival will be! Woohoo!
Some of the headliners this promoter is pimping out to shake down up and coming musicians include Ill Nino, My Body Sings Electric, Straight Line Stitch, Davey Suicide, Motograter, and JD Woodruff of Hawthorne Heights.
Now, this isn't meant to shame these headliners.  I imagine (hope) they don't know the shady practices the promoters are employing to get them paid.  Because if they did, I imagine they would have told the promoters to go fuck themselves (like many bands have already done – and forwarded the messages on to me).
I was just hit up by a different booker at another festival also in Long Beach (wtf?) for a similar deal.  Not quite as bad, but BAD.  Well actually, I got the phone number of one of the (self-proclaimed) "booking agents" of this festival and texted him saying "I want to play the HID festival."  I never gave my name and I gave this booker a (just created) email address of a fake band (so I could see the contract).
This festival is the Holdin' It Down For The Underground featuring Escape The Fall, Days Hell and others.  The festival, on May 30th (uh, two weeks away), still hasn't locked in a lineup – because, like Revolutionary's fest, lineup is based on number of tickets sold.
This festival is working with four "booking agencies" to book the festival.  The guy I worked with (via text message) to get the details about it called himself "one of four booking agents" and he told me he also runs one of the stages.
We went back and forth over text for a solid hour where I got the full rundown.  By the end, he offered me a slot at the festival – WITHOUT EVER HEARING MY MUSIC.
The deal he offered for a "good" slot "near the headliners" was to BUY 40 tickets.  I got two options: I could either buy the 40 tickets up front ("send money via at PayPal or money order") at $18 a piece ($720) and then sell them for $20.  I would also get 40 more tickets to sell on my own (and keep the dough).  Or, if I couldn't shell out $720 up front, I could buy only 10 tickets up front ($180), get 50 total tickets and then turn in the rest of the $720 3 days before the festival (via PayPal or money order).  Total potential for option number two if I sold all 50 tickets (mind you 2 weeks before the show)?  $280.  That's 28% of what I sold.  And that's ONLY if I sold all 50 tickets.  If I sold only 35 tickets, I'd be out $90.
Bands, listen to me closely. This is not how it works.
This is not how you play (legitimate) festivals, build a fanbase or get in front of important people.  This is not how you build a music career!  Reputable promoters will PAY YOU when you deserve to be paid.  Venues will book you (and pay you fairly) when you're ready to play their clubs.  You will work WITH promoters, agents, festivals and venues with a mutual level of respect when you are ready.
+Should You Pay To Play? Here Are The Worst To Best Deals In The Country
I know it's tough out there navigating the music industry, but here's a good rule of thumb: if anyone asks for a deposit or asks you to purchase tickets up front, it's time for you to run the other way as fast as you can.  It's the promoters job to book a mix of talent that will draw the crowds along with new talent (who they love) to showcase amongst the lineup.  And it's the promoter's job to fucking promote!  Sure, the bands should do their fair share in helping promote through their social media networks, email list and possibly some press appearances, but in no case, ever, should the band be on the hook for unsold tickets.
+Booking Your Own Tour: A How-To Guide 
Legitimate festivals make their money on sponsorships and ticket sales.  Not off the backs of young bands who don't know any better.  Just because the promoters are incapable of securing enough sponsorship money to cover their costs is their fault. Not the artists.
+My Response To An LA Pay To Play Promoter
Escape The Fate, Ill Nino, JT Woodruff, Dayshell, Don Vedda, Straight Line Stitch, Davey Suicide, Society 1, Blood On The Dance Floor, Runaway Kids, My Body Sings Electric, Motograter, This Legend, and all the bands playing these festivals who NOW know better, pull out!  Make a public statement that you don't support "promoters" and "booking agents" who make young bands pay to play.  Take a stand!  Shame on your agents for not doing their due diligence either.  Or maybe your agents are just as shady as the promoters they're working with.  And if that's the case, fire them!
Because, if you move forward playing these festivals then you are just as much a part of the problem.  Without the talent, these pay-to-play promoters have nothing.  Remember that.
If every band said no to pay to play it would end.  The model would change.  Let it start with you.