Finally, a major tech company is looking out for unsigned artists.  The ones who are working tirelessly to make a full-time music career a reality! Thanks Apple Music.  But wait…
Monday morning's Apple Keynote address brought the usual high production value we're used to from these events.  After two hours of operating system demos, explanations of updates to Apple Maps, developer software and Apple Pay, Tim Cook wrapped up the keynote with Steve Jobs' classic "One More Thing" moment.
He announced Apple Music by exclaiming, "It will change the way you experience music forever."
Interscope Records / Beats by Dre co-founder and all around music industry mogul, Jimmy Iovine, was welcomed to the stage to introduce Apple Music.  Just over a year after Apple bought Beats for $3 billion (ushering Iovine and Dre into the Apple family), Apple finally unveiled their subscription streaming service.  That is, nearly 7 years after Spotify launched.
Apple Music will include many of the features Spotify and Tidal recently unveiled.  That includes video and artist profiles, exclusives and content (they previewed handwritten lyrics, a studio tour by Bastille, and a live performance video by Alabama Shakes (who just put out my favorite album of the year, Sound and Color…seriously stop what you're doing and go check this incredible piece of art out)).
Drake came on stage and fumbled through a speech about nothing.  It was only meant to show the Tidal crew that they have heavy hitters over at Apple, too.  In addition to the aforementioned acts, they highlighted other huge artists like Pharrell, Florence and the Machine, Mark Ronson, Bruno Mars, Bruce Springsteen, Aretha Franklin.  It all ended with a performance by The Weeknd.
Independent artists were completely absent from the presentation.
One of the biggest criticisms of the botched Tidal Launch was that the superstar, millionaire "owners" who include Jay Z, Beyonce, Coldplay, Arcade Fire, Rihanna, Calvin Harris, Jack White, Kanye West, Madonna and deadmau5, asked fans to pay them more money exclaiming that artists will get a bigger cut of the streaming revenue than their competitors.  But — and this is a big Kardashian but —unsigned, independent artists were completely absent from the presentation.  The artists who are working their asses off every single day, on their own, attempting to make a living with their art (who actually NEED higher streaming royalties), did not have a place at the Tidal table.
Only after the uproar did Tidal launch "Tidal Rising" to attempt to correct its ways.
+Apple, Spotify and Tidal All Miss The Point. This Is The Future Of Recorded Music
Well, Apple was listening and senior VP of Intel Software and Services, Eddy Cue, stood on stage and proudly proclaimed that "even unsigned artists" will be able to upload their content to Apple Music profiles (kind of like they already do for Instagram, Twitter and Facebook).   Then he did something amazing.   He highlighted an unsigned artist on stage and played a snippet of his new song.
Finally, a major tech company is looking out for the unsigned artists who are working tirelessly to make a full-time music career a reality!
Except, the "unsigned artist" the Apple senior VP played during the 2015 Keynote, Loren Kramar, doesn't actually exist.
Well, maybe there's a guy named Loren Kramar who kinda plays guitar and has written a song or two.  But this is not a working musician.  And definitely not the unsigned artist they should have featured.  With such a large stage at one of the most pivotal moments in Apple music history, Apple chose not to feature one of the thousands of unsigned, full-time musicians from around the globe with an actual music career.
Instead, they featured some 26 year old visual artist (and magazine editor) from NYC who has zero existence as a musician on the web.  No videos on YouTube.  No Facebook Page.  Nothing on Spotify or iTunes.  And no history of performing live.  A Twitter account which launched two hours ago.
Impeccable timing for the Apple Music launch.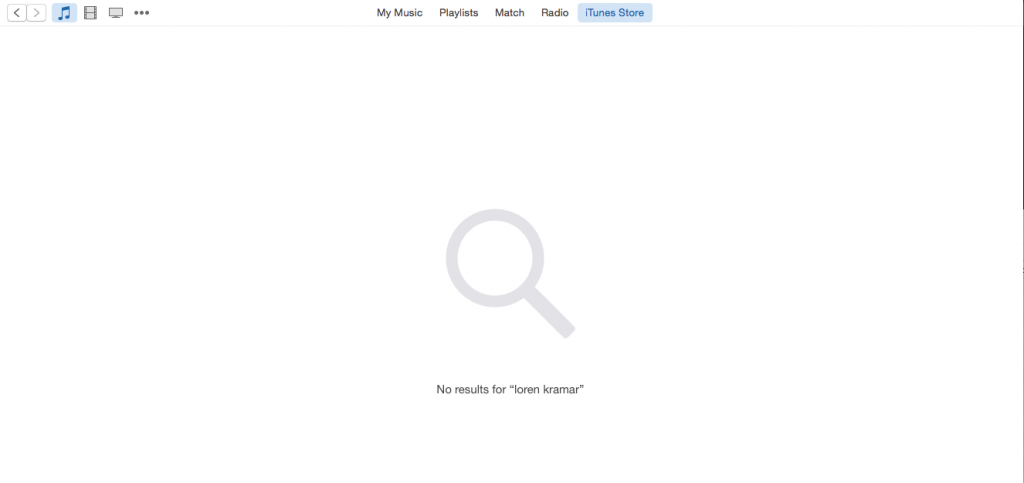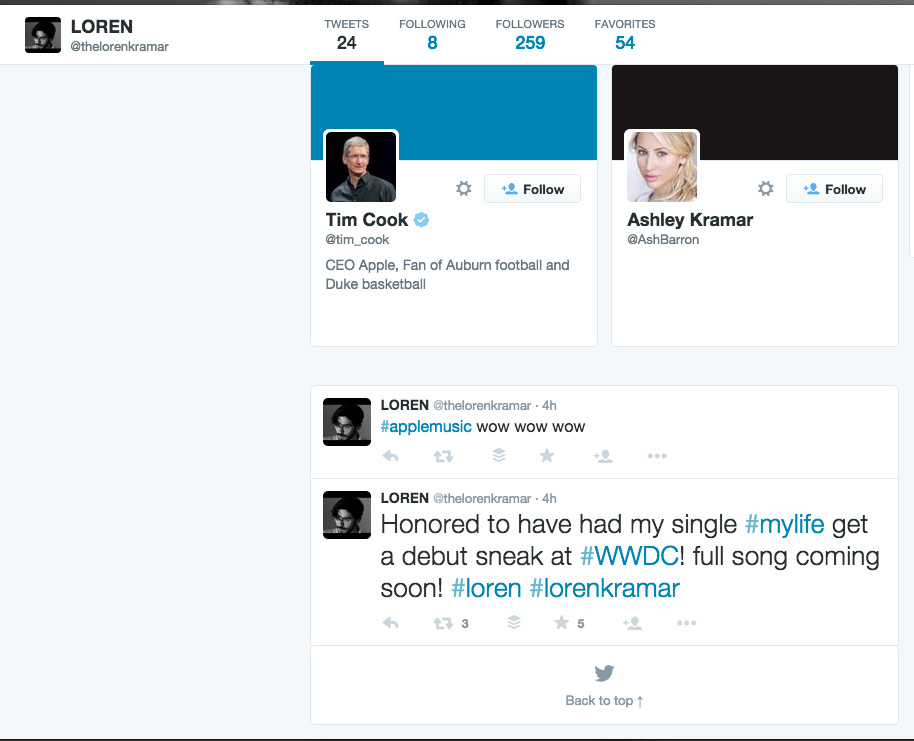 Crony connections.
Turns out Loren Kramar's friend/manager (?) is Joe Weinberger, who used to be an A&R rep under Jimmy Iovine at Interscope.  So Jimmy went to his old friend Joe and said "hey buddy, find me an unsigned artist we can feature at WWDC to make us look like we care about unsigned artists."  And then Joe went to Loren and said,
"yo dude, you got that song written yet? Let's quickly get it recorded so Jimmy can get it played at WWDC and then we turn you into a star. How bout it?!"
proud of @thelorenkramar amazing intro of his new single "my life"…. we will release the song officially very soon…. x thanks apple

— Joe Weinberger (@JoeJoe3H) June 8, 2015
The only thing worse than omitting unsigned artists from the discussion, is showcasing an unsigned artist who doesn't yet exist.  Then patting yourself on the back for it.
Apple has long been criticized for being out of touch — especially after the horrendous U2 album debacle where they forced it into everyone's album collection whether they liked it or not.  But this is beyond being out of touch.  This is flat out deceptive.
And it just goes to show that Apple, in fact, doesn't care about unsigned artists.
Jimmy Iovine cares about making his friends, his company and himself rich.  And that's it.  Because if Apple (or Iovine) actually cared about helping unsigned artists, they would have chosen any of the thousands, literally thousands, out there who are incredible artists with loyal fan bases, but still unsigned.
Hell, you could have gone to venue owners or arts and entertainment weekly newspapers in any major city around the globe and asked them who their favorite new acts are.  You could have checked in on Hypem.com to see who's trending.  You could have popped into any number of your small San Francisco music venues (just an hour from Cupertino) hosting great local music every night of the week.  Or you could have gone to the various management companies who are working to get their new acts traction.
Why not feature metal-pop band out of Milwaukee, Lost In A Name, who are hitting a 10 state tour this summer and just released an incredible new song (self recorded and self released)?
Or how about…
Philly's retro-hillbilly-rock act Low Cut Connie who just got a favorable review in Rolling Stone and regularly tours the country?  Nina Storey, who has performed with Etta James, Sara Bareilles and Keb' Mo' and has 6 albums under her belt?
YouTube star David Choi (with a million YouTube subscribers) who regularly tours independently to packed clubs around the world?
Ron Pope, who has sold over 1.5 million downloads on iTunes, has 60 million Spotify streams and 50 million YouTube views? NYC's Secret Someones, now on tour supporting Ingrid Michaelson?
Minneapolis' Rogue Valley, who had a song featured on The Secret Life of Walter Mitty soundtrack and also tour regularly?
See, as a truly "unsigned artist" who has built my career on my own, touring relentlessly and navigating the ever-changing music industry (and has followed the careers of or played with the above artists), it's a direct insult to us when you slap us in the face with this "artist" who hasn't put in the blood sweat and tears like we have (or even released just a single song).
And, for that matter:
Someone who doesn't know what it's like to put up posters in the dead of winter, forgo eating out (or eating much at all) so we can pay for 1,000 replicated CDs to sell on tour.
Or what it's like to book a 60 date tour, without a booking agent, and then promote that tour (without a promoter) and actually turn it into a success.
Has never spent most of our days not just writing, recording and creating, but emailing blogs, music supervisors, venues, managers, agents, promoters, labels and music tech companies.  All in the attempt to get a feature (or a better understanding of how to advance our careers).
Doesn't know what it's like to self-fund (or crowdfund) albums and music videos only to see them bounce around the local music scenes or blogosphere because we don't have the marketing budget to compete with the labels.
But the great, unsigned artists who are doing this, who are putting in the work, are doing it because they want to have a career in music.  They know that if they don't do this, no one else will (initially).  And that they won't get out of their garage.
And it's working.  Pooh pooh their numbers all you want, but they're making a living doing what they love and have a fan base who love what they do.
But the executives at Apple Music don't realize this.  They (just like everyone else completely out of touch with the NEW music industry) believe that you go from working a day job and playing guitar in your bedroom, to a record deal, topping the charts.  That's what American Idol would like us to believe.  They don't see the movement of TRUE unsigned artists ACTUALLY making it work – on their own (or with kickass managers by their side).
Spotify includes unsigned artists in their official curated playlists (with millions of playlist subscribers) which boost the artists' followings (and bank accounts).  They also include merch on artist profiles and are rumored to unveil fan connectivity and analytics in the near future.  Tidal has their "Tidal Rising" program to feature new, unsigned artists and has also publicly stated they will give artists complete access to their analytics and fan data.  Pandora has their "Amp" platform which allows artists to see their complete fan analytics (however they don't have ways to connect with those fans), and Rhapsody now sends out concert push notifications.
+BandPage and Rhapsody Usher In "…The New Era Of The Music Industry"
What are you actually doing for unsigned artists, Apple Music?  Are you going to give us our listener analytics like play counts, locations (to help route tours), email addresses (like BandCamp does), merch offerings (like Spotify and Rhapsody do)? Are you going to notify our fans when we're coming to town with ticket links?
What about giving us ways to sell experiences (like meet and greets) to help buffer ticket sales for our initial money losing tours?  And how about giving us some crowd funding features?
Other than asking us to give you MORE content like photos, in-studio sneak peaks, videos, behind the scenes footage, lyrics, etc., what are you you going to do for us?
Besides paying us a (most likely) incredibly low streaming royalty rate?
That's something else Apple failed to mention.  How much are you paying artists (not labels) per stream?
So Apple users can sign up for Apple Music for $9.99 a month or $14.99 a month for a family plan.  What do we see from that?  Is it the same black box pot of money divvied up amongst major labels?  Then, the independent labels second and unsigned artists last (if there's anything left)?  Has that become standard in the streaming world?
Or are you going to treat every artist the same?  And fairly?
I am the first to encourage fellow independent artists to look long term and not make every decision based on immediate financial gain, but artists will cease to become artists if we can't make enough to live on.  So, Apple, I ask again, how are you truly going to help unsigned artists sustain a music career?  Besides showcasing one at your keynote and hope people don't notice what you just did.