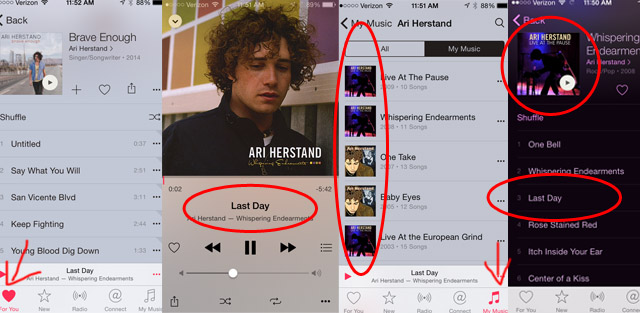 Let me start off by saying that I'm a full-time, independent artist and have been making the majority of my living off of music for the better part of 7 years (after quitting Starbucks in 08). I've released 4 studio albums, 2 live albums and 8 singles. There have been lots of ups and downs. I have never made the majority of my income off of digital downloads, though, and I have never been against streaming purely on principle. I understand that you can't fight progress and succeed. The reason iTunes succeeded 14 years ago when it launched is because it was convenient. People are willing to pay for convenience and ease of use. Once consumers get a taste of a superior experience they're never going back, no matter how hard the powers that be try to force a return. Have all music easily downloadable in one place (Napster)? You can't just take that away and say "sorry, go back to buying plastic discs at brick and mortar stores." Hence, the birth (and world domination of iTunes). Have all the world's music easily streamed (without wasting precious hard drive space)? Yeah, we're never going back to downloads.
So it was nice to welcome another player into the streaming game and bring some much needed competition to Spotify and the bunch. And what better player than the largest music store in the world, Apple?
I installed Apple Music the day it was released and have spent the past week exploring many of the features. Because I'm not really into EDM, Beats 1 Radio hasn't been for me. For some reason 80% of the time I turned to Beats 1 it was playing some "IN DA CLUB" jam… and at 9 in the morning, no less, where I could do without the heart stopping thump rattling my coffee mug. But what do you expect when DJs can't curate their playlists to the local timezone? I warmly explored the "singer/songwriter" radio station. And I finally listened to Taylor Swift's full album, because (full disclosure) I'm a Spotify subscriber and don't pay for digital downloads anymore (I'm a vinyl fiend though and will pony up the $20-30 if I fall in love with a record).
I didn't notice too many differences from Spotify. As far as their "Connect" platform goes, so far very few artists have added content to it (and many who have tried have failed). And the music videos on Apple Music? There are more on YouTube. Speaking of Taylor Swift, her world dominating, epic "Bad Blood" explosion of a video is noticeably omitted from Apple Music (probably because she's making ad revenue on Vevo/YouTube).
Yesterday, I was with a musician friend of mine and needed to reference one of my recordings for arrangement purposes. I opened Apple Music, found my artist profile, opened the proper album and hit play on my song "Last Day." To my horror, this song (which is my #1 song on iTunes, Spotify and has been featured on a few TV shows) was THE WRONG VERSION. Currently playing, was the live version off of a different (live) album! I tested a few other songs. Some were the correct versions, some were not. Most curiously, another song played the live version off of a live album which I took down from iTunes YEARS ago. It doesn't exist online anywhere to my knowledge. I was young, and didn't know what I was doing, and kinda sucked, so I pulled that album. But, there it was, resurrected from the dead in my OFFICIAL Apple Music profile.
I sent my rep at CD Baby a frantic email asking him what to do. He informed me that it played the correct versions on his end. I sighed a moment of relief. Then I thought, well this must just be my Artist profile on MY Apple Music that's messed up. I clicked over to My Music library and tried the album there, luckily, all the correct versions played, but the album artwork was wrong. My 2008 album had the artwork of my 2009 Live album and my 2007 live (out of print) album had the artwork of my 2005 studio release. Not a huge deal, but nonetheless annoying. And, after some searching, I noticed I'm not the only one this has happened to. But I don't use iCloud, and up to this point most users with these issues stated they updated their iCloud and in rushed all the problems.
I haven't been able to test this out on anyone else's iPhone (because most are holding off installing Apple Music for fear of it ruining their digital music library they've spent the last 10 years perfecting). So I'm taking my CD Baby rep's word for it, that my official Artist profile for users who haven't already downloaded my music is working.
But that leaves me with all of my fans who HAVE downloaded (or imported) ALL of my albums. Are they having the same issues I am? Probably. I can't imagine why this is only happening to me. Apple clearly couldn't understand why anyone would actually buy a live album containing the same songs as a studio album they already own. No one ever does that, right? I mean, why would you need to listen to the live version of "Show Me The Way" on Frampton Comes Alive when you could listen to it on Frampton (studio)?!
I'm a musician. I carry all of my music on my iPhone to reference in band rehearsals, rework song ideas on the go, update demos, remember old recordings and (occasionally) get nostalgic reliving studio sessions. I have trusted Apple with my life's work. And now I'm terrified. When my iTunes on my MacBook inevitably updates to Apple Music, will it ruin my entire iTunes collection as well? Will I not be able to find my new song ideas, demos, old songs, correct versions of my albums and songs? Will I not be able to listen to my own music in my iTunes library?
It's beyond surprising it took Apple this long to launch their streaming service and then botched it this hard. How did they not test this? So many of the hiccups with the launch are because Apple clearly does not have working, independent musicians as advisors and testers.
+Apple Shines Spotlight On An Unsigned Artist… Who Doesn't Exist
It's quite ironic that Tidal and Apple have so much music industry on their side, but mess up their products (and launches) so royally. Spotify is a tech company run by nerds, but the biggest difference between them and the competition is, CEO Daniel Ek appointed a brilliant, independent musician as the official Artist in Residence, and the company encourages open dialogue amongst artists and Spotify through the SpotifyArtists.com support line.
+What Jay Z And Tidal Need To Do To Truly Change The Music Industry
I'm not married to Spotify, and honestly, because everything I do is within the Apple ecosystem, I would have gladly switched my $9.99/mo over to Apple if they provided a better experience than Spotify (and allowed me to import my playlists). But they haven't and they don't.
So what now? Will Apple fix these massive problems? Will they pay artists MORE than Spotify? Will they bring some independent musicians onto an advisory committee? Will they give all musicians the respect they deserve by including ALL album credits (not just the featured artists)? Will they allow artists to offer tickets, merchandise, experiences, crowdfunding options and dialogue to their fans (in lieu of higher royalties)?
I hope so. Time will tell. But something tells, me they're not going to change their ways all that much. Something tells me, we're in for a long, messy future with Apple.
So for now, I'm keeping my Spotify subscription and hoping I can figure out how to restore my iPhone to the pre-Apple Music settings and bring my life's work back to center.
+Apple, Tidal and Spotify All Miss The Point. This Is The Future Of Recorded Music