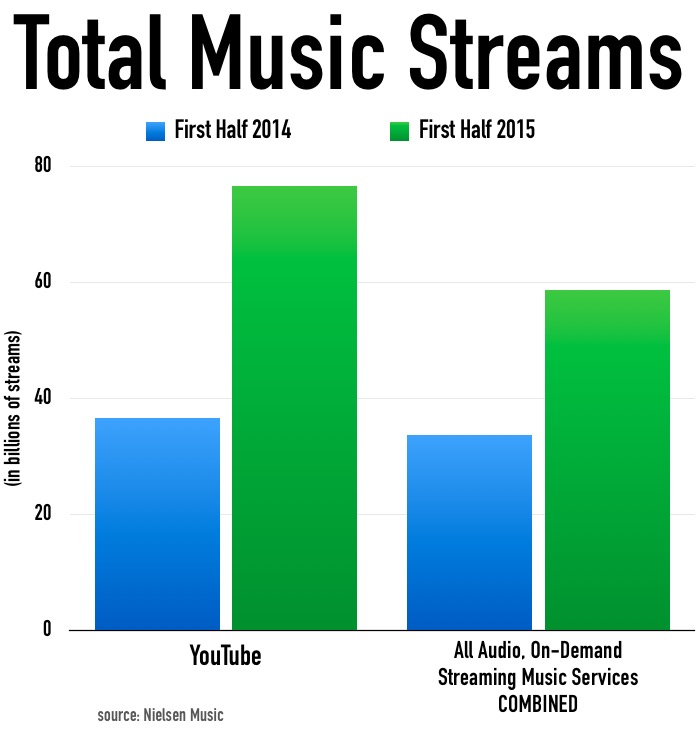 Does this make any sense?  Spotify is struggling to add paying subscribers, while YouTube music video views are surging on greater selection and totally free content.  In fact, according to stats compiled by Nielsen, YouTube delivered 60.6 percent more streams than all audio-only, on-demand streaming music services combined, free or paid, during the first half of 2015.
That includes Spotify, TIDAL, Apple Music, Rhapsody, Rdio, Xbox Music, Cricket (Muve), Google Play, all of whom YouTube Music eclipses (we're not including streaming radio giant Pandora into this equation).

Overall, YouTube (which includes VEVO) served 76.6 billions music video streams during the first half of this year, a gain of 109.2 percent, while all other audio-only streaming music services delivered 58.6 billion streams, a gain of 74.2 percent.  That's a different of 18 billion songs.
Overall, music streams (video+audio) surged 92.4 percent to 135.2 billion for the half-year.
Spotify now counts 20 million paying subscribers, and 55 million free, ad-supported users.  YouTube's planned paid platform, Music Key, doesn't have a known launch date.