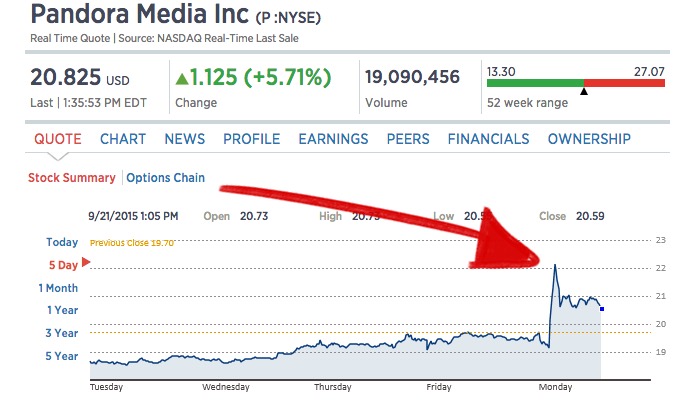 This one is big for Pandora, really big.  So big that the New York Stock Exchange was forced to halt trading on Pandora (P) shares twice this (Monday) morning, based on extremely heavy buy volumes.  And the reason is this: according to details now confirmed by Pandora, the Register of Copyrights has agreed to consider a rate structure that mirrors independent deals hammered out between indie label consortium Merlin and Naxos, an independent classical label.

Those rates have been roundly criticized for being too low and negotiated with 'pay-for-play' payola sweeteners, but they also represent actual, 'willing buyer, willing seller' arrangements that the CRB may be willing to codify into law (the official decision happens in December).  This is a huge break for Pandora, and offers a far better financial story for investors.
Here's the official statement on the matter from Pandora.  The complete decision of the CRB Register of Copyrights is embedded below.

Pandora today announced that the Register of Copyrights released an opinion addressing five novel questions of substantive law referred by the Copyright Royalty Board (CRB) in the "Webcasting IV" rate-setting proceeding. On July 29th, the Copyright Royalty Judges asked the Register to offer an opinion on the admissibility of specific direct-license benchmark agreements as evidence in the CRB proceedings.

"We are pleased that the Copyright Office affirmed the admissibility of Pandora's agreement with Merlin as a valid benchmark in the Copyright Royalty Board proceedings," said Dave Grimaldi, Pandora spokesman.

"We look forward to the certainty that December's decision will bring, and are prepared to thrive in a number of potential outcomes.  Our investments in the business are providing real return, including almost $1.5 billion in royalties to date.  We are excited about the future of ad-supported music streaming and the benefits it brings to consumers and music makers alike."

In this rate proceeding, the CRB will determine the rates and terms for webcasting under a statutory license for a term of January 1, 2016 to December 31, 2020. The trial portion of "Webcasting IV" ended with closing arguments on July 21st and the CRB is expected to issue a ruling no later than December 16th.

Pandora Public Affairs
Dave Grimaldi
202-380-2203
[email protected]