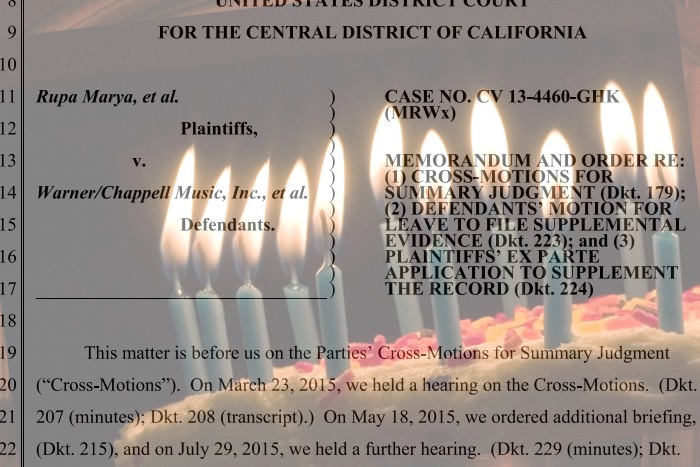 The biggest song in the English-speaking world is now free from copyright, thanks to a judge's ruling issued Tuesday evening.  In a summary judgment ruling, U.S. District Judge for the Central District of California George H. King dismantled Warner/Chappell Music's argument that it had legally acquired the copyright to the lyrics to 'Happy Birthday' through a long, byzantine series of transfers.
The decision means that 'Happy Birthday' is now in the public domain, and free from copyright ownership.
The ownership arguments in the case revolved around Summy Co., a publishing company later acquired and eventually owned by Warner/Chappell.  Summy claimed to have previously secured the lyrical rights from songwriting duo Mildred and Patty Smith Hill in the 1930s.
"This is a great victory for musicians, artists and people around the world who have waited decades for this."
That turns out to be an indefensible claim, with little hard evidence behind it.  "Defendants ask us to find that the Hill sisters eventually gave Summy Co. the rights in the lyrics to exploit and protect, but this assertion has no support in the record," King opined.  "The Hill sisters gave Summy Co. the rights to the melody, and the rights to piano arrangements based on the melody, but never any rights to the lyrics."
The melody itself was registered for copyright in 1893, was renewed and eventually fell into public domain in 1949.  The reason for the separation between lyrics and melody is this: the melody itself was written to accompany lyrics for 'Good Morning to You,' which eventually morphed into 'Happy Birthday to You.'  The oft-sung birthday lyrics were not part of the original registration, however.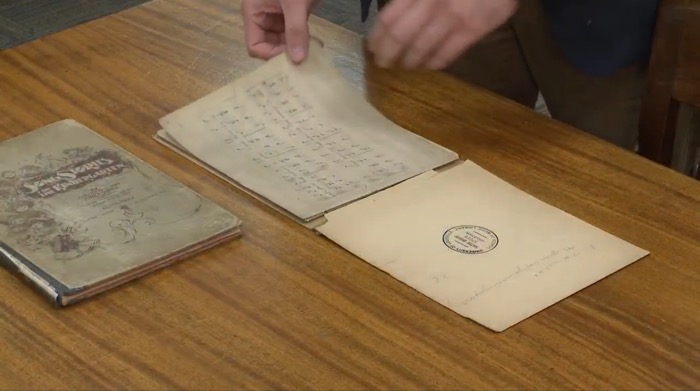 Just recently, a University of Louisville librarian James Procell discovered a manuscript book that contained 'Good Morning to You,' the earliest known version of the work.  That book, called Songs for the Kindergarten, pre-dated the eventual 'Happy Birthday' song.
The case means that Warner/Chappell will now lose roughly $2 million in annual licensing costs related to the song.  But Warner may also be accused of wrongly claiming rights to the work, and subject to legal action from litigants who feel that they were needlessly bullied into paying for those rights.  Damages could pile into the millions, given the annual revenue estimates revealed in court proceedings (the plaintiffs have indicated a possible class action ahead).
The ruling represents a huge victory for litigating filmmaker Jennifer Nelson, who raised the legal challenge after receiving six-figure demands to license the song.  Now, Nelson, and other filmmakers will not be required to pay anything.  "This is a great victory for musicians, artists and people around the world who have waited decades for this," Nelson proclaimed.
That said, Warner could mount an appeal or challenge, though King's ruling is rather decisive.
The complete decision is here.
Candles image (top) by Joey Gannon, adapted under a Creative Commons Attribution 2.0 Generic (CC by 2.0) license.