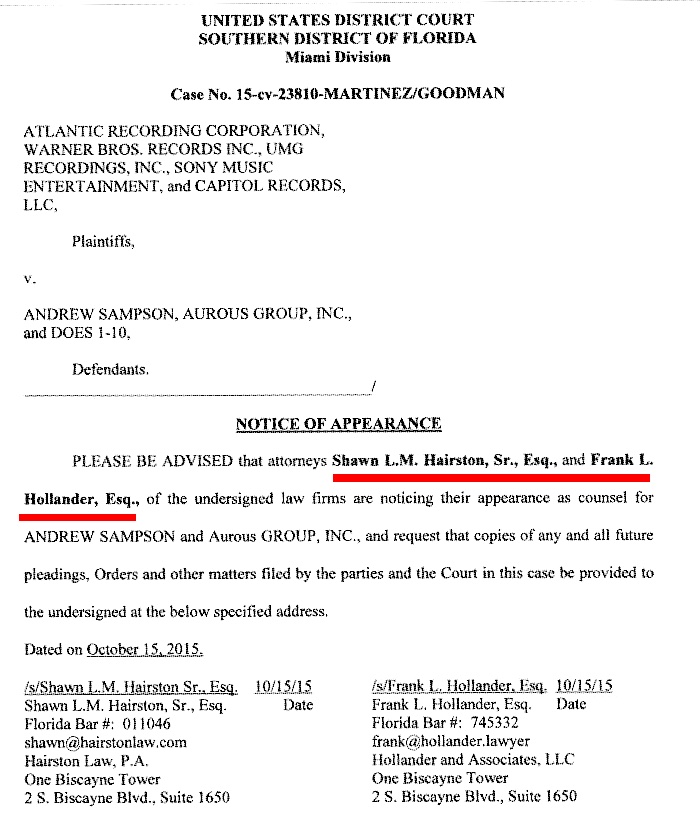 The following is a developing story; please check back for ongoing updates in this quick-shifting situation.  Last update: 9:30 am PT Friday.
Perhaps burying Aurous will be more difficult than the music industry initially thought.  Late last night or early this (Friday) morning, Aurous developer Andrew Sampson complied with a court order to remove application downloads from aurous.me.
But Sampson has also secured legal representation from two Miami-area lawyers, according to court documents exclusively secured by Digital Music News.
The papers, including the leaked excerpt above, are now being entered into the case docket at the US District Court for the Southern District of Florida.   They will confirm that attorneys Shawn L.M. Hairston, Sr., Esq. of Hairston Law, P.A., and  Frank L. Hollander, Esq. of Hollander & Associates, LLC are committing to become lawyers of record for both Sampson and Aurous.  Both are certified and active members of the Florida Bar.

The representation signals that Sampson is indeed serious about his intentions to fight back.  So far, the legal assault against Aurous has been swift and heavy: hundreds of pages of legal documents have been filed, with high-powered lawyers from Washington, DC-based Williams & Connolly, LLP and Miami-based Gray Robinson, PA waging the initial shock-and-awe.
Pulling the puppet strings on this devastating opening act was the Recording Industry Association of America (RIAA), acting on behalf of major labels Universal Music Group, Warner Music Group, Sony Music Entertainment, and their various subsidiaries.
As of Friday morning, aurous.me remains a shell, with downloads for Windows, Mac, and Linux suddenly missing.  Many of those download files are likely to pop up elsewhere, including offshore-hosted accounts, though it's unclear how directed and focused development efforts on the codebase will be.
More as this situation develops.