Updated, 2 pm PT Thurs.: Spotify has now confirmed the news; Apple's pre-order page strongly suggests that Apple Music streaming will not be allowed.
This could be one of the biggest albums ever, in the history of the recording industry.
But it won't be available on Spotify, Apple Music, or other streaming music platforms.
The streaming boycott was strongly hinted by sources to Digital Music News back in October, but mega-papers like the New York Times are now making it official.  "With less than 24 hours before the album's release on Friday [November 20th], the major digital services have been told that '25' will not be made available for streaming, according to three people with direct knowledge of the plans for the release," the Times reported.
By midday (Thursday), Spotify confirmed the news.  Apple has yet to officially comment (as of 2 pm PT Thursday), though the iTunes pre-order page strongly suggests that Apple Music streaming is not part of the plan.  Currently, fans are restricted to album-only downloads, a bundling privilege rarely allowed by Apple.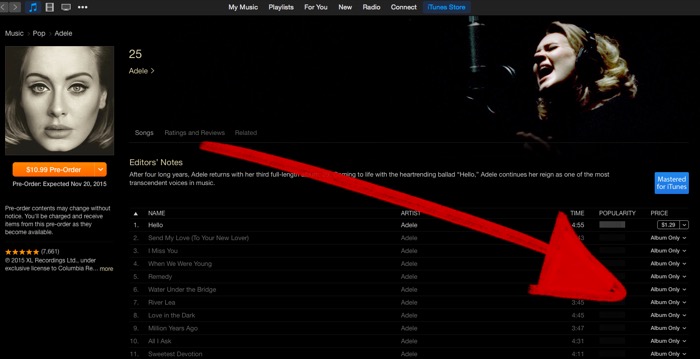 There are more than a few tricky issues ahead, starting with YouTube.  At present, the status around YouTube (and YouTube Red) remains unclear, despite being the largest streaming music platform in the world.  Just recently, Adele's "Hello" passed the 400 million-mark on YouTube, one of the most successful videos ever.  That raises very complicated questions of whether Adele will alienate tens of millions of fans who exclusively listen to music on YouTube (for free).
And don't underestimate the power of YouTube in this situation.  Even Taylor Swift has kept her music on YouTube, despite a high-profile boycott of Spotify.  That drew accusations of hypocrisy, for obvious reasons: YouTube is widely recognized for paying the crappiest royalty rate of all streaming platforms, in huge contrast to players like Apple (Spotify lands somewhere in the middle).
Meanwhile, projections are calling for a massive first week for 25, and potentially a record-setting one.  Back in the early days of 2000, at the peak of the CD-based recording industry, *NSync shifted more than 2.4 million units of No Strings Attached, considered an unbreakable record of the bygone past.  Now, Adele has the possibility of breaking that unreachable mark.
On the physical side, Adele is already outperforming.  Apple reportedly declined to carry the CD, though Target secured the exclusive (and some exclusive tracks).  The Target-specific tracklisting follows; the album officially hits Friday, November 20th.
1. Hello
2. Send My Love (To Your New Lover)
3. I Miss You
4. When We Were Young
5. Remedy
6. Water Under The Bridge
7. River Lea
8. Love In The Dark
9. Million Years Ago
10. All I Ask
11. Sweetest Devotion
12. Can't Let Go (Target Exclusive)
13. Lay Me Down (Target Exclusive)
14. Why Do You Love Me (Target Exclusive)
More as this develops.