…from an interview Thursday morning with head of Apple Music Jimmy Iovine, and Apple Music spokeswoman Mary J. Blige.
[lead-in: audience shown upbeat Apple TV spot featuring Mary J. Blige, Kerry Washington, and Taraji P. Henson]
Gayle King (co-host): Apple Music hopes to change the way that we listen to music, Jimmy Iovine and Mary J. Blige, welcome back to the table Mary J., Jimmy —
— Mary J. Blige: Thank you Gayle —
Norah O'Donnell (co-host): — Great to have you here! —
Charlie Rose (co-host): [laughing]
King: We're so glad that you're here for your debut appearance on 'CBS This Morning'.  Let's talk about that commercial, because it debuted on the Emmys, and people said this: 'Apple Music just gifted with the best moment of the Emmy telecast,' 'best friendship erotica the world has seen' —
O'Donnell: [laughing]
King: I like that Jimmy.  So what was your thinking behind this story, what were you trying to tell?
Jimmy Iovine: Well, music streaming —  well streaming is a technology, but what this is is a streaming service, a music streaming service.  And what it does is it tries to make – it sort of of gives you 30 million songs and it serves them up to you, and it makes it easy to find music.
"So, I've always known that women find it very difficult at times — some women — to find music.  And this –"
O'Donnell: — He's talking about me.  Because I was telling him —

Iovine: — I found that out a minute ago.  And this helps make it easier.  But they're curated by real people, they're not made by algorithms alone, it's made by algorithms but with a human touch.  And it makes it a lot easier to find music.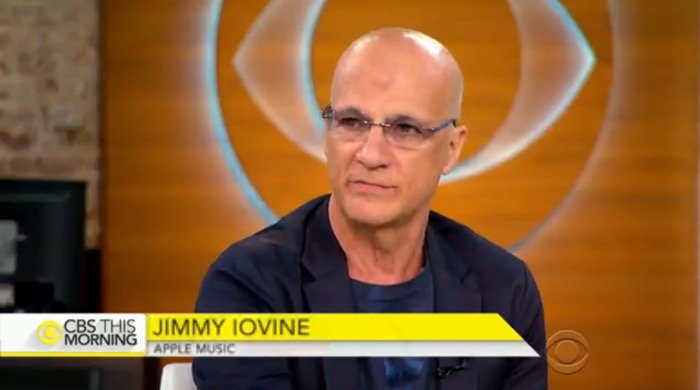 [later in the interview…]
King: But your creative concept Jimmy was what? How did it start?
Iovine: I just thought of a problem.  Ya know, girls sitting around, talking about boys, or complaining about boys —
King: — that too —
Iovine: — have their heart broken or whatever.  And, they need music for that, right?  So it's hard to find the right music, not everybody has the right list or knows a DJ or something.  So you need great lists, you need great lists for dinner, you need great lists for exercising, and you need great lists for that sort of moment.
The full interview is here.