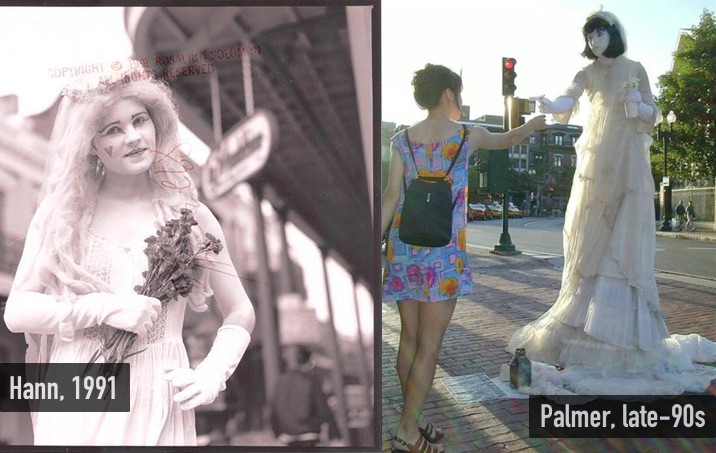 The following comes from performance artist Ahda Hann, a performance artists who now claims that Amanda Palmer blatantly ripped off her 'Gifting Bride Statue' concept.  Hann had a strikingly-similar concept used by Palmer, one in her famous Ted Talk, 'The Art of Asking'.
Hann's allegations were originally posted on Facebook, and have been re-posted here with permission.

The Art of Asking about a Lifted Bride Statue
"Imitation is the sincerest form of flattery" -C.C. Colton
This photo album and story are dedicated to my Lifted Bride Statue, the spirit of love and the survival of my heart. #truth #love #poeticjustice
The Lifted Flower Gifting Bride Statue was my first 'open air' performance work and was initially presented in New Orleans public space and the Boston area in the early 1990s, several years before an artist known as Amanda Palmer would begin performing a strikingly similar act.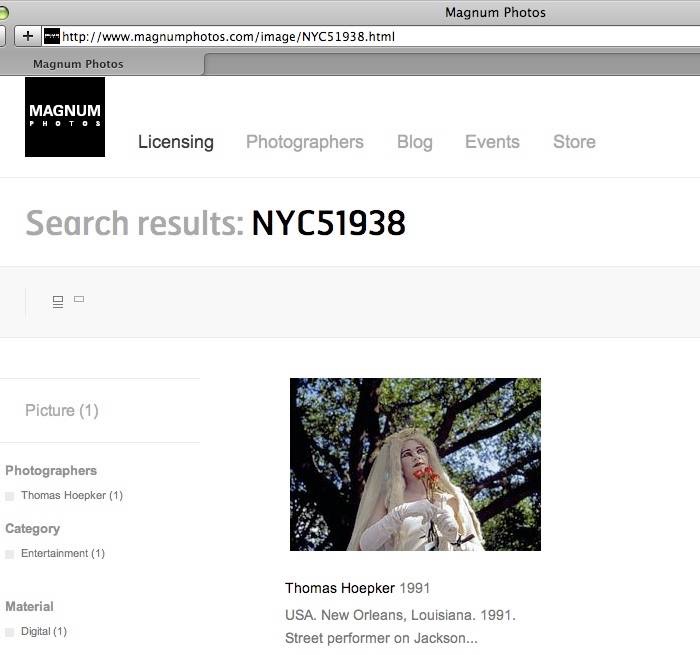 I arrived late to the world of social media.  In 2006, due to being displaced by Hurricane Katrina, I began to employ these social utilities to stay connected with New Orleans.  One day, a friend sent me a video link for a Ted Talk titled, "The Art of Asking" in which the performer 'Amanda Palmer,' known as a musician and former statuesque street performer begins her presentation by standing on a milk crate, with a piece of bridal veil in one hand, while offering a single flower to the audience from her other hand.  She then flashed an image on the screen of her as 'The Bride' in Boston and then one of her in my former home of New Orleans, also the home of my bride statue.
It is interesting that all facts indicate Palmer seems to have only presented 'The Bride' statue on the streets of New Orleans one time.  Was this for the photo-op?
For me 'The Art of Asking' caused me to question.  The Ted Talk prompted me to do some research.  I found a video in which she describes her time as the bride statue and states, "that the act involved giving flowers and blowing kisses to the public". This is an exact imitation of my presentation as the lifted bride statue from the early to mid 1990s. I  have a 1994 VHS tape of my Bride Statue documenting this fact.  Screenshots of this video are available in this photo album.  I feel this is all cause for curiosity, and the art of asking.
I considered the possibility of coincidence. Perhaps my creative twin?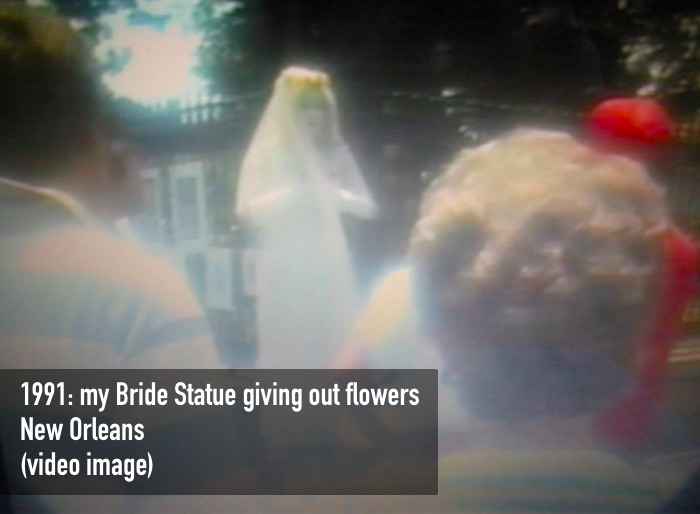 It is my understanding that Ms. Palmer grew up in the Boston area.  Did I give her a flower?  Did she take the flower?  I performed in Harvard Square and Province Town, MA during the early 1990s.  Palmer in her own words has stated on Live Journal, that she spent time in Harvard Square and visited ProvinceTown during this time.
I recall that in the early 1990s when I was busking as the Bride Statue in the Boston area, while on break, a stranger, a younger aspiring artist approached me.  She asked to interview me off the record about my experiences busking and my life.  She told me that she was studying theatre and was frustrated by the prospects of her future, so I shared my knowledge, and my Bride statue story.  I also shared my zine, 'A Freak Affair,' with her and the story of my dual life as a performance artist and poet.
"I was photographed, filmed and painted by many tourists and other artists."
During this time in Boston, I also performed as a spoken word performance artist and published a zine titled 'A Freak Affair' which featured photos of my Bride Statue, poems, and a travel log.  'A Freak Affair' was publicly released in 1991 via an independent book store in Allston, MA, called 'Primal Plunge', and WZBCs 'No Commercial Potential' radio show featuring Suzy D and her guests.  I circulated copies of my zine at The Stone Soup Poets' Naked City coffee house open mics.  I also gave out a few of my zines while busking as The Lifted Bride in Harvard Square.
After living in Boston, in 1992 I returned to live in New Orleans where I continued to present my lifted flower gifting bride.  I was photographed, filmed and painted by many tourists and other artists.  In 1994, in New Orleans I was approached by a tourist, another young aspiring female artist whom asked about my bride and story.  Who were these two curious younger female artists?  Did my story inspire theirs?
" I feel the act of giving individual flowers from a 'bridal' bouquet to people was a thoughtful expression unique to my creative work as the lifted bride statue."
This accompanying photo album is dedicated to raising awareness about my Lifted Bride Statue and story.  'LOVE', my solitary lifted bride statue was presented to the public by me, Ahda Hann between 1991 and 1995.  My pantomime as a solitary bride statue when animated, enacted the gifting of flowers, blowing kisses and on rare occasions even playing matchmaker from the perch of a milk crate riser.  Have you ever seen strangers be inspired to hold hands?  It's truly beautiful.
For me, the action of flower gifting from this lifted and lofty height symbolized a meditative request for the public to contemplate the spirit of love, this was the message at the heart of my work.  I feel the act of giving individual flowers from a 'bridal' bouquet to people was a thoughtful expression unique to my creative work as the lifted bride statue.  Did you take the flower? Did you feel a spirit of love?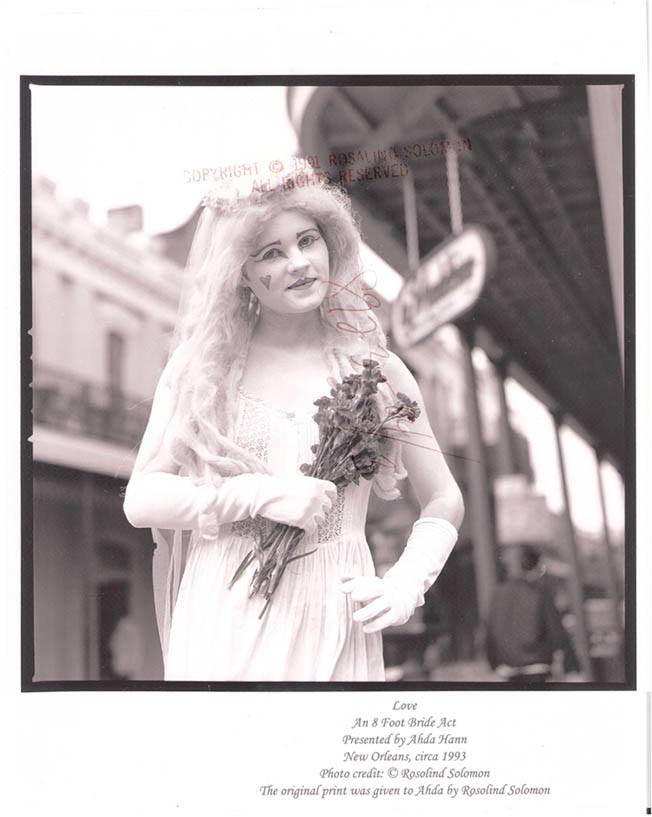 My Bride Statue was referred to, by spectators as: The Bride, 8 Foot Bride, Dead Bride, The French Quarter Bride, White Lady, and The St Ann Bride. The photos, painting, prints, the digital copy of my 'Freak Affair' zine and press clippings of my Bride statue featured in this photo album are just a few representations of my Bride Statue as seen live, and documented in New Orleans, LA, Harvard Square, Boston, and Provincetown MA, New Haven, Connecticut, NYC, San Francisco, CA, and Montreal.  Many of my "Bride" moments were photographed, filmed and painted by others, and circulated internationally before the onset of social media.
"The flower gifting bride statue is a part of my art history, a page in my book that will never seem original again."
I am affected directly, and personally as one who creates original DIY works.  I am a performer, artist and poet skilled in Actress-Creator performance work, new circus, voice works, poetry, lyrics, singing, animation, costume, and art-making.  The flower gifting bride statue is a part of my art history, a page in my book that will never seem original again.  If I re-issue my zine 'A Freak Affair,' or present a performance piece based on my story as a poet whose livelihood was supported as a busking Bride Statue , or attempt to re-issue the silkscreen posters of my Bride, wouldn't it all be seen, as well, not very original.
It was suggested, and it is my preferable action that I reach out to her.
I've sent her tweets, and directed her to my FB profile.
On August 20th, 2015 at the NYPL, during Palmers spectacle while I donated a child's book, I delivered my card with my phone number to her.  I asked if she remembered me, the bride, or my zine.  She was in statue mode, and of course remained silent.  I suggested that we talk as her assistant, 'superkate' took my card.
At this time, Ms. Palmer has not responded.
This photo album and related text have been publicly available for over a year.  If you have read this far, thank you for your time and consideration.
Sincerely,
Ahda Hann
P.S. Lifted Bride Statue story AllRightsReserved © 2014 A.M.Hann
P.P.S Links and more info about my various works:
Words, Sound, Animation: facebook.com/motionpoems
A 1991 video from my time in Boston documents the release of my zine 'A Freak Affair' in which I featured my poems, travel log and pictures of the Bride.
This video was brought to my attention last year after I learned of AFP.  It was shot by a Boston street performer who also documented Poets.  He has also stated that he remembered my Bride statue from Harvard Square.  At the end, I am asked, "what is your last name these days, is it still FF?" LOL.
#Herstory #artofahda at 2015 NYC Poetry Festival: 'Why Should They Care'
On YouTube: 'Katrinas House,' a motion poem memorial stage production by Ahda Hann.
Reveler Circus Theatre Artist Actress Creator (video here).
Thank you to my friends who assisted in the editing and formatting of my story.  To protect the innocent, their names remain safely kept in my heart. Peace be with you.