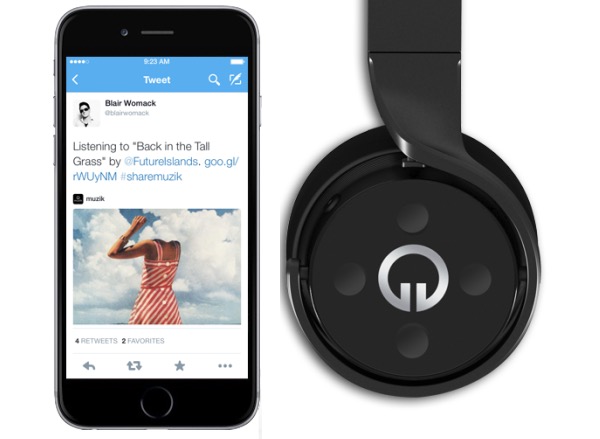 Does the world need a pair of headphones that automatically tweet the music you're listening to?
No.
Is Twitter investing millions in a company developing headphones that automatically tweet the music you're listening to?
Yes.
Twitter isn't a profitable company, though it does have an investment arm that now includes music hardware.  The 'Twitter Ventiure' arm is now part of a $10 million investment round for Muzik, a 'connected headphone' company developing wireless, touch-sensitive listening and fast-tweeting experiences.
Overall, Muzik has raised roughly $18 million, from a number of backers and has been developing its hyper-connected headphones since 2012.
Similar to already-released headphone models like the Parrot Zik, Muzik will allow users to tap-and-swipe directly on their earphones to control music.  Additionally, Muzik users can tweet and post tracks to their social networking accounts, not to mention text and email friends, directly from their headspace.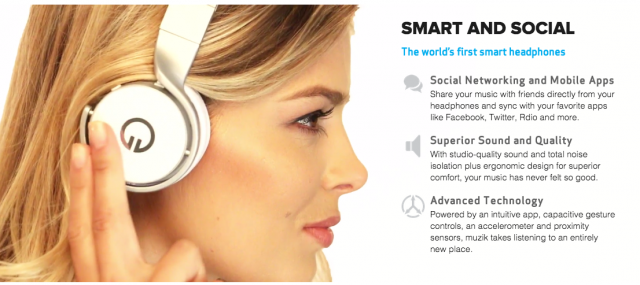 Of course, tweeting and texting about music has already been invented, though why reach for your phone when you can do it straight from your headphones?  The blended features will be channeled through the Muzik Connect app, available for Android and iOS, which raises another concern: most music apps already have tweeting and connectivity built into their experiences, with little need for a separate app layer.
Other Muzik features are fun, but potentially annoying for users as well.  For example, sensor controls will stop music (and save battery life) when the headphones are put down, though sometimes, misreads of motion can inadvertently stop the fun.  Indeed, Plantronics has been tinkering with this for years, with mixed results: in our testing, motion sensing on Plantronic's Sense sometimes triggers Apple Music, for some random reason.
Then, there's the Bluetooth mess, which makes peaceful listening a chore.  Right off the bat, wireless connectivity typically compromises sound quality, while also introducing a host of problems establishing a proper link.  In the end, Bluetooth never quite works right.
Muzik is now showcasing at CES in Las Vegas, with its first over-the-ear model shipping in May for $299.  Earbuds will follow by summer.