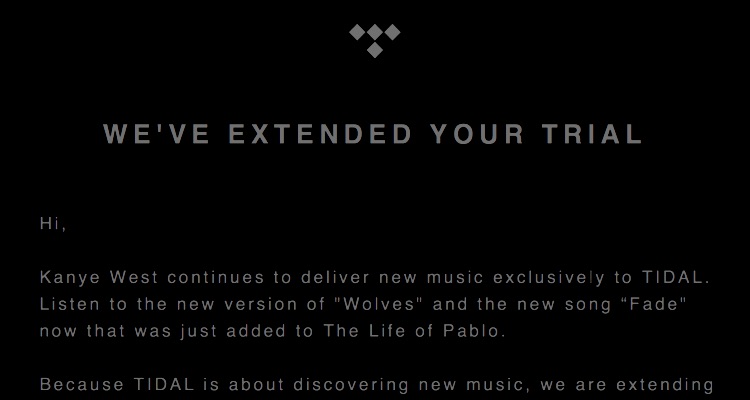 Kanye West's fans who signed up to Jay Z's Tidal to listen to The Life Of Pablo, have now been given an extra 30 days to use the service.
The reason being Kanye, of course.  Kanye has reportedly changed three songs on the album in total so far: his song 'Wolves' now features Vic Mensa and Sia, 'Famous' now includes Nina Simone, and there is also an addition of a short track featuring Frank Ocean.
But, why has Kanye chosen to take this move?  It's very rare – if not completely unheard of – that an artist releases a track, pulls it due to dissatisfaction of the outcome, tweaks it, and then re-releases it.  Especially for three songs anyway.
So, was this another ploy from Kanye, another way to get his name in the headlines?  Or was he just simply showcasing his 'creative expression' and the notion that music as an art-form should have no boundaries.
Back in January Kanye tweeted "so happy to be finished with the best album of all time."
At this point, from the tweet, one would presume that he was content with the album.  But, not too long after West decided that there was a need to 'fix' certain songs on the album, prompting Tidal to respond.
These changes are not out of character for Kanye.  We all know that he obsesses over creative control and it is known that he strives for perfectionism in his work.  He's even previously delayed the release of an album as he said he wanted to work on his music until the 'last minute'.
In fact, back in 2005, Kanye said to the New York Times that,
"Every day when I work at the studio, I finish the album.  So if someone was like, 'You've got to turn it in today,' I would be confident turning it in today.  But if they gave me another week, I would work for another week."
Maybe it's that simple.  He was given more time, so he took the opportunity.
But, beyond all of this, it's about the music fans.  Are these changes annoying his listeners?   Maybe they fell in love with the original song that was released, and maybe they prefer the original.  Or, perhaps they like the fact that he is continuously re-creating his music, making something bigger, something better.
Either way, Kanye is going to do what Kanye wants to do.