How low will the price of a CD go?
Two years ago, Digital Music News discovered $5 albums being sold in a Walmart outside of Austin, TX.  Now, those prices are plunging further, with a 99 Cents Only Store in Venice Beach, California found selling a wide range of CDs from popular artists.
In a sizable section of discs nudged between light bulbs and window cleaner on aisle 2, a number of well-known artist releases were found, including those from Weezer, The Roots, Aretha Franklin, Dean Martin, Earth, Wind & Fire, and Yanni, all for just 99 cents each.
Less than ten years ago, many of these same titles were fetching price tags in the $16.98 range (sometimes higher).   Fast-forward to 2016, and here's a sample of some of the titles now offered at the sub-$1 price point.
The Roots Present (99¢)…
Aretha Franklin, A Woman Falling Out of Love (99¢)…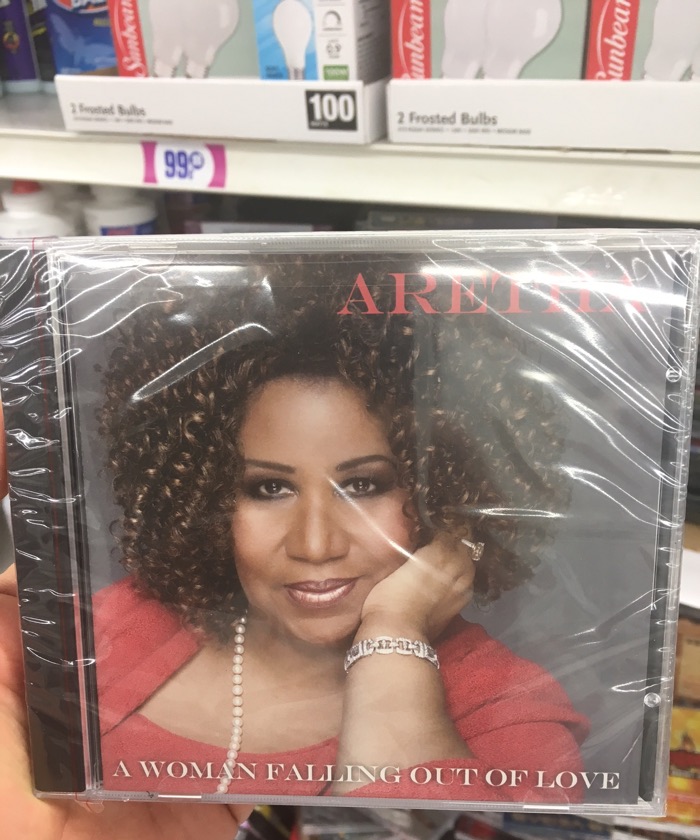 Earth Wind & Fire, The Promise, (99¢)…
Yanni, Live! (99¢)…
And, a smattering of some of the other titles found: Randy Travis, Always & Forever; Dean Martin (Greatest Hits); Best of Glenn Miller Orchestra; The Source Presents Hip Hop Hits Volume 8; Jorge Zapata, Tropical Piano; Las Vegas: Original Soundtrack; How to Eat Fried Worms: Original Soundtrack; Ruth Brown, Essential Recordings, Shirley Brown, For the Real Feeling; Funny People: Original Soundtrack; Count Basic, Trust Your Instincts.
We also contacted the 99 Cents Only Store headquarters to get a full list of available titles, though that seems impossible to pin down.  "Our stores stores are a treasure hunting experience, we do not have a list for CD's because the type of CD varies due to what our Buyer is able to obtain from the vendor," a 99 Cents Only Store representative told Digital Music News.  "When this occurs, we work with other vendors to obtain the same or similar type of item in efforts to keep our prices at 99.99¢ or less."