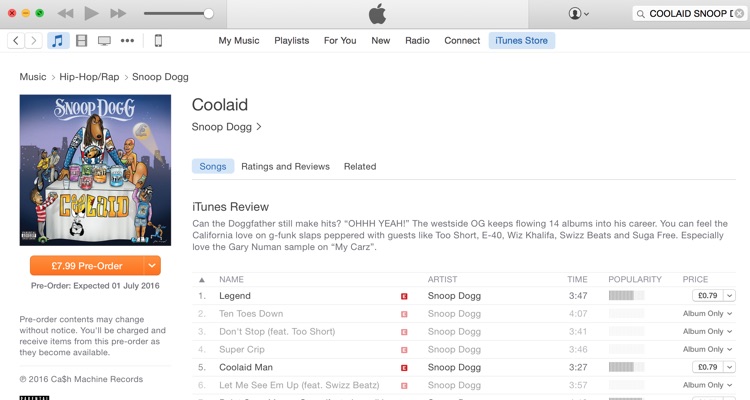 Apple Music has exclusively secured Snoop Dogg's latest album…
Apple Music's latest artist exclusive comes from Snoop Dogg, with his 20-track 'Coolaid' album.  Like many artists who have opted to give their music exclusively to Apple Music, Snoop will enjoy the platform's enticing per-stream royalty rate.
Other Apple Music exclusives include Drake's 'Views' album, which was exclusively released one week before being available on other streaming services.  The rapper's global hit, 'Hotline Bling,' was also first streamed on the service.
Others who opted for an Apple Music exclusive include DVSN — an up-and-coming band signed to Drake's label — and Chance the Rapper, who released his 'Coloring Book' mixtape exclusively on the platform.
This strategy has helped grow Apple Music's subscriber base at a faster rate than its competitors.  Just two weeks ago, the service announced hitting 15 million subscribers one year after launch, an average of more than one million users signing up to the service every month.
But, how is Apple Music gaining all these artist exclusives?
Behind the scenes, Apple has been funding artists' music videos in a bid to get them on board and sign an exclusive agreement with them.  That approach appears to be working.  The streaming platform funded Drake's 'Hotline Bling' video and secured the exclusive as a result.  Apple's Tim Cooke was even involved in the production of M.I.A's latest video.
Apple is an extremely powerful brand, and they have direct access to large amounts of cash, which they are not afraid to use.  The streaming platform currently sits at 15 million subscribers, which is half the amount of Spotify's paying users.  But, the platform has been gaining subscribers at an unprecedented rate, and ominously appearing in Spotify's rearview mirror.  Perhaps high-profile exclusives are all it takes for Apple to overtake Spotify, possibly by the end of 2017.