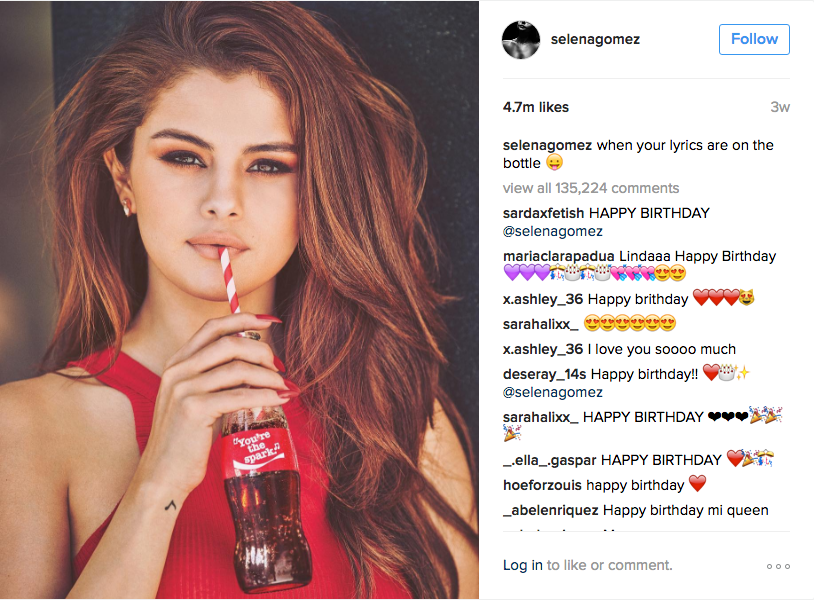 This is the most liked picture
ever

on Instagram.  It's also the most expensive.

Selena Gomez is now pulling down more than half-a-million dollars for one social media post, according to figures calculated by measurement company D'Marie Analytics.  In an interview with AdWeek, D'Marie noted that Gomez can fetch a cool $550,000 per post, provided that it hits Facebook, Instagram, and Twitter concurrently.

The valuation is astounding, and will probably increase following a massive success with Coca-Cola.  Just recently, Coke tied with Gomez to create the most-liked Instagram post in history, with 4.7 million and counting.  The pic, a relatively simple shot featuring Gomez sipping Coke through a classic bottle and candy-striped straw, was blasted on June 25th.

Amazingly, the $550,000 price tag is roughly $250,000 more than prices fetched by top Instagram celebrities in December of last year.  At that point, D'Marie Group CEO Frank Spadafora estimated that high-wattage Instagrammers like Kendall Jenner, Cara Delevingne, and Gigi Hadid could fetch between $125,000 and $300,000 for similar, cross-platform posts.  Further driving up the cost is the selectivity that Gomez and others apply to marketing tie-ins, a smart move considering the risk of audience burnout.
All of these deals involve lots of negotiation and prices can vary greatly, but currently, Gomez is estimated to be the top earner in this arena.  "That is up to negotiations between her agents and the brands," Spadafora relayed.  "This [$550,000] valuation is based on D'Marie's algorithm which measures 56 metrics including followers, post frequency, engagement, quality of post, click-thru and potential to create sales conversions from her social content."
As of this week, Gomez boasts nearly 181 million followers across major social networking platforms, with roughly 200,000 new followers joining every 24 hours.  That surge explains the increased prices for product placements, and it's likely that Gomez can negotiate higher rates soon.