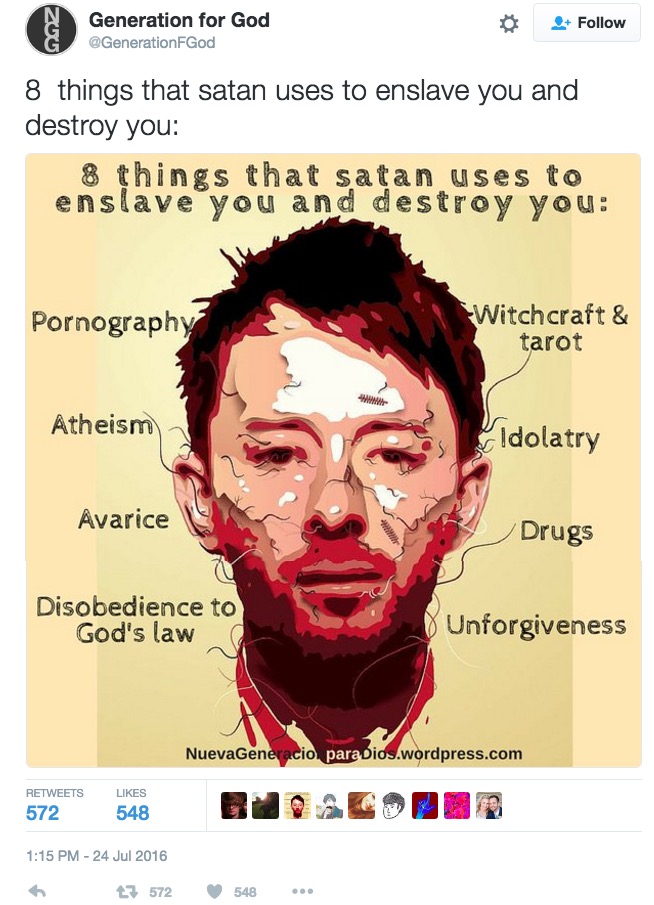 Of all the people… why Thom Yorke?
Somehow, Radiohead frontman Thom Yorke has become the human embodiment of Satan and all of his vices, according to a declaration by Christian fundamentalist group Generation for God.  The strange tweet from the group, which also declares activities like homosexuality, marijuana smoking, and atheism as sins, pegs Yorke as representative of 8 deadly vices.  These vices, in turn, are employed by Satan to control and destroy individuals.
The list of vices pegged to Yorke's face include things like 'Atheism,' 'Drugs' and 'Disobedience to God's Law,' which Yorke may indeed be guilty (we're not sure).  Others are more of a stretch, but include:
Pornography.
Witchcraft and tarot.
Avarice.
Idolotry.
Unforgiveness.
The choice of Yorke remains an epic mystery, though the tweet is quickly gaining steam among Radiohead (and Yorke) fans.  "Is this going to be on vinyl?" one fan replied.  Another pointed to an amazing upcoming album cover.
Adding to the intensity is a 'heat map' effect on the singer's face, which could make any mug into an evil menace.  But if this is Satan, maybe he has positive musical qualities that we should consider?  "I always knew Satan had a great taste in music," one fan raised.
Other interesting questions surfaced among the Radiohead faithful,  For example, what about rock n' roll and blues before it, declared the devil's music?  In fact, music in general, not to mention virtuosic performers, have always run the risk of being viewed as messengers of Satan.  "Ironically, they didn't include 'rock n roll' in their list," one fan noted.
"You guys forgot Harry Potter and rock music," one fan responded.
The tweet has drawn a few hundred comments, mostly in jest, though a big percentage aren't laughing.  Many questioned (rightfully) whether the use of Thom Yorke's face is fair, and further questioned what rights Generation for God had to associate their message with his likeness.  So far, there's been no response from Yorke, whose face has apparently been misappropriated for other strange purposes (price of fame…)
Beyond that, the use of Yorke quickly opened the group's messages to attack, including its rigid views against homosexuality, pornography, freedom of religious thought, and declaration that religion is the answer to escalating violence (not its cause).
"Ugh, set this account on fire, lord," one fan blasted back.
Here's the full tweet.
8 things that satan uses to enslave you and destroy you: pic.twitter.com/qZGIXVYlLe

— Generation for God (@GenerationFGod) July 24, 2016