In a strong push towards their video platform, social networking giant Facebook recently posted brand new video metrics as well as new 360 Video tools so that artists and other publishers can better engage their audience.  The update comes just days after Facebook acquired social music video selfie app creator Eyegroove.
We're going to take a look at these metrics and tools and break them down to see how good they really are and if they can truly help out artists.
Let's begin.
Audience Demographics
For video publishers and artists, Facebook is launching their audience demographic tool, which is aimed to break down users by the minutes they viewed the video, their age, and finally, gender. According to Facebook…
"publishers will be able to learn more about the people who are most engaged by their content, allowing them to tune their content strategy."
You can see a screenshot below.
This tool looks to be promising, because you're able to check out what age groups are truly interested in what you're looking at.  There's just one big problem.  Thanks to me being way too talkative, I've been able to make friends with several preteens and pre-preteens who already know what Facebook is.  The minimum age to be on Facebook is 13, but trust me, that's not stopping them from putting 19, 27, 35, and so on.  This tool depends on the accuracy of actual Facebook users, with the publisher having to rely that the majority of Facebook users are, in fact, honest.
Besides checking out who's viewing your video, it's also important to find out where your viewers are located.  Facebook has a colossal global outreach, for better and worse, so with the demographics tool, you can find out exactly where most of your video viewers are coming in from, or where exactly it's famous.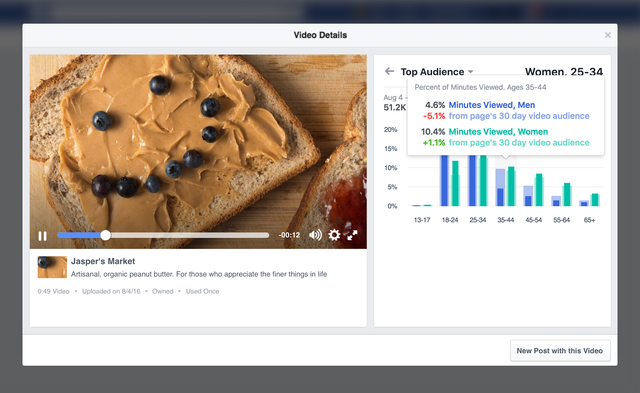 There's just one big problem.  Thanks in large part to Wikileaks and Edward Snowden whistleblowing on the NSA's massive data mining collection, the number of web users looking to protect their privacy through using VPNs is rapidly growing.  Even Opera now has a VPN service built right into their browser.  That leaves one big question for the geographic location data gathered by Facebook: "Is it based on where the user is browsing from or based on the location set in their profiles?"
Let's continue looking at the list.
Viewer engagement with live video
YouTube, along with several prominent video services, have made a massive push into live video streaming and Facebook doesn't want to be left out. With this tool, publishers will be able to see how audiences have engaged at specific moments during a Live broadcast, how they reacted to said moments, what comments they made, and if they shared the video.
This tool promises to help "analyze viewer sentiment and identify the most compelling moments," allowing publishers to select a moment of interest and watch the clip. But I'm a huge video gaming fanatic, and I've also watched Twitch and live YouTube streams.  If these two services have taught me anything, it's that most net users are anything but friendly, with YouTube garnering a reputation for its horribly toxic comments section, and any given Twitch channel's chatroom looking like an Oxford English Dictionary of Obscenities.
This is made even worse when you throw in Facebook's new emoticon reaction system into the mix.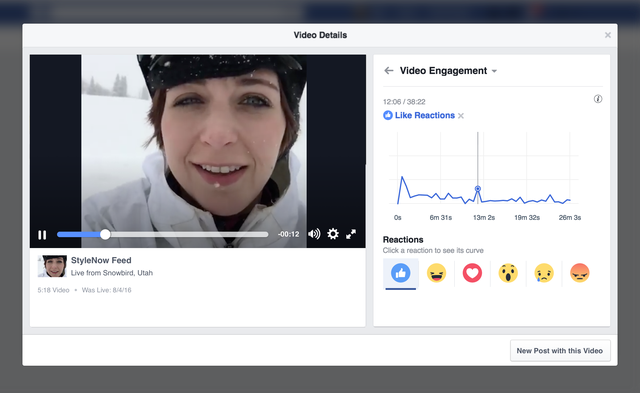 Video viewing from shares and crossposting
According to Facebook, 48% of video watch time comes from shares.  So Facebook has decided to add a tool to let publishers access breakdowns of views and minutes viewed from the original video.  Add in video shares and crossposts, and you have a winning formula.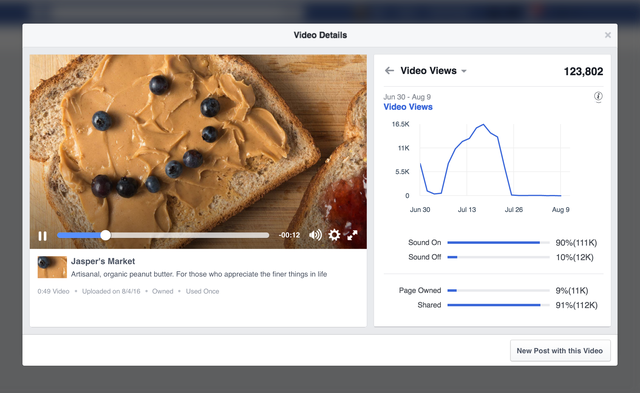 This sounds extremely promising for publishers, right until you realize that in your normal, everyday Facebook feed, there are way too many videos posted with the default option being to auto-play if your mouse hovers over them.  There are even complaints about this topic on Facebook's community support page.
Now, let's take a look at the top two tools offered by Facebook's 360 Video.
Guide
The Guide feature allows publishers to manually set-up guides to create a solid video stream without forcing users to figure out what they should be looking at.  With a guide on certain points in the video, you're in charge of what users see.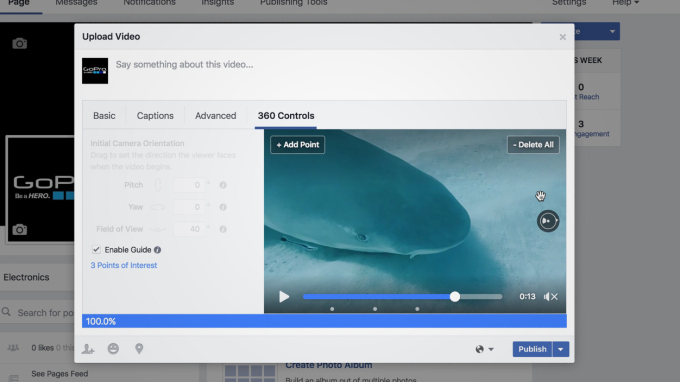 There's a rather big drawback, though.  As a publisher, you're going to have to be very precise with your guide placement.  If you place too many guides, be prepared for a video that will have you audience reaching for a plastic bag.  Even Facebook's Guide demo video feels like the 360 view is moving just a little too fast.
Heatmap
Now, here's a truly interesting feature. The Heatmap feature show you the specific portions your 360 Video viewers found the most interesting, measuring up to 30° within the scene.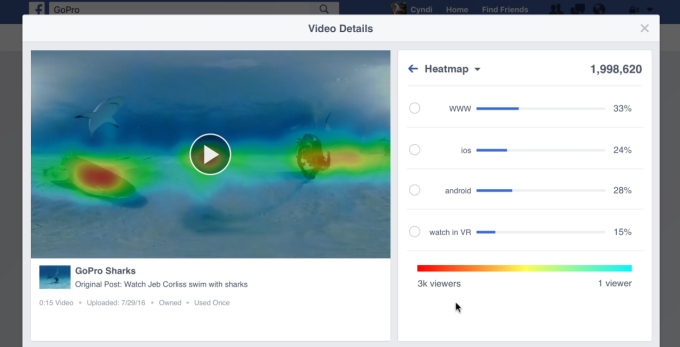 Besides having to own the equipment to create a 360 video, the kicker here is that this feature is only available for videos published after May and only if your video reaches 50,000 views.
Facebook image by Sarah Marshall, licensed under Creative Commons Attribution 2.0 Generic (CC by 2.0)
All Facebook publishing and 360 Video features images are owned by Facebook.