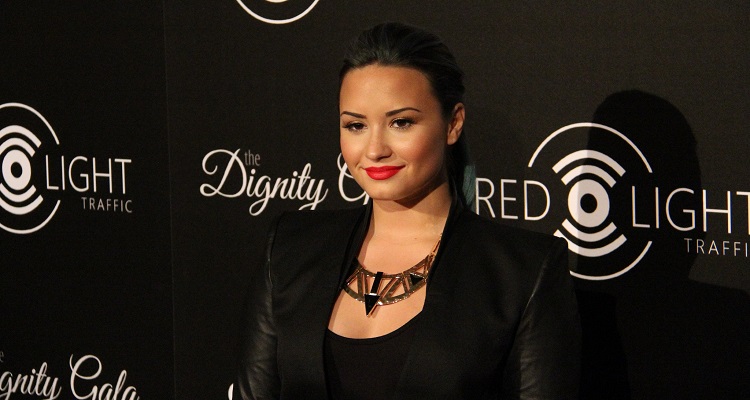 According to documents obtained by Digital Music News, Derek E. Miller and Sydney Alexis Krauss, better known by their indie rock band name, "Sleigh Bells," have filed a lawsuit in a California U.S. District Court against Demetria Lovato, known by her stage name Demi Lovato, and Universal Music Group. The lawsuit states that Lovato's song Stars contains "material taken from the original Sleigh Bells song "Infinity Guitars.""
The accusation first begin as a tweet last year by Sleigh Bells, when they posted:
"Demi Lovato flattered you guys sampled Infinity Guitars & Riot Rhythm for "Stars" but we were not contacted. Gotta clear those."
Not only defended by a (presumably) ardent Lovato fan on Twitter, Lovato's producers Carl Falk and Rami Yacoub flat-out denied the accusation, telling Billboard, "We did not use any samples in Demi Lovato's song 'Stars.' Demi was also not involved with the production. She only wrote [the] top line."
After failing to remedy the situation, Sleigh Bells decided to take court action, with the lawsuit stating, "Indeed, they failed to even notify Sleigh Bells that they intended to exploit Sleigh Bells material to create a Demi Lovato song," going on to say that it infringes on their copyright. It also states that due to this willful copyright infringement, Sleigh Bells have "suffered actual damages including lost profits, lost opportunities, and loss of goodwill," going on to say that they are asking for $150,000 "per infringement" along with a "permanent injunction prohibiting the reproduction, distribution, sale, public performance or other use or exploitation of "Infinity Guitars" by defendants."
So far, the last part of this year hasn't been so hot for Lovato. In June, she posted an image comparing Mariah Carey and Ariana Grande, triggering a backlash from Mariah Carey fans. She also got in hot water earlier this month for posting a video with her mother reportedly stating that everyone in the Rio Olympics was going to get Zika.
Lovato and her team have yet to comment on the lawsuit, but you can a copy of the lawsuit, along with the songs in question below, so you can decide if Sleigh Bells truly has a case or not.
Redlight Traffic's Inaugural Dignity Gala image by Neon Tommy, licensed under Creative Commons Attribution 2.0 Generic (CC by 2.0)