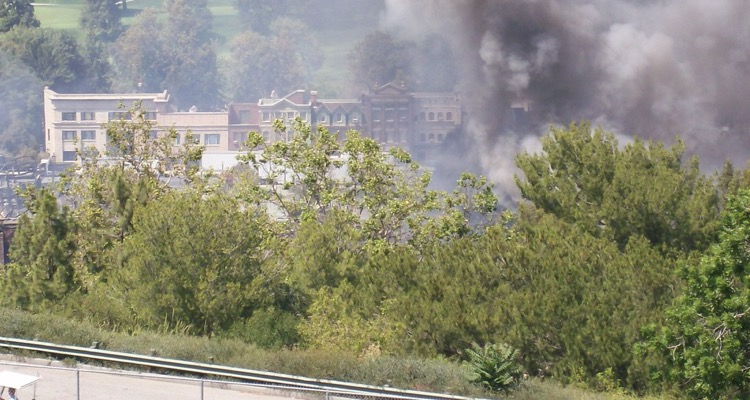 Over ten years ago, several workers at Universal Studios Hollywood made a huge blunder.  Universal Music Group committed a much greater one.
To repair a building on a set, the workers had decided to use a blowtorch.  This would warm asphalts applied to a façade.
There was just one major problem, though.  They hadn't checked if all areas had cooled.  This quickly led to a three-alarm fire breaking out.  The fire eventually led to the destruction of a three-acre area of the Universal backlot and around 40,000 to 50,000 archived film and video copies.
Downplaying the event, Universal President Ron Meyer said,
"Nothing irreplaceable was lost.  We have duplicates of everything that was lost."
That, unfortunately, wasn't true.  And neither was UMG's assertion that its master recording archive was almost entirely untouched.
Several weeks ago, The New York Times found the fire had actually destroyed Building 6197.  This building housed master tape catalogs of labels acquired by Universal Music Group (UMG).  These include Impulse, Interscope, A&M, Geffen, Chess, Decca, and MCA as well as their subsidiaries.
In total, the 2008 Universal Studios fire destroyed over 500,000 master recordings.
Amidst the sale of up to 50% of the major label, parent company Vivendi also downplayed the event.  Despite a report revealing UMG had received a "massive settlement" from NBCUniversal and the label deciding not to compensate affected artists as part of a widespread cover-up, Vivendi Chairman and CEO Arnaud de Puyfontaine called the investigation "just noise."
Now, with even more class-action lawsuits on the horizon, and the potential sale of UMG permanently stalled, major artists have spoken out against the company.
So have their lawyers.
Currently, the major label company faces a $100 million lawsuit from a collective, including the estates of Tom Petty and Tupac Shakur as well as surviving members of Soundgarden, Hole, and Steve Earl, among many others.
That's likely just the beginning.
Reacting to the NYT's investigation, Hole's representative revealed that UMG never once disclosed the complete loss of the band's masters.
"[The band was] not aware until this morning."
On Twitter, R.E.M. echoed the same statement.
"REMHQ is receiving inquiries from many people concerned about the New York Times article on the Universal Music fire 11 years ago.

"We're trying to get good information to find out what happened and the effect on the band's music, if any.  We will detail further as and when."
It appears UMG ensured artists never discovered the complete loss of their masters as part of a coordinated effort.
While working on a remastered edition of his recordings, Bryan Adams said,
"I contacted the archive dept of Universal Music…[seeking] the master mixes/artwork/photos/video/film . . . anything.

"I called everyone, former A&M employees, directors, producers, photographers, production houses, editors, even assistants of producers at the time."
Preparing the 20th-anniversary edition of its 1988 album, Feeling Strangely Fine, Semisonic drummer Jacob Slitcher explained UMG told him it couldn't find the masters.  The group's manager, Jim Grant, said the major label company "didn't reference lost or damaged masters… They did not mention anything about the fire."
Counting Crows' leading singer, Adam Duritz merely told him his label, Geffen Records, had "lost the master tapes."
"Geffen, because they're a record company, it's their sovereign right to lose everything."
Working on his own reissue, Richard Carpenter of 70s pop duo The Carpenters explained how UMG withheld information.
"They didn't let me know.  They really didn't want to get me on the phone to give me this news."
Sheryl Crow recently revealed the 2008 fire destroyed all of her master tapes.
In a lengthy interview with the BBC, she said,
"It absolutely grieves me.  It feels a little apocalyptic.  I can't understand, first and foremost, how you could store anything in a vault that didn't have sprinklers.

"And secondly, I can't understand how you could make safeties [back-up copies] and have them in the same vault.  I mean, what's the point?  And thirdly, I can't understand how it's been 11 years.  I mean, I don't understand the cover-up."
Eminem's representative, Dennis Dennehy, explained the rapper had backed up his master records just in time.  Yet, the physical masters may have perished in the fire.
"I'm fairly confident that most, if not all, of the masters are backed up."
These expressions of outrage follow earlier comments from Irving Azoff, Questlove, and Dave Grohl.
Among the first to respond was Questlove, who wrote,
"For everyone asking why Do You Want More & Illdelph Halflife won't get reissue treatment.  I been dying to find all the old reels and mix the 8 or 9 songs that never made DYWM.  My plan for both DYWM & IH was to release all the songs and instrumental/acapella mixes on 45."
On behalf of the band, Irving Azoff, Steely Dan's manager, wrote,
"We have been aware of 'missing' original Steely Dan tapes for a long time now.  We've never been given a plausible explanation.  Maybe they burned up in the big fire.  In any case, it's certainly a lost treasure."
Mourning the loss of the masters of the group's second album, Nevermind, Nirvana bassist Krist Novoselic said,
"I think they're gone forever."
So far, Universal Music Group has remained quiet following yesterday's publication of 800+ affected artists, above the initial 100 artists listed by the Times.
---