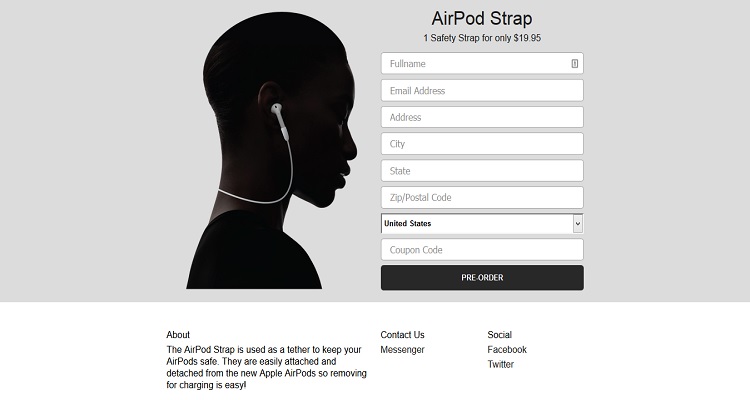 AirPod Straps: Sadly, you'll probably need them.  But don't buy them just yet…
[Update: Sean Brodie has responded to our request for comments. I've added them at the bottom.]
The internet has been anything but friendly to Apple's new AirPod. Dubbing them the Air Buds and naming them after a 90's Disney movie, there's even a list of top memes for Apple's new AirPods.
There's also a hilarious picture a user posted on their Instagram.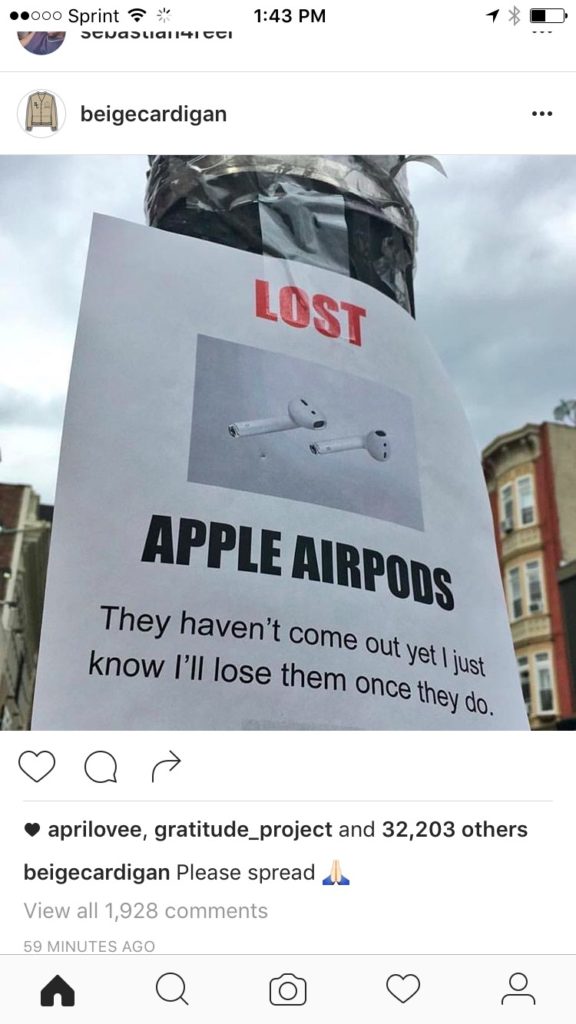 Looking to top off Air Buds memes, an unknown website has suddenly appeared, promising to sell users brand new AirPod straps.
Going to airpodstrap.co looks to take you to an order page eerily similar to Facebook's front page (before you sign-in). You'll be a silhouette of a young woman with Apple's AirPods but with a noticeable white strap installed. On the website, you'll be able to fill out important details like your full name, your e-mail address, your actual physical address, city, state, zip code or postal code, and your country, with an extra field for a coupon code, if you happen to have one.
I decided to try out the website and fill out all of the fields with fictional information (I'm Marty McFly from Bangladesh). I was then forwarded to a PayPal login page. The total charge for the AirPod strap? A cool $19.95 with $5 in shipping. It doesn't matter if you're in the States or out of the country, as this website apparently supports shipping to all known countries around the globe.
As I said earlier, the website doesn't share a lot of info on who's actually behind the site. The "Contact Us" button does feature links to the company's Facebook and Twitter pages, and looking up the information on who.is will provide some useful information. The website is apparently owned by a man named Robert Bodley who lives in Plettenberg Bay in South Africa. There's also a phone number listed, but a quick call will leave you with a female voice telling you,
"The subscriber you have dialed is not available at the present. Please try again later."
A quick search on Google reveals the website owner to be a young man from Plettenberg Bay. I was able to find his Facebook profile where he did happen to share the link to the AirPod Strap website, with one commenter writing,
"Brilliant."
Mashable has a lengthy piece about the site being a joke site, despite labeling that the AirPod Strap may be the help that Apple needs. The interesting thing, however, is that if you currently visit Airpodstrap.co, you'll find a link to a Flippa auction for the site, with a starting bid price of $500 and a Buy It Now price of $2,500. The reason for the sale?
"Unfortunately we are over-committed and currently have too many sites to manage. We were overwhelmed with the media attention and we are selling simply because we can't invest the time to bring the site to its full potential."
If this is indeed meant to be a joke website, Robert Bodley's and his friends are apparently going all-in. A Flippa user by the name of Sean Brodie (who is friends with Robert Bodley on Facebook) is answering questions on Robert's behalf, stating that yes, the manufacturer does have the AirPods Straps in stock, and that the manufacturer "produces a product which they then rebrand to our desire." When confronted about another company having placed a patent for "AirPod Strap," Sean was quick to dismiss the application,
"We are aware of Spigen's application. We, however, are not concerned because many wireless earphones in the past have already used neck-straps. Thus, Spigen have little grounds for a patent because the idea isn't novel."
I have reached out to both Robert Bodley and Sean Brodie, but they have not yet responded on our attempts for an official comment.
Update:
Since the article was published, Sean Brodie has reached out to us.  Other media outlets are reporting that this website is most likely a joke. According to Brodie, no, AirPod Straps are not a joke; they are a real company.
"This is in no way a joke. We took the early opportunity to set this site up with the full intention of fulfilling the orders. We are committed to the current standing orders and will see them through. "
When asked about why they are selling the website domain, Sean explained that he and Robert are full-time students with little time to to run an actual company. The Flippa auction is not only for the website, but for the company as well. Robert and Sean are working with a Chinese manufacturer for the production of the AirPod straps.
We've since reached out for an interview, and will update once we have more information.