Pandora accounts for a massive 27% of music streaming time in the US.  Apple Music accounts for 2%.  Pandora is launching a new streaming service to more directly compete with Apple Music.  Any questions?
After launching their brand new Pandora Plus plan (replacing Pandora One), MusicWatch research has noted that Pandora is the leading share of weekly music streaming hours here in the States for the second quarter of 2016.   That simply dwarfs Apple Music: almost one-third, or nearly 30 percent of consumers, have spent time streaming music on Pandora, followed immediately by YouTube with 27 percent and Spotify at just around 18 percent.
For those who pay for "on-demand" music subscriptions, Spotify Premium took the lead, posting a 7 percent share, followed by only 2 percent for Apple Music.
Here's an infograph breakdown provided by MusicWatch to DMN this morning (we're awaiting a higher-res version):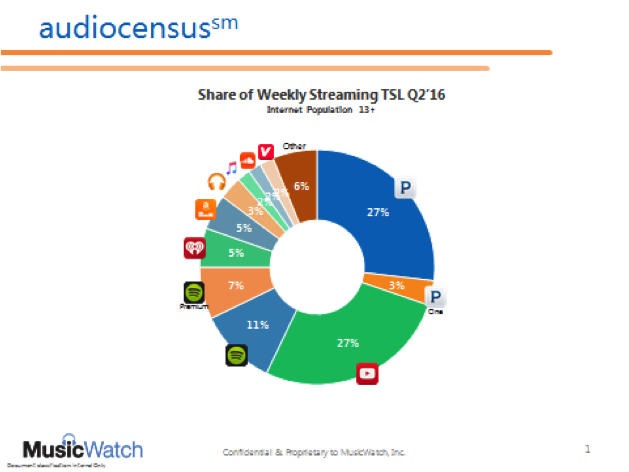 Strangely, Apple Music seems to be getting 27% of the attention in the media, while Pandora is getting 2%.  And, you can partly blame publications like Digital Music News for that.  But the real story among American music listeners is a bit different, with Pandora entering the on-demand streaming space with some serious leverage.
Russ Crupnick, Managing partner of MusicWatch, pointed out that if Pandora can upsell people, Apple might be toast.  "Pandora's strength in the market represents a major opportunity to migrate listeners to new tiers of services, including on-demand and revised lower-price offerings," Crupnick told DMN.
Spotify is also dominating, but of course, Apple Music is on a serious incline.  For now: "At the same time Spotify is leading growth in the on-demand segment.  Although Spotify Premium has a lead over Apple Music it is important to keep in mind that Spotify had quite a head start, and many Apple users are still in the trial phase."
MusicWatch used their Audiocensus tool, which is a monthly tracking study of net users here in the States aged 13 and above. The share of listening hours is based on the size of the audience for each service and the amount of time all users spent listening to said service in a standard week.
There's no word yet on how Pandora's new paid tier will affect upcoming results, but we'll make sure to keep you updated on the news once we have it. Pandora has also confirmed that they're working on their $9.99 tier to better compete with Apple Music and Spotify Premium.