It's a turntable whose platter magnetically floats in the air while playing vinyl records.  Any questions?
Vinyl records have been booming for a decade, but the turntable resurgence is only just beginning.  Panasonic is putting its famous Technics 1200 turntable back into action, and other classic turntables are also getting dusted off.  But there's also innovation happening around turntables themselves, with innovations that will eventually include higher-fidelity, Wifi-connectivity, and even synchronization with streaming collections.
+ Exclusive: Patents Filed for 'High Definition Vinyl' Technology
And get ready for plenty of left-field surprises.  Like this one: a turntable whose platter magnetically floats in the air during playback.  Introducing MAG-LEV Audio, which levitates your LP in the air for a richer experience.  In fact, this is the 'world's first levitating turntable,' according to the developers.
Standard 33.3 and 45 rpm speeds are delivered, with a higher-end Pro-Ject 8.6 tonearm and Ortofon OM 5E cartridge.
$780 now, $1,390 later…
Right now, MAG-LEV is crowdfunding their effort on Kickstarter, with a projected delivery date of August, 2017.  In terms of price, Kickstarter supporters can pre-order the table for $780, though the eventual retail price will surpass $1,390.
(The company's Kickstarter campaign is here.)
So far, MAG-LEV has raised more than $215,000 to fund the initiative, with 36 days left.  Which means this fancy turntable concept could soar into the stratosphere, even crossing the million-dollar-mark with enough publicity.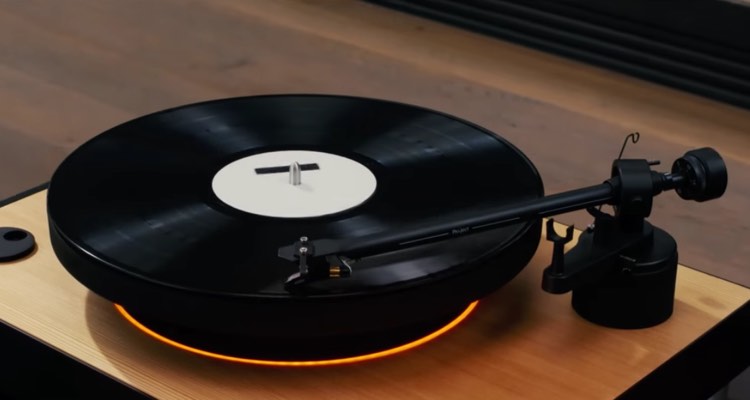 In terms of actual audio enhancements, there really aren't any that we can detect.  Which makes the MAG-LEV more of a showpiece that will impress your friends, instead of wowing their ears.  Not that there's anything wrong with that.
Actually, a working prototype of the MAG-LEV is already in motion, with a demo happening in the Slovenian capital of Ljubljana.   "I visited the HiFi show in Ljubljana to see this wonder," one backer relayed.  "It's real. Prototype works. It's playing music and platter is levitating."
The next question is whether levitating magnets can deliver smooth, level sound.  So far, it seems to be doing the trick.
Here's the Kickstarter promotional video: