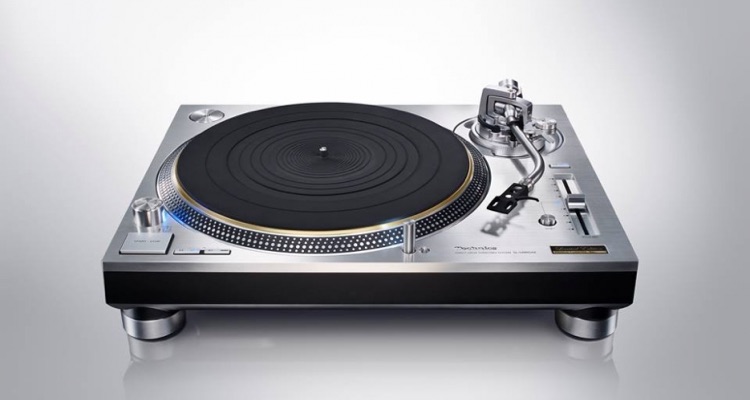 Hardcore vinyl fans paid thousands of dollars for a limited run.  Now, production is ramping on the the classic Technics SL-1200 (or 'Technics 1200' for short).
Last year, Panasonic shocked the vinyl community by announcing the return of their classic, Technics SL-1200 turntable.  Hip-hop and vinyl aficionados sometimes just refer to the 'Technics 1200,' a phrase etched into hip-hop and DJ culture back in the 70s, 80s, and 90s.
That comeback announcement was roughly one year ago, with a limited run of SL-1200GAEs quickly selling out in Japan.  Just 300 of the limited-edition units, priced at more than $3,000 each, sold out in roughly 30 minutes.
Now, Panasonic is readying a broader push, with 'Grand Class' SL-1200Gs hitting the British market this month, according to an announcement just made at IFA in Berlin.   IFA is the largest electronics show in Europe, rivaling CES in the United States as a venue for product unveilings and announcements.
The newest Technics 1200s will retail for £2,799, or roughly $3,720 in USD (and of course, post-Brexit, those currency conversations are rapidly changing).  The SL-1200G will be almost identical to the GAEs in Japan (pictured above), with just a few minor tweaks.
Panasonic is leaving a bunch of details out, all part of a well-tuned, hype-raising marketing strategy.  Missing information includes exact release date, exact quantities, and broader global rollout plans.  Lower-priced units could take some time to materialize.
Details about the turntable itself are readily available.  So here they are:
Grand Class SL1200G Specification
Twin-Rotor Surface-Facing Direct Drive motor
Direct Drive Motor Controller
High Sensitive Tonearm
Brass-Top Turntable Platter
Insulator
Technics Definitive Design
Inherited design from the SL-1200 series
Heavy Aluminum Top Plate
Turntable Section
Type: Direct Drive Manual Turntable
Turntable Speeds: 33 1/3 rpm, 45 rpm, 78 rpm
Variable Range Pitch: ±8%, ±16%
Wow and Flutter: 0.025% W.R.M.S. (JIS C5521)
Rumble: 78dB (IEC 98A Weighted)
Turntable Platter : Weight: Approx. 3.6kg (including rubber sheet)
Tonearm Section
Type: Universal, Static Balance
Overhang: 15mm
Arm Height Adjustment Range: 0-6mm
Applicable Cartridge Weight Range
Without auxiliary weight 5.6 – 12.0g; 14.3 – 20.7g (including headshell)
With small auxiliary weight 10.0 – 16.4g; 18.7 – 25.1g (including headshell)
With large auxiliary weight 14.3 – 19.8g; 23.0 – 28.5g (including headshell)
General
Terminal: Phono Output x 1 / SIGNAL GND x 1
Power Supply: AC110-240 V, 50 Hz / 60 Hz
Power Consumption: 14 W / Approx. 0.2W (Standby)
Dimensions: W: 453 mm H: 173 mm D: 372 mm (Height including dust cover)
Weight: Approx. 18kg
The Technics 1200 Turntable: A Quick History & Guide.
It's hard to argue against the Technics 1200 turntable's legacy among DJs.  According to Gizmodo, the 1200's popularity is based on the turntable's high-torque, direct-drive platter that "ensures flawless mixes and incredibly precise scratch performances."  The Guardian wrote that the turntables were "the consistent go-to standard for DJs and audiophiles" due to their indestructible build quality.
But despite all its high praise among the industry, unfortunately Panasonic decided to discontinue the Technics turntables back in 2010.  But in good news for vinyl-loving fans, Panasonic announced that they're bringing back the SL-1200.
For those unfamiliar with all the clamor and hyped surrounding the fabled turntable, we've decided to post a definitive guide for both younger and older audiences in regards to Technics SL-1200.
What exactly is the Technics 1200?
The Technics direct-drive SL-1200 was a turntable originally manufactured from around 1972 up until it was discontinued in 2012.  It was simply the "evolution" of the SL-1100.
Why was the SL-1200 discontinued?
Strangely, the discontinuation may have been due to a really solid design.  The Technics 1200 simply lasted too long!   Over at Quora, user Justin James gave a quick breakdown as to why from a business perspective.
"You can play these turntables day in and day out for 20 years and still not have to replace any parts (aside from the needles!). When a product is this good, there is no market for repair, or replacement. You also don't get as many people purchasing the tables new, since used, in this case, is usually alright [sic]… there is just no up-sell market, repair market, or replacement market. While this should be how every product is made, it's not, and for a reason. Companies that make solid products that last forever don't have the continual/reciprocal income a half-assed product provides."
What exactly can I do with the Technics 1200?
As I said in the introduction, you can go ahead and play vinyl records.  The Technics direct-drive system features a high torque motor design, which means that it was meant to last.
When hip-hop became really popular, the Technics SL-1200 was perfect for beat-mixing, scratching, and cueing. It also had great control over flutter and wow all the while minimizing resonance. These are just a few things you can expect once you get your Technics SL-1200.
How do I get my hands on a Technics 1200?
That question is easier said than done. Panasonic announced this year that the classic turntable will be hitting the market once again. The new Technics 1200Gs will run you around £2,799, or roughly $3,720. We've gone ahead and posted the new specification of the 1200G here. Unfortunately, there are still many specific details that Panasonic has purposefully left out, possibly to build up the new hype.
The new price has stirred up controversy among DJs, due to the fact that you can get a secondhand Technics 1200 for around $600-$800.  But Technics explained to Engadget why the new model costs close to $4,000.
"Because the original 1210 turntables were manufactured for so many years, the manufacturing process had got to a very low cost. Now we need to invest in all the tools again, and the price now is much higher than the 1970s."
For those who just don't have around $4,000 to spare, or for those looking to get their hands on a Technics 1200 now, Xenotacular has a pretty solid guide on how to get your hands on a great secondhand 1200. We've summed up the guide below:
Inspect your future deck.

Power it on, hit play and adjust the pitch.
Put it on 33 and 45 rpm and slowly move the pitch fader.
Look at the numbers by the strobe.
Make sure the tone arm is straight.
Play a vinyl record.
Remove the platter (if appropriate).
Check the pop up light.
Check the 33/45 buttons.
Make sure the tone arm clip isn't broken off.

Check the RCA cables.
Buy those decks!
All right. I've gone and purchased a used 1200. How do I set it up?
You can check out Turntable Lab's quick YouTube video guide here: