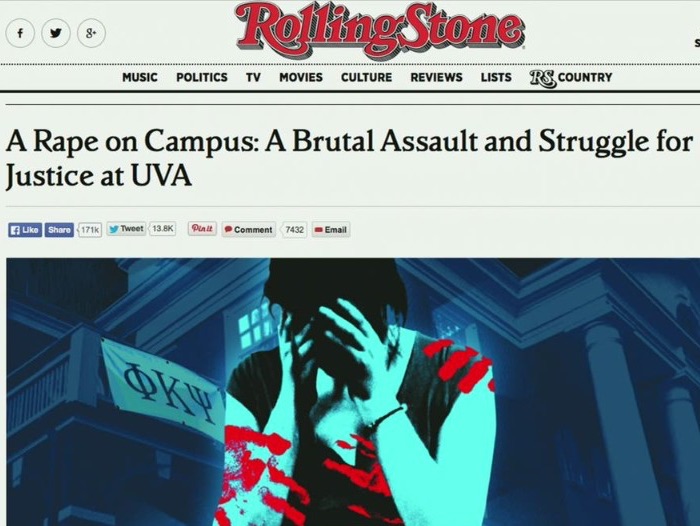 It was a shocking story of rape and victim brutality from Rolling Stone Magazine.  And it was all made up.  Now, the magazine and its author are paying the price, and potentially facing a shutdown.
Please note: the following is a breaking story, with continual updates.  Please check back as new developments emerge, including possible comments from Rolling Stone Magazine.
Rolling Stone Magazine has been found guilty of defamation and intentional libel by a federal jury in Virginia, according to a decision released this morning.  The $7.5 million suit was one of several legal actions against the magazine, an onslaught that could bury the magazine for good.
+ Why Rolling Stone Magazine Needs to be Shut Down
Early this morning, the jury determined that the magazine and its writer, Sabrina Rubin Erdely, knowingly concocted a false report about a sensational campus rape.  The perpetrating students in this tale, members of the school's Phi Kappa Psi fraternity, were accused in the report of gang-raping a helpless student.
The story, which relied on sketchy sources, was later proven to be completely false.  None of the information was found to have been corroborated.
Rolling Stone Magazine and Erderly subsequently faced legal action.  The $7.5 million suit was filed by Nicole Eramo, a University of Virginia administrator overseeing sexual crimes at the time.  Eramo, just one damaged party, argued that she was portrayed as callous, abetting, and complicit in the rape.
In other words, she was protecting the university and its frat boys, at the expense of a helpless rape victim.  Or so the story went.
In court, Wenner Media, owner of Rolling Stone, argued that the defamation wasn't intentional.  As of this morning, a jury ruled solidly in Eramo's favor, noting that the false story carried intent, and malice.  Meaning: they harmed the victim, and meant to harm her.
A shocking report stuns a school and its local community.
The report, titled 'A Rape on Campus: A Brutal Assault and Stuggle for Justice at UVA,' was first published in November of 2014.  It detailed a rowdy fraternity part held at the Phi Kappa Psi house, one that ultimately devolved into a brutal gang rape.  And a terrifying, life-ruining episode for the victim.
The story was too juicy to resist, and everyone believed it.  In fact, the 9,000 word fiction went completely viral.  Rolling Stone alleged that a drunken freshman named 'Jackie' was led to a dark bedroom by the Phi Kappa Psi fraternity bros, slammed into a glass table that shattered, then gang-raped by seven individuals.
All of the perpetrators belong to the abusive fraternity.
The victim, who was unnamed, offered numerous details of the lurid incident.  That included the specific night of the party, and aspects of the violent and overpowering attack.  The victim suffered cuts from a smashed glass table.  She was cornered helplessly like rat in a cage.
She was later ditched, alone, suffering the aftereffects alone.
The 'rape frat'…
The reaction was swift, including from within the college.  Phi Kappa quickly became known as the 'rape frat,' while members were shamed in public.  In the shadows of the infamous Duke lacrosse imbroglio, the fraternity itself faced shutdown. UVA administrators started dealing with a full-blown crisis, while drafting sanctions against those involved.
Fact meets fiction.
But just a few days after the report was published, some critical details simply weren't stacking up.  That included things like the date of the alleged crime.  According to Phi Kappa, there wasn't even a party on the night of the supposed gang rape.
Other problems emerged.  Local police investigating the incident found no evidence of a smashed table.  There wasn't any semen, stray hairs, or other traces typical in rape cases.  And for a gang-rape involving seven individuals, finding zero evidence was almost unthinkable.
Eventually, police found no evidence of a crime.  They declared it a fabrication.  So WTF was Rolling Stone Magazine thinking?
The real victims? UVA and Phi Kappa Psi.
Unfortunately, the ramifications were already being felt by the supposed perpetrators.  Even UVA noticed a sharp decline in applications and enrollment, with national and global coverage harming its reputation.  Rolling Stone Magazine launched an investigation of their own, while other journalistic watchdogs proclaimed the piece a fake.
The fraternity members weren't individually named, but still found themselves targeted.
Eventually, Rolling Stone Magazine decided to apologize, but in a half-hearted cheeky way.  'Our UVA Apology: Ooops!  We Did It Again!!!' a 2015 cover declared.  The apology was wrapped into a broader, special edition on 'rape culture,' a weak attempt to cover up the blatant defamation.
Shutdown looms.
+ September 2nd, 2016: Federal Judge Refuses to Dismiss Rolling Stone Magazine Lawsuit
Now, Rolling Stone Magazine is facing a very uncertain future.  One that includes potentially catastrophic financial damages, massive legal fees, and irreparable damage to their journalistic integrity.
On the financial side, other lawsuits are hovering.  Indeed, the latest decision will only intensify those challenges, with damages potentially piling into the tens of millions.  That could put the entire publication at risk for shutdown, especially alongside sinking print revenues.
Aside from Eramo's case, members of Phi Kappa Psi also filed a suit against the magazine in November of last year.  That case remains pending.
More details as they become available.