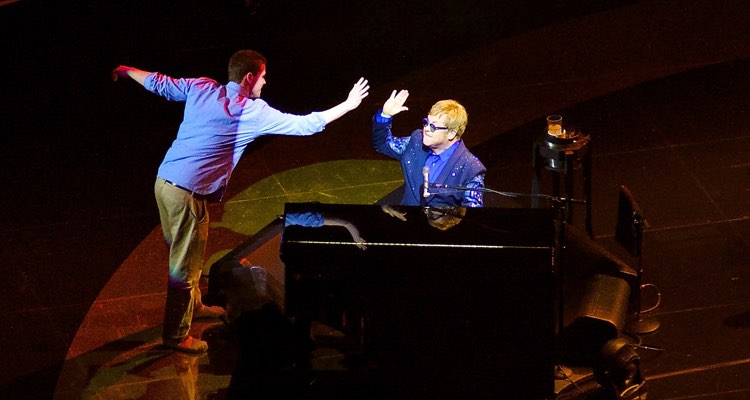 Elton John is definitely, definitely, definitely not playing Donald Trump's Inauguration in January.  So why did the Trump's inaugural coordinater say he was playing?
It might seem strange that Elton John was even under consideration to play the Presidential Inauguration.  But in no uncertain terms, Trump's inaugural coordinator specifically named Elton John as the lead performer.
Now, more details on unravelling on why that might be.  It now looks like the singer was invited to play months ago — by a massively overconfident group of Democrats.  That also seems to be the case for the Rolling Stones, Vince Neil, and a potentially large group of other artists invited to play Hillary Clinton's swearing in.
Except, Hillary Clinton won't be getting sworn in.  And that sort of 'un-invites' a lot of marquee artists.  That includes Vince Neil, who says he was 'un-invited' from the event after getting an invitation back in September.
+ Breaking: Vince Neil Removed from the Trump Inauguration Ceremony
According to Elton John, a performance for a Trump inaugural event is totally — and completely — out of the question.
"Incorrect. He will NOT be performing," said Fran Curtis, publicist to the artist.
What record was Curtis correcting?  That would be the claims of Anthony Scaramucci, who's coordinating the Trump ceremony.  Scaramucci, a self-identified gay rights activist, firmly declared that John would be part of the new world order.  "This will be the first American president in U.S. history… with a pro-gay-rights stance," Scaramucci declared, perhaps during a moment of experimental drug use.
"Elton John is going to be doing our concert on the mall for the inauguration."
The gay community blasted the claim on Twitter (most of the gay community is not pro-Trump).  Ultimately, it was dialed back.  "Let's drop the rhetoric," Scaramucci tweeted. "It was an honest impression that I got wrong.
"It was a fast-paced interview, and you can see I thought it was true."
Very, very, very untrue.  Earlier, Elton John demanded that Trump stop playing his music at rallies, similar to protests made by the Rolling Stones.  At fundraising even for Hillary Clinton earlier this year, John proclaimed: "We need a humanitarian in the White House, not a barbarian."
In a recent interview, Elton John said that he 'fears for the world' under Trump, thanks to a divisive, anti-gay approach.  "He'll marginalize people; he's already doing it," John told Mic.
Separately, Elton John suggested that Trump ask a country singer to play.  "Why not ask Ted fucking Nugent?" Elton told the Guardian.   "Or one of those fucking country stars? They'll do it for you."