Surprise: Warner Bros Records artist Kid Rock isn't a die-hard Democrat.  Now, the Warner Music label is aggressively moving forward with a virulently pro-Trump, anti-Hillary line of t-shirts on behalf of its star artist.
Warner Bros Records, a unit of Warner Music Group, is now promoting a line of strongly pro-Trump, anti-Hillary merchandise on behalf of its artist, Kid Rock.  Warner Bros Records, like other major labels, has been diversifying into merchandise, concerts, and other revenue-generators to supplant falling recording sales.
Now, that diversification is getting sharply political.  The pro-Trump merchandise line aggressively taunts Hillary supporters and Donald Trump 'haters,' while labeling any pro-Hillary state 'Dumbfuckistan'.
Ironically, that includes two states where Warner Bros Records does most of its US-based business, California and New York.  It also targets Washington, Oregon, Nevada, Colorado, New Mexico, Illinois, Minnesota, Virginia, and Massachusetts, among others.
The move could generate internal controversy.  For starters, the Warner Bros Records roster includes Green Day, a strongly anti-Trump artist.  During the recent American Music Awards, Green Day called Trump a fascist, while denouncing his complicit ties to the KKK and white supremacy.   Other Warner Bros Records artists includes Cher, Michael Bublé, Enya, Disturbed, Josh Groban, Brandy Clark, and Partynextdoor.
Here's a look at the Kid Rock merchandise line that is now live on kidrock.warnerbrosrecords.com.
Actually, the Warner Bros Records 'Dumbfuckistan' idea reverses the original meme, which jeered Red States with the same name.  That concept quickly circulated after the shocking election of Donald Trump, part of a severely-divided climate.  Trump supporters subsequently flipped the map, and started planting it across the web in a counter-attack.
Enter Kid Rock, who found the pro-Trump 'Dumbfuckistan' photoshopped onto his body.  Like many other things leading up to the election, it was fabricated, though fans seemed to react positively.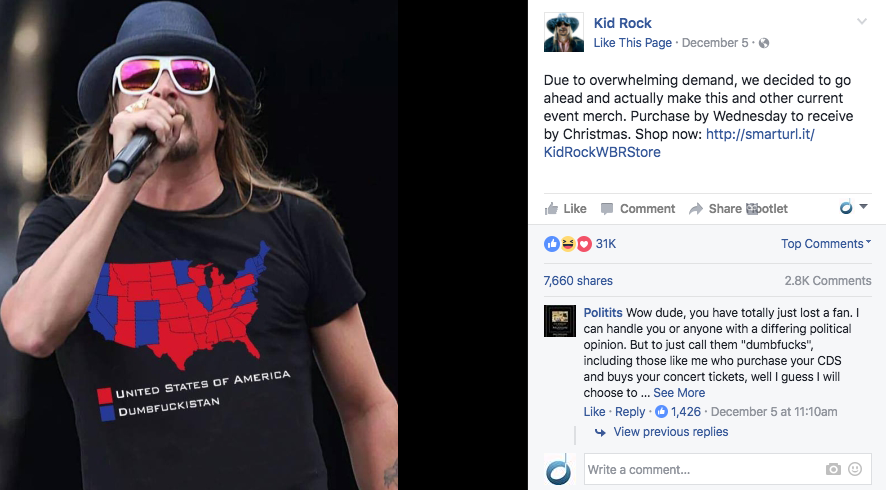 An idea was born.  But both Kid Rock and Warner Bros. Records then decided to move forward with that concept, as well as a few others. "Due to overwhelming demand, we decide to go ahead and actually make these t-shirts," the Warner Bros Records merchandise site explain.
"Order by Weds Dec 7th to receive by Christmas."
The lineup includes a pretty graphic image taunting Hillary supporters with denigrating sexual innuendo.  Or, more accurately, all Trump haters (including those that purposely abstained).  "_onald Trump: The 'D' Is Missing Because It's in Every Hater's Mouth," the shirt reads.
Another shirt offers a simpler message of 'God, Guns & Trump'.
Predictably, the merchandise line is garnering lots of controversy.  It's a divisive move, but one that will probably make Kid Rock and Warner Bros Records a ton of cash heading into Christmas.  For Rock, it also doubles down on a core audience, while capitalizing on a strong 'us vs. them' theme of the Trump campaign.
Interestingly, Kid Rock is preparing to tour in several 'Dumbfuckistan' cities, though controversy has a way of selling out shows.
Warner Bros Records is headed by CEO Cameron Strang.