Here's a warning from Dwayne Walker to Beyonce: Don't shoot a music video with my Roc-a-Fella logo on it, like in Drunk in Love.
Designer Dwayne Walker is suing Beyonce for apparently using his Roc-a-Fella logo in the music video, Drunk in Love.
This marks the second-time Dwayne Walker sues over the image in Drunk in Love. Back in 2012, the designer filed a $7 million lawsuit against Jay Z. According to Walker, he designed the logo in 1995. In the lawsuit, he alleged breach of contract and copyright infringement. The allegation states that Walker signed a contract, which he subsequently lost in 1998.
Defendants Jay Z, Dame Dash, and Roc-a-Fella disputed the claim. An in-house art director, they claim, created the iconic logo. In September, a judge sided with Jay Z, and dismissed the lawsuit. Reuters reports that Walker waited too long. Judge Andrew Carter wrote,
"This leaves only plaintiff's own self-serving testimony that he drafted the contract, that he and Dash signed it, and that he lost track of it in 1998. This testimony alone is not enough."
Walker's lawyer, Gregory Berry questioned the decision.
"The decision is quite startling.
"Walker made the logo in 1995. Then in 2013, in response to this suit-never before-the defendants find a guy who is willing to claim now that HE made the logo…. Sound like a factual question for trial? We agree."
In the video (embedded below), the logo only appears for a fraction of a second between 5:20 and 5:28. Jay Z wears the Roc-a-Fella logo. However, Jay Z is not named. Instead, Beyonce, who holds the logo for a fraction of a second, is named. The lawsuit claims that the music video "prominent displays" the image.
The Roc's iconic image features a script R over a vinyl record. A champagne bottle substitutes the vinyl needle.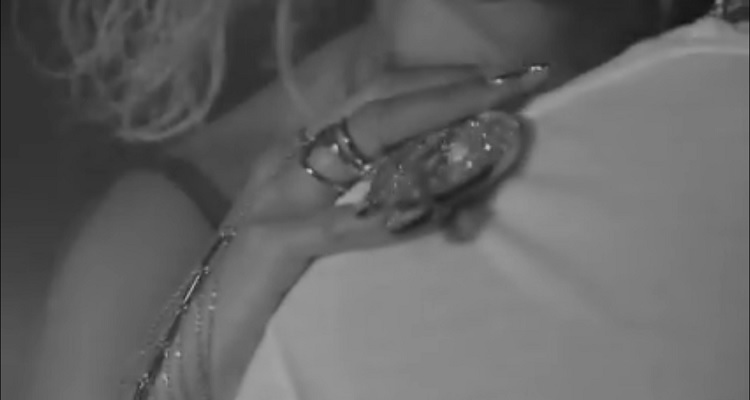 Walker asks for an unspecified amount of money, according to Billboard. Dwayne Walker also wants the logos removed from the music video.