Apple CEO Tim Cook offered plenty of wisdom in a recent commencement in Scotland.  But grads at the University of Glasgow couldn't help but laugh at the irony of it all.
Tim Cook has one of the hardest jobs in the world.  The successor to Steve Jobs, Cook has been trying to fill impossible shoes for years.  And, all the while enduring constant criticism for draining Apple of its relentless innovation.
Then again, Cook is paid more than $10 million a year for his suffering.  And that doesn't count Apple stock options.
And suffer you must, young indebted college grads of the world.  That was Cook's message to graduates at the University of Glasgow, where the Silicon Valley titan received an honorary degree.  "Don't work for money," Cook implored.  "It will wear out fast."
"Find something you're passionate about. I'm very fortunate to work for such a great company."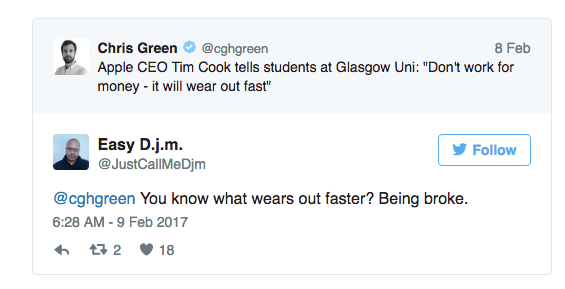 "There's a big difference between loving to work and loving the work."
Throughout, Cook urged students to better the world, and help people.  "You have to find the intersection of doing something you're passionate about and at the same time something that is in the service of other people," Cook relayed.  "I would argue that, if you don't find that intersection, you're not going to be very happy in life."
"There's a big difference between loving to work and loving the work.  There's a big difference between whether you fall in love with some work that is just for profits or revenues versus work that is in the service of others."
Unfortunately, not everyone in the Apple family is so well 'serviced'.  On that point, Cook conveniently avoided discussing  repeated accusations of Apple's exploitation of sweatshop laborers in countries like China.  Several years ago, an undercover investigation found Apple-contracted workers pulling double shifts while enduring horrific factory conditions.  Photos of miserable workers surfaced, with one trying an iPad out for the first time.
Thousands of miles back in Cupertino, Apple's grandiose plans for a high-tech campus are rolling ahead.  But is Apple guilty of playing profit maximizer while punishing consumers and American workers alike?  That could be a major head for Tim Cook in the coming years, depending on how aggressive Donald Trump grows on Apple's outsourcing.
"Steve Jobs' parents were immigrants."
Already, Cook is battling the new administration.  "Steve Jobs' parents were immigrants," Cook blasted.   And that was just the beginning of Cook's comments on the Muslim ban.  "I don't believe you have to trade walking away from what is a deeply held American value to get there."
And when it comes to being alive, there's no better time.  Especially if you're net worth is nearly $800 million.   "The truth is, and it might not seem like it all the time, but there has never been a better time to be alive than today," Cook said amidst a smattering of laughter.
"That is my advice … with no charge."