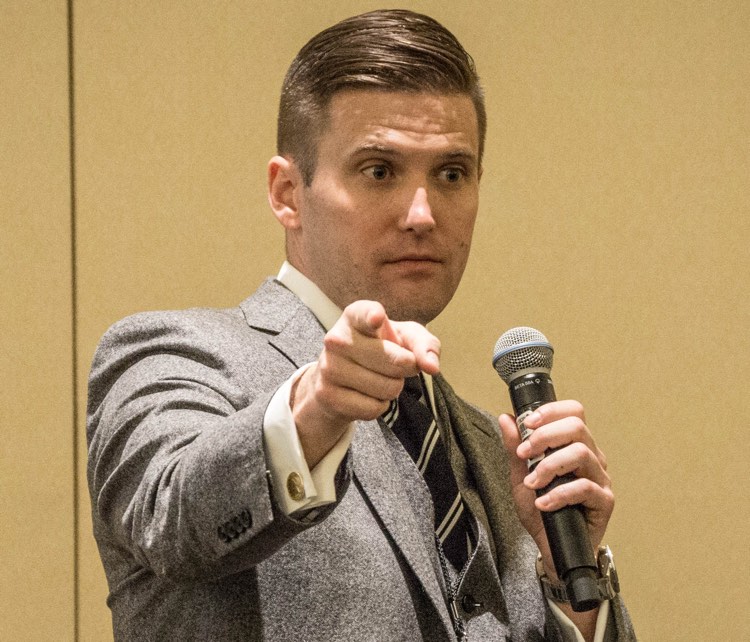 White supremacist Richard Spencer has named Depeche Mode as the 'official band of the alt-right'.  How does Depeche Mode feel about that?
After getting repeatedly punched in public (on camera), white supremacist Richard Spencer has now selected his favorite band.   While being forcibly ejected from the CPAC Convention earlier today, Spencer was asked about his musical preferences.
Because, of course he was.
And of course, Spencer answered for the entire alt-right movement.  "Depeche Mode is the official band of the alt-right," Spencer told New York magazine journalist Olivia Nuzzi.
Nuzzi quickly tweeted out the preference, which fits in with alt-right and white supremacy preferences for 80s synth-pop.  Earlier, Spencer declared that Depeche Mode to be the "fashiest 80s electropop band."
'CPAC' stands for Conservative Political Action Conference, a group that is trying to distance itself from the extreme views of Richard Spencer and others.  Spencer, frequently described as a neo-Nazi white supremacist, prefers to call himself an 'identitarian,' though CPAC described him as 'repugnant'.
Separately, CPAC cancelled a keynote speech by Milo Yiannopoulos after video surfaced of the controversial conservative advocating pedophilia.
Depeche Mode has quickly denounced the association.  "Depeche Mode has no ties to Richard Spencer or the alt-right and does not support the alt-right movement," the band told Death and Taxes this morning.  "Really ridiculous!"
But… Why Depeche Mode?
Exactly why Depeche Mode was selected as a favorite isn't exactly clear.  The band is clearly white, and the group did play around with fascist outfits back in the 80s.  But clearly, this isn't a group that has ever made a separatist statement.  And for proof of that, take a look at the lyrics for one of their biggest songs, 'People are People'.
People are people, so why should it be
You and I should get along so awfully
So we're different colors, and we're different creeds
And different people have different needs
It's obvious you hate me though I've done nothing wrong
I've never even met you so what could I have done
I can't understand
What makes a man
Hate another man
Help me understand
More recently, the band has been a staunch critic of Donald Trump, likening the President to Hitler.
Any other supremacist volunteers?
That leaves more supportive, like pro-Nazi singers like Tila Tequila.  Immediately after the election of Donald Trump, Tequila joined Spencer and others in a pro-white rally in Washington, DC.  It was during a spin-off event that Tequila offered the Nazi salute on camera, part of a string of racist, pro-Nazi statements from the former 'MySpace sensation'.
Tila Tequila's public profile is essentially ruined, and the DC salute cemented that.  But strangely, searches for 'Tila Tequila porn' started surging after the incident, and Tequila may be finding support among fringe supremacy groups.
Depeche Mode, on the other hand, wants nothing to do with that 'niche'.