Spotify isn't licensed for Russia.  So why is it so easy for Russians to access this service?  A simple hack could mean more litigation from rights owners against the streaming music giant.
This is an issue that we last reported on in August of 2016.  But after 7 months and no response from Spotify, it appears that little has changed.
Spotify, technically unavailable in Russia, is easily accessed from that country.  And it's available with only a very minor workaround.  You might even call it a hack, though your friendly black hat coder might laugh at that assessment.
Here's a video of a user accessing the streaming platform from Russia.  Basically, the trick is to access the service online from open.spotify.com or play.spotify.com, and you're in.
Take a look.
The issue may extend outside of Russia and into dozens of other unauthorized countries.  That means more rights owners getting shorted.  And potentially, even more litigation.
Last year, the streaming service faced tens of millions in litigation for failing to properly pay mechanical licenses.  That litigation was partially resolved with a $5 million penalty, and a major out-of-court arrangement.  Just another 'detail' that resulted in millions in losses and massive artist goodwill problems.
+ Exclusive: This Is the Contract Songwriters Are Signing With Spotify
As for the user, the account checked out as a Russian-based IP address.  But here's a quick screengrab to show that the 'main entrance' at spotify.com is inaccessible.
As you can see, the person in Russia is emailing with Digital Music News (Paul Resnikoff) in the foreground.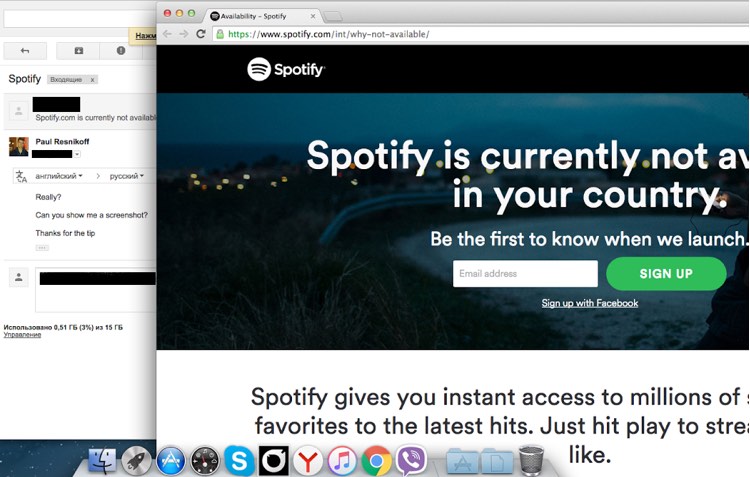 Fast-forward to now.
We checked back with our source late last week.  Was it still easy to access Spotify from Russia?  The answer: absolutely.  Here's (another) screengrab showing the loophole.
As before, you can see correspondence with Digital Music News in the foreground.
Assessing the damages.
Exactly how many people are accessing the site through this workaround?  Spotify can probably easily tell.  But it's impossible for the outside to ascertain, which makes it difficult for rights owners to properly vet litigation without instruments like subpoenas.
That said, potentially millions of Russian users accessing the service, with zero licenses to properly pay artists.  And it's uncertain how many other users from unauthorized countries are also using the service.
What is known is that 'hacks' like this one generate giant black holes for royalties.  It's unclear where payments are going.  Or worse, if they're even being paid.
A complete list of licensed countries is here.
More as we learn more.