Sonos now has more competition than ever — starting with Amazon itself.  But rivals like Raumfeld are about to make Sonos' life even more difficult.
Earlier this year, we questioned whether Sonos could survive the next evolution of connected stereo systems.  Even five years ago, the idea of a Wifi-connected stereo system seemed novel and futuristic.  Now, it's about to become a fierce battleground, with dozens of companies potentially competing.
And the best part for you? Wifi (and bluetooth) connectivity is quickly becoming a standard component of current-generation systems.
Enter aggressive upstarts like Raumfeld into this picture.  The Berlin-based speaker company is baking Wifi connectivity right into the speakers themselves, right out of the box.  And they've been working on this integration since 2010.
The result is that these connected speakers are ready to go in less than 10 minutes.  Without a central controller or any specialized setup.
Sonos eventually ditched their handheld controller for a mobile app.  But Raumfeld has built an app-based controller system from the ground up.  Frankly, the Sonos app is pretty good.  But Raumfeld's is also pretty tight, not to mention smart.  It quickly figures out the Wifi terrain and ties everything together in about 5 minutes.
Once the mobile (iOS or Android) app is set up, it easily connects with anything else on your phone.  That includes Spotify, Apple Music, Youtube, etc.  And Google Chromecast users are in for a nice surprise.
Apps can be tricky.  But two weeks later, Raumfeld's app hasn't presented one glitch.  Pretty impressive.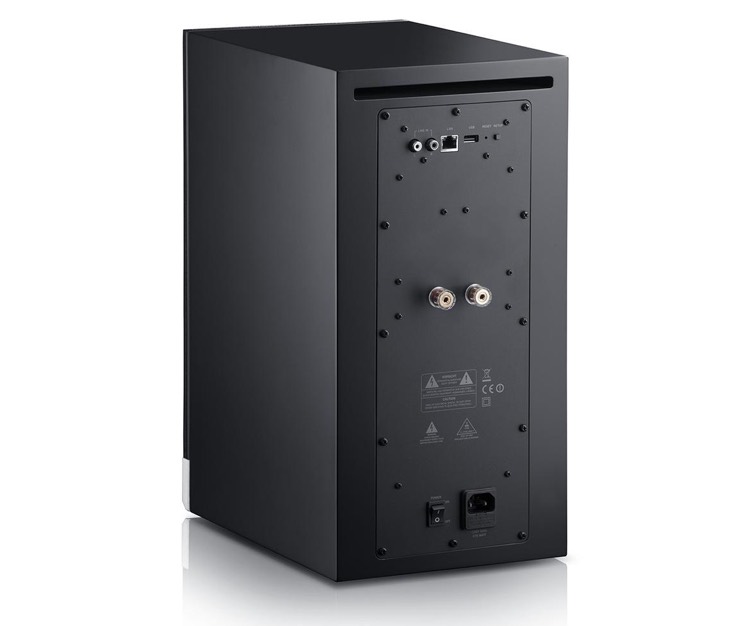 Now, onto the speakers themselves.
Take it from me, I suck at setting up speakers.  An audiophile would laugh at what I need to search on Google to get it right.  Part of this is paranoia.  But maybe Raumfeld should have a few extra pages for the inevitably non-expert user, just to prevent cross-wiring disasters.
But once the ship was sailing, it was sailing oh-so-smoothly.  Basically Raumfeld's Stereo M series speakers are overgrown bookshelves, but they easily overpowered my existing towers.  That's not surprising, given that Raumfeld integrates a 320 watt amplifier and coaxial drivers right into the main speaker itself.
Crank these puppies up, and the output is pretty astounding.
Not to mention crisp.  I largely test the Raumfeld Ms with my Spotify account, though the Stereo Ms also support lossless delivery.  Purists may decry the impact of wireless on truly lossless sound, but hey, audiophiles can become a finicky bunch on the higher end.
Which brings me to…
The price.
How much?  Looking on Amazon, a pair of Stereo Ms will run you about $900.  That's still a little pricey, depending on your level of price sensitivity.  Smartly, Raumfeld is trying to steer clear of the audiophile stratosphere, which caters towards millionaires searching for that ultra-pristine sound.
The only problem with the audiophile market is that it's typically too niche to scale.  And 99.9% of the market is probably under $1,000.  Frankly, this comes pretty damn close unless you need to hear pin drops in the back of Carnegie Hall.
That said, Raumfeld may be forced to drop their prices as 'baked-in' connectivity becomes de rigueur.  But for right now, this is a competitive pricing range.  For example, Sonos' relatively tiny 'Play 5' is $500, though this is nothing near the size, output, and room-filling capacity.  And scaling up into a serious Sonos setup easily throws you past the $1,000-mark.
Other tidbits.
There are a few other features that may come in handy.  Line-ins are good for vinyl turntables and CD players.  And you can even drop a USB stick into the back to play a downloaded collection.
A bit more on Raumfeld.
Raumfeld itself was started with multi-room connectivity in mind.  Stephan Schulz and Michael Hirsch started in 2008, and were purchased by Berlin Acoustics Group.  That tied the company with Berlin-owned Teufel, a German loudspeaker brand that formed the basis of the high-quality, connected systems of today.
A few pro tips.
If you do take the plunge and buy these on Amazon, skip the $150 setup package.  It's that easy to get things up and running.  As I mentioned, you might need a Google search or two, depending on your experience.
You'll also be tying these two speakers together with standard speaker cable.  But that's included in the box.  Upgrade if you want.
Also, Raumfeld ships these really nicely.  But fair warning: expect a giant box (and lots of padding inside the box).
Specs.
The full-blown details are on Raumfeld's site, here.  But here's a quick rundown of the speaker specifications.
| | | |
| --- | --- | --- |
| Speaker | Maximum sound pressure level | 108 dB/1m |
| | Frequency range from/to | 42 – 22000 Hz |
| | Tweeter (number per enclosure) | 1 |
| | Tweeter (diameter) | 0.98 in / 25.0 mm |
| | Tweeter (material) | Fabric dome |
| | Midrange driver (number per enclosure) | 1 |
| | Midrange driver (diameter) | 4.3 in / 110.0 mm |
| | Midrange driver (material) | Cellulose, coated |
| | Woofer (number per enclosure) | 1 |
| | Woofer (diameter) | 5.5 in / 140.0 mm |
| | Woofer (material) | Polypropylene, coated |
| | Acoustic principle | 3-way |
| | Enclosure type | Bass reflex |
| | Enclosure material | MDF |
| | Enclosure surface | Matte varnish |
| | Equalisation openings | 1 |
| | Equalisation openings (pos.) | Back |
| | Removable front cover | Yes |
| | Spikes prepared | Yes |
| | Diameter of the stand screw threads | 6,00 |
| | Magnetic shielding | Yes |
| | Miscellaneous | Front covers adhere magnetically |
| Connections | Miscellaneous | Gold-plated screw terminals |
| | Cinch input stereo | 1 |
| | High level speaker outputs | 1 |
| | USB 2.0 | 1 |
| | LAN | 1 |
| | W-LAN | 1 |
| Playback | MP2 | Yes |
| | MP3 | Yes |
| | WMA | Yes |
| | WAV | Yes |
| | AAC | Yes |
| | FLAC | Yes |
| | OGG | Yes |
| | Apple Lossless | Yes |
| | Miscellaneous | Supports gapless playback |
| Electronics | Maximum number of items | 150000 |
| | WLAN Standards | 802.11b/g/n |
| | WLAN encryption | WPA, WPA2 |
| | 10/100-Mbit/s Ethernet | Yes |
| | Amplifier technology | Class D |
| | Amplifier configuration | 2.0 |
| | Amplifier channels | 2 |
| | Power output capacity impulse (peak) Satellite | 160 W |
| | Power output capacity sinus (RMS) Satellite | 140 W |
| | Power supply voltage | 230 volts |
| | Standby-Function | Yes |
| | Standby-Power consumption | 0.60 watt |
| | Maximum power consumption | 375 watt |
| | Mains cable – IEC connector (non-heating device) | Yes |
| | Safety class | 2 |
| | Fuse | Yes |
| | Storage for settings when disconnected | Yes |
| | Automatic on/off | Yes |
| Dimensions | Depth | 10.8 in / 27.5 cm |
| | Width | 8.3 in / 21.0 cm |
| | Height | 16.5 in / 42.0 cm |
| | Weight | 25.4 lb / 11.5 kg |