Ed Sheeran fans are making Facebook cover videos.  Warner Music Group, Ed Sheeran's label, is having them ripped down.  Ed Sheeran is personally apologizing and getting them reinstated.
Maybe there's a better way?
We've written a lot about the messy war zone surrounding Facebook cover videos.  Presently, Facebook doesn't have the proper publishing licenses (like YouTube) to publish covers, so major labels are ripping them down.  They're also blocking entire channels and issuing penalties, in some cases.
Just one problem with all of this.  Fans usually have no idea what a 'label' or 'publishing license' is, so they think the artist is personally tearing down their covers.
But worse than that, these fans often start hating the artists they once loved.  And here's the thing about that: once you start hating the artist you once worshipped, that hatred and disillusionment starts crushing things.  You will: tell everyone what a asshole your once-worshipped artist is, cancel all plans to see that artist live, and maybe make a Facebook (or YouTube) about what a douchebag your 'favorite' artist actually is (exposed!).
Which is exactly why Ed Sheeran is desperately intervening to try to resuscitate these sacred fan relationships.  Like Charlotte Campbell, who found her Facebook account frozen after uploading an Ed Sheeran cover video.  "I just felt so completely helpless, and hurt by it," Campbell said.  "And betrayed by Facebook."
The reason she was blocked, with her video ripped down?  "I probably posted 15 seconds of me singing 'Castle on the Hill' by Ed Sheeran, which was deemed copyright infringement by Ed Sheeran's record label," she explained.  "I was banned from my Facebook [account] for three days as punishment.  And if I do it again, they will completely delete my account and close my account."
And, here's where love turns to hatred.  "Ed Sheeran has 15,638,000 followers on Facebook," Campbell said.  "And he's fretting about 13,000 people hearing a song that he wrote that I credited him for writing.  I don't see the point."
"Ed Sheeran the brand has totally screwed me.  When things get too big, they aren't human anymore.  And they don't care about individuals."
In other words, big bad Ed Sheeran is being blamed, first and foremost.  Which is why Ed Sheeran (the individual) was forced to jump into this situation and personally apologize.  He probably hated being thought of as a cruel machine, but worse, didn't want to lose potentially thousands of fans (or worse).
After Sheeran personally got involved, the video was reinstated.  Here's what he sent to Charlotte to repair the relationship.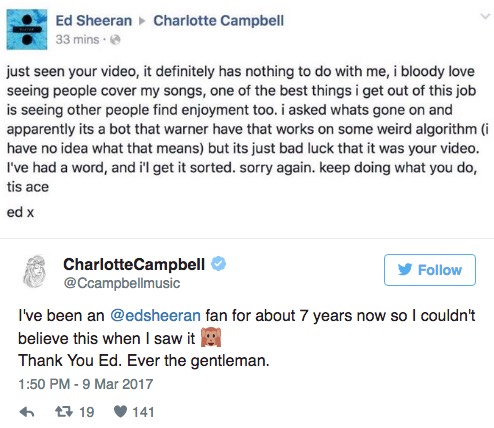 Is there a better way?
YouTube isn't screwed up like this.  So why is Facebook?  That's a simple question, that really shouldn't have such a complicated answer.  Unfortunately, Facebook has not taken steps to license things like cover videos, leaving wolves like Warner Music Group ripping down videos en masse.
In their defense, the labels say that Facebook should be licensing this stuff.  So they blame Facebook.  But Facebook says they're trying to comply, and even hiring attorneys to help them negotiate their deals.  So they blame the labels for being impatient.
Facebook, scared of getting dragged into billion-dollar copyright infringement lawsuits, goes the extra step and suspends accounts.  They hate doing that, but feel like it's better to screw their users than screw their balance sheet.
Stuck in the middle are two people.  Artists like Ed Sheeran, and fans like Charlotte Campbell.  Both of whom suffer when stuff gets torn down and account gets penalized.
Somebody please fix this?