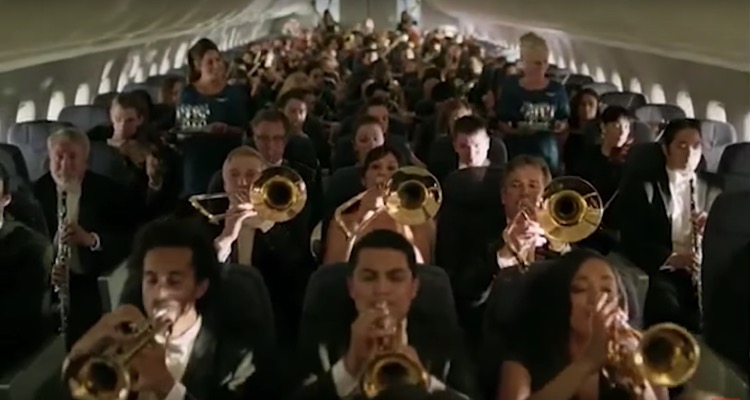 Over the weekend, United Airlines mangled a guy's face for refusing to give up his overbooked seat.  Now, that decision is mangling millions of dollars worth of advertising.
United Airlines' advertising agency McGarryBowen had an idea.  What if they put an orchestra playing their Gershwin-inspired theme song in a United plane cabin?  The friendly skies, the signature Gershwin 'Rhapsody In Blue' passage, and another branding win!
It was a fun concept, with French horns, timpani, clarinet, and other players sitting in comfy United seats.  The entire orchestra could fit!  The stirring juxtaposition exuded a comfortable cabin, and a friendly, harmonious flying experience.
Now here's what Funny or Die's roasted version looks like.
Ah, but this roasting has only just begun!
Other parody versions of this ad are also getting 'remixed,' alongside a slew of older, 60s-era spots.  Which means millions in 'fly the friendly skies' branding equity is getting flushed down the toilet.
We're not sure which orchestra performed in this ad (or, if it was an actual orchestra).  The spot itself last aired in November or 2013, and revived the United's use of the Gershwin classic.
+ 2008: United Airlines Smashes a Customer's Guitar. 2017: United Airlines Smashes a Customer's Face
Fast-forward to 2017, and the message of the ad sound comically wrong in the juxtaposed roast.
Every thought, every movement
Carefully, planned coordinated and synchronized
Performing together with a single United purpose
That's what makes the world's leading airline flyer friendly
Here's the original spot (for your own roasted versions):