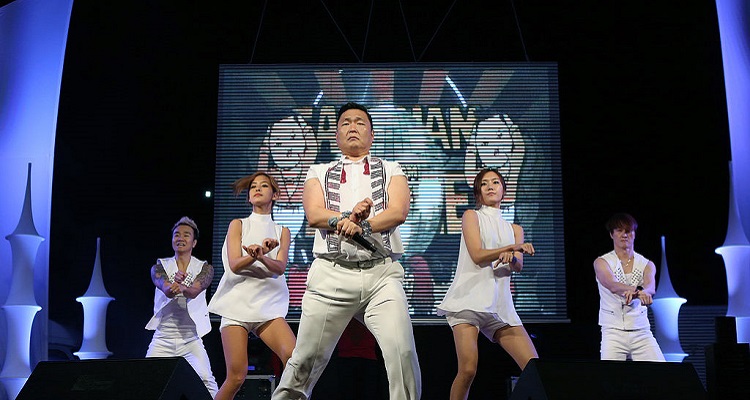 Wiz Khalifa and Charlie Puth just topped Psy's 'Gangnam Style' on YouTube.
For the past five years, Psy's 'Gangnam Style' had been YouTube's most-watched video.  Not anymore.  Now, Wiz Khalifa's 'See You Again' featuring Charlie Puth has topped the Korean superstar's single.
On YouTube, 'Gangnam Style' had become so popular that it literally broke the platform's views counter.  Back then, videos on the platform had a maximum possible number of views set at 2,147,483,647.  The company had to rewrite the code to allow Psy's music video to exceed the possible views.
Yesterday, at approximately 5:30 pm Eastern Standard Time, 'See You Again' officially surpassed 'Gangnam Style.'  The video hit 2,894,026,649 views while Psy's smash single sat at 2,894,022,885 views.  'See You Again' averaged over three million views per day in 2017 alone.  It broke Psy's record just days before the video's fifth-year anniversary on YouTube.
So close.
So, how did 'See You Again' manage to overtake 'Gangnam Style'?  Thanks in large part to Furious 7.
'See You Again' plays over Furious 7's tribute to Paul Walker near the end of the film.  The actor had unexpectedly passed away in a vicious car accident prior to the film's completion.  His brothers had filled in for the late actor, standing in during several action sequences that hadn't been yet filmed.  Part of the lyrics to the song read,
"It's been a long day without you my friend / And I'll tell you all about it when I see you again."
According to leading funeral directors Co-op Funeral Care, the song has become one of the most requested funeral songs in the UK.
+ BTS' 'Not Today' Is the Fastest-Rising K-Pop Video In History
In a statement, Wiz Khalifa said,
"I'm super excited and grateful to everyone who supported the song and video on YouTube, and happy to inspire and impact so many lives."
Charlie Puth added,
"I remember when I signed up for YouTube in 2007 and had hopes of uploading a video and it reaching 10,000 views. Now a decade later, it feels incredible to be a part of the most-viewed video on YouTube."
Meanwhile, Puth is crushing it with his Lil Wayne collaboration, 'Nothing But Trouble'.  But that video has 'only' garnered 39 million views, however.
And how long can 'See You Again' stay number 1?
As of writing, 'See You Again' has 2,896,510,794 views.  'Gangnam Style' has 2,894,717,707.  Justin Bieber's 'Sorry,' Mark Ronson's 'Uptown Funk,' and Luis Fonsi's 'Despacito' are right behind both videos.
Stay tuned.
---
Image by Korea.net / Korean Culture and Information Service (CC by-SA 2.0)