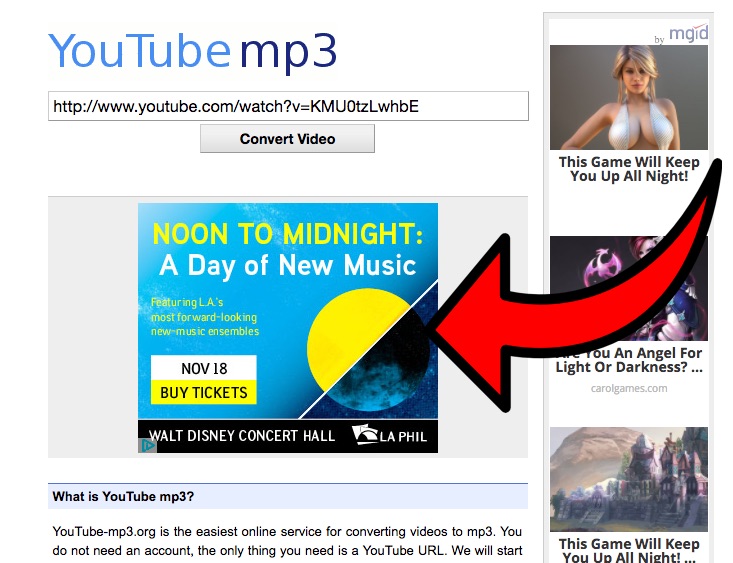 Yesterday, YouTube-mp3.org agreed to a voluntary shutdown.  Today, the LA Phil is advertising on its site.
I know — I don't understand internet advertising.  And you're going to explain it to me.
You see, the LA Phil probably doesn't even know they're advertising on youtube-mp3.org.  They're canvassing across a wide swath of different sites likely to contain the demographic they're interested in reaching.  These are advertising exchanges; it's not a site-by-site selection processes.
Bullshit.
Here's a fun fact: another ad from the LA Phil also appeared in the legal complaint the major labels issued against youtube-mp3.org and its owner, Philip Matesanz.  That was more than a year ago.  So the LA Phil has been advertising on youtube-mp3.org for a really long time.
Which means that this YouTube conversion site drawing hundreds of millions of music fans is actually a decent place to sell tickets to musical events.
That's right: the same people who are converting VEVO vids into MP3s are being targeted to buy cheap seats at Walt Disney Concert Hall.  Which sounds crazy, until you actually think about it.
But it also makes me think about something else.  What is the point in shutting down a site that so obviously draws interested music fans into one place?  After all, if it's working for the LA Phil, why couldn't this site work for other live music groups as well?  Like, Live Nation or AEG, not to mention hundreds of local venues, festivals, and other musical gigs?
It feels like the music industry is going backwards again.
So the major labels sued the crap out of the largest YouTube to MP3 converter on the planet.  And accomplished nothing.  YouTube isn't paying the labels anyway (or so the labels claim).  But instead of using their finite legal and financial resources to change that, they're burying some guy in Germany.
And they didn't even get a legal precedent out of it.  But that's great for the lawyers and the IFPI, who now get to start a whole new battle (and get paid handsomely for it).
But that makes sense for their business objectives, not the labels' business interests (or the industry's).
YouTube could put a download button on every video and charge for it.  You know what else they could do?  Scramble their algorithms to make video conversion impossible.  And shut down the other 999 Youtube-to-mp3 converters overnight.
Again, no $800-an-hour law firm is going to inform you of this possibility.  Or even hint at this vastly superior strategy.  And neither is the RIAA or IFPI — they need this piracy straw man to justify their salaries.
And you know the funniest part?  YouTube is already shutting down YouTube apps — that is, the ones that directly interfere with their ability to sell YouTube Red subscriptions.