What's one thing that sucks about YouTube?  Portability.  So Facebook just fixed that.
For all of its serious flaws, YouTube still dominates music listening.  And yes, a massive percentage of music video 'viewers' aren't 'watching' anything.
But they're also not listening on-the-go.  Because portability sucks on YouTube.  Which might explain why 10,000 'YouTube to MP3' sites exist in the first place.  Maybe that's just the marketplace (once again) meeting demand (go figure).
But Facebook is also attacking this vulnerability.  And perhaps sowing the seeds for a huge video takeover down the road.
That way, users can enjoy videos anywhere, even when they're offline or enduring a crappy cell connection.  It's called 'Instant Videos,' and it single-handedly eliminates vicious data overages caused by video viewing.  But it also gives Facebook a massive advantage for its video ramp-up, which will definitely include music.
And yes, Facebook's involvement in music is about to be huge.  We just don't know the grand plan (yet).  But we do know that lots of different puzzle pieces are currently coming together — including beefed-up tech and major licensing discussions.
+ How to Destroy YouTube & Save the Music Industry
But beyond music, Facebook is also investing billions in original content.  That could involve investments in artists or label collaborations, among other possibilities.  All of which sounds like YouTube will have some incredibly serious competition in the future.
We're not sure exactly how Instant Videos will operate.  But we're getting some nice clues.
And the first one is this: once a video is cached, a lightning bolt appears.  That was scoped out by Matt Navarra of TheNextWeb.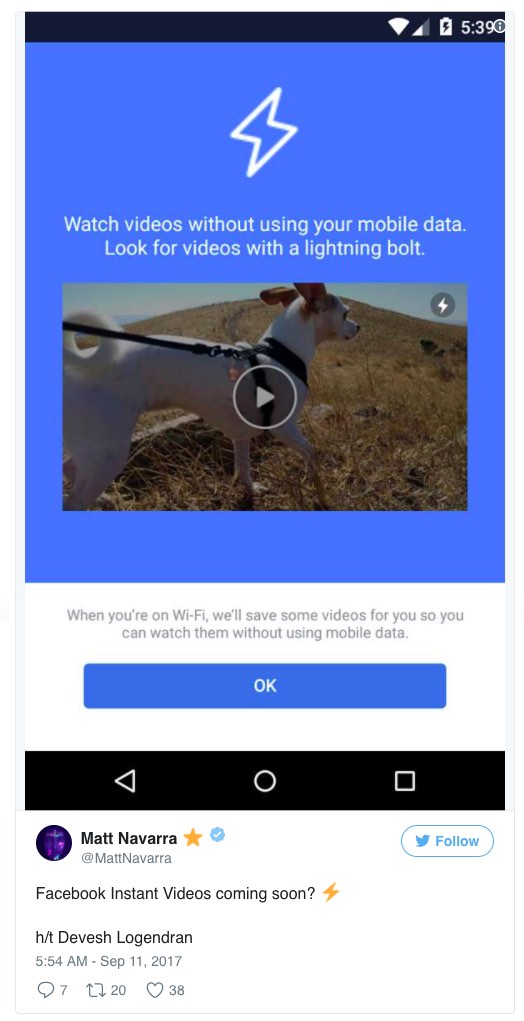 Beyond that, we're not sure if Facebook has plans to pre-store recommended videos.  Perhaps a nice feature would be to pre-store videos you might like based on your previous viewings.  Currently, Spotify is smartly pre-storing songs from playlists (and it's awesome).
Actually, YouTube does have a portability cacheing solution.  It's called YouTube Red.  But that service seems to have very few subscribers — so something isn't working there.
Meanwhile, Facebook is actively negotiating licenses with major music content owners.  All of which sounds like the beginnings of a major music push, which could include music videos.  But how directly competitive will 'Facebook Music' be to incumbents like YouTube and Spotify?
To be continued…