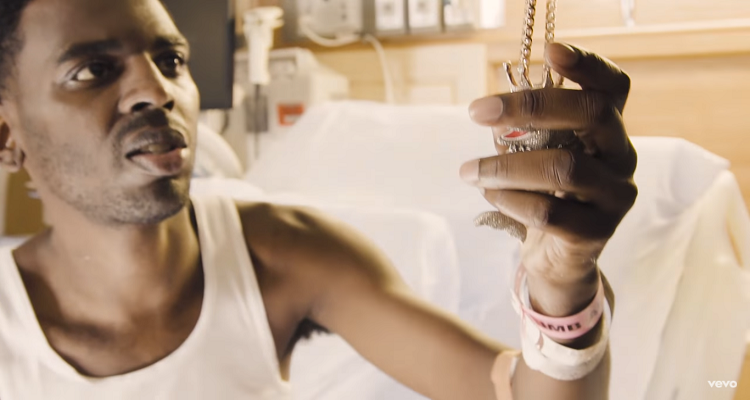 Young Dolph speaks out about the shooting that almost took his life.
On September 26th, multiple gunmen ambushed and nearly killed Young Dolph in Hollywood.   The assailants waited for Young Dolph to merge from the Shoe Palace near the busy Hollywood and Highland intersection.
Despite over 12 LAPD squad cars and a chopper giving chase, the shooters managed to escape.  One person was detained, but ultimately release with no charges.
The brutal shooting left Young Dolph in critical condition.  It came months after the rapper's bulletproof SUV withstood over 100 shots from multiple vehicles.
Now, the rapper has spoken out about the shooting that nearly cost him his life.  And to commemorate the harrowing event, Young Dolph fans can purchase a bulletproof vest.
Topping '100 Shots.'
In his single released earlier this year, Young Dolph dissed Yo Gotti.
The rapper proudly bragged in '100 Shots,'
"A hundred shots, a hundred shots / How the f–k you miss a whole hundred shots?"
Young Dolph wrote on the Los Angeles shooting in his newest single, 'Believe Me.'
Filmed during the rapper's stay in a hospital, the video first starts with a news anchor reporting on the shooting.  After waking up from his hospital bed and picking up his jewelry, Young Dolph returns home to his son.
Touching on the rapper's softer side, he rapped,
"Instant money, bury it for my son and I can't wait to tell him /  Lil' n—a you got a million dollar shovel /  In the streets, felt like I was dancing with the devil /  Made a lot of money, lost a lot of friends though /  Your homies loyal 'til the one time you tell 'em no."
On the rapper's website, fans can purchase a bulletproof flak jacket along with Young Dolph's upcoming album for $85.
The product description reads,
"Rothco's MOLLE Plate Carrier Vest is durable and functional, making it the best vest for out in the field. Includes 2 tactical velcro patches with "BULLETPROOF" embroidered on them.

– 100% Heavyweight Polyester MOLLE Plate Carrier Vest Is Durable and Sturdy

– MOLLE Compatible Makes It Ideal for Attaching Modular Pouches

– Front and Back Internal Sleeves for Soft Armor and Plates

– Adjustable and Detachable Cummerbund with Pockets

– Padded Shoulder Straps Are Adjustable For a More Comfortable Fit

– Quick Release Side Buckles Makes Removal Easy"
The bulletproof vest will ship on November 1st, 2017, with the bundle including an MP3 download of Thinking Out Loud, available October 20th, 2017.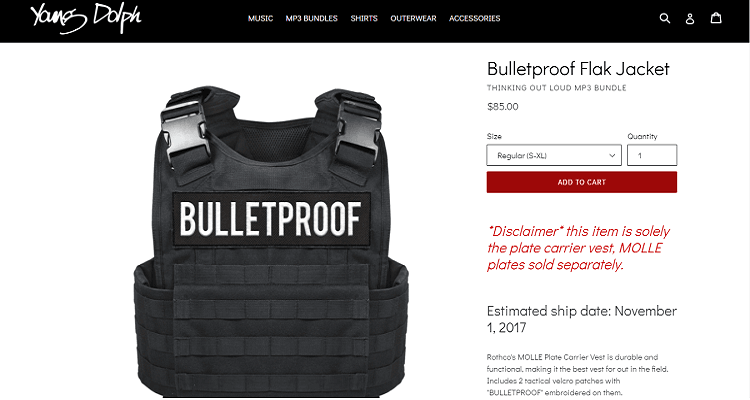 ---
Image by Vevo (YouTube screengrab)