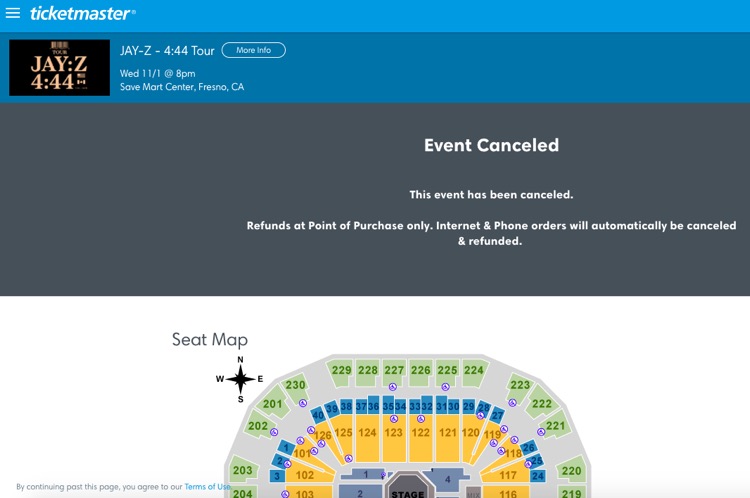 Jay-Z's disastrous '4:44' tour has already been cancelled in Fresno.  Is that just the beginning?
Is Jay-Z's 4:44 tour a complete and total disaster?
Live Nation says Jay-Z is killing it.  But a flood of shockingly cheap seats across multiple markets suggests the opposite.  Even worse: Jay-Z flat-out canceled his Fresno performance, with slow sales suspected as the culprit.
Now, fans fear further cancellations as ticket prices drop below $10.
The Fresno show was actually slated for November 1st.  We didn't find out about the cancellation until this weekend, after fans had already collected their refunds.  "Based on tickets available online earlier this week, the concert seemed to have slow sales," the Fresno B reported.
It now looks like the rapper was trying to quietly shut down the Fresno date.  Last week, we reported that Jay-Z's tour was facing sluggish sales and half-filled arenas, with tickets dropping as low as $6 in Anaheim.  That stirred an email from a pissed Fresno fan, who pointed to an abrupt cancellation (and lots of cheap seats).
Meanwhile, sales are dropping below $10 in multiple upcoming 4:44 tour dates.
Here's just a quick sampling of the bargains available as of this weekend.
Dallas (November 7th): $16.55
Orlando (November 11th): $17.55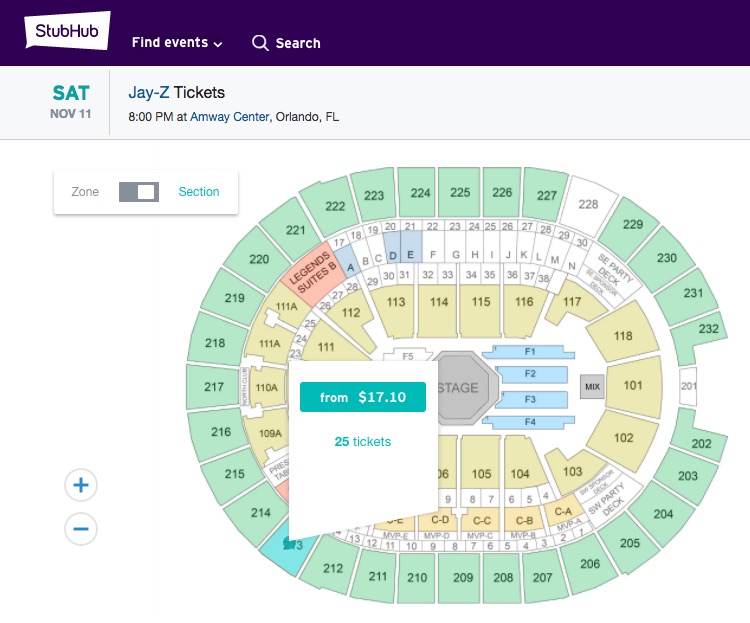 Nashville (November 15th): $8.55
Sacramento (December 17th): $11.81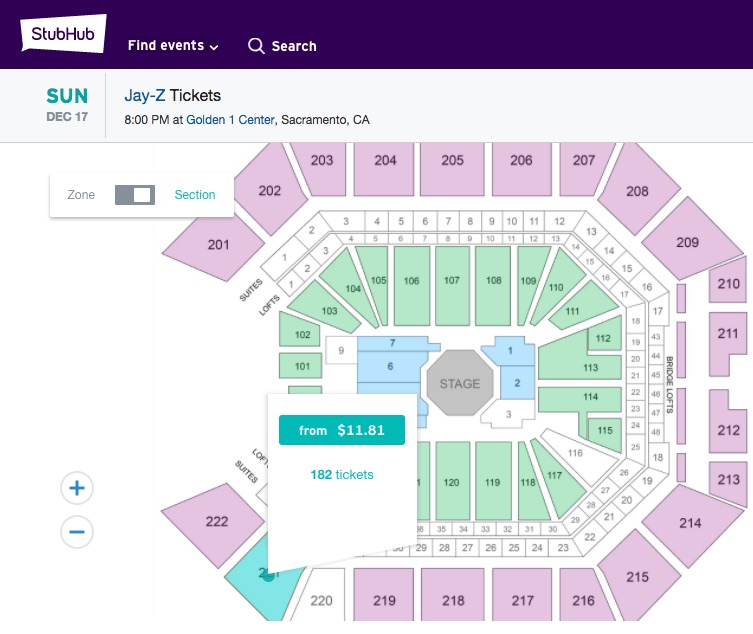 + Jay-Z's '4:44' Tour Is a Disaster: $6 Seats, Half-Filled Stadiums…
The bargain basement tickets could drop lower.  In Anaheim, one fan noticed a shockingly-low $6 ticket.  That was an obvious sign of sluggish demand, and it wasn't an accident.  Moments later, a flood of $11 tickets hit the market, signaling serious problems for 4:44 ahead.
Meanwhile, it looks like Jay-Z's handlers and Live Nation are furiously spinning the situation.  A Billboard article published Sunday claims that 4:44 is going to be Jay-Z's highest-grossing tour ever, citing Live Nation sources.  But the logic offered by Billboard makes little sense.
Here's how Billboard tried to make a $6 ticket sound like great news:
"The Jay-Z tickets selling for $6 a pop on StubHub don't reflect soft demand for his tour: they're actually a sign that the hip-hop star has successfully priced ticket scalpers out of the game by charging market rates for the best seats in the house."
We're unclear how the presence of $6 seats makes people more likely to buy super-expensive, premium tickets.  Or, chases scalpers away.  But beyond super-cheap tickets, most dates on Jay-Z's tour are showing massive availability.  All of which is likely to drive prices further downward — and even prompt cancellations.
---